It's not just middle-class America that is feeling the crunch of dismal wages and stubborn unemployment levels. Even the corporations that sign the paychecks say workers aren't making enough money.
Researchers analyzed the most recent SEC 10-K filings of the largest 100 retailers in the country and found that more than two-thirds of these corporations issued warnings to investors that profits could be hampered by flat wages, high unemployment and low consumer spending. The trend is hammering companies that target high-income customers, like Whole Foods and Dillard's, and those that market to low-income shoppers, like Dollar General and T.J. Maxx, according to the report.
The researchers pointed out that only half as many top 100 retailers identified flat wages as a business risk in 2006, the year before the Great Recession.
"Both corporate America and our relentlessly squeezed middle class are stuck in a vicious cycle of low wages and low demand, an economic crisis that trickle-down solutions can never fix," wrote Brendan V. Duke and Ike Lee, authors of the CAP report.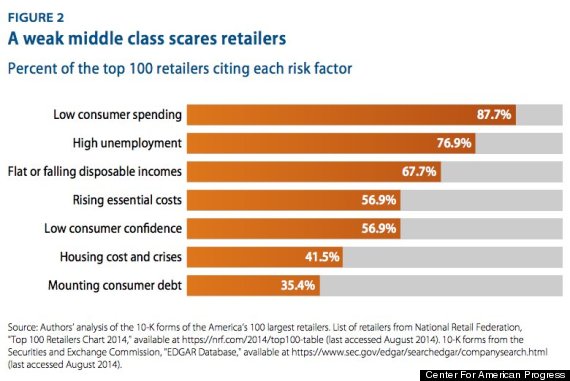 How a weak middle-class hurts America's retailers.
America's middle class continues to struggle. The cost of living for a family of four rose by $10,000 from 2000 to 2012, according to a September study by CAP. The average American family makes less than it did 15 years ago, which The New York Times recently pointed out has not happened since the Great Depression. Meanwhile, unemployment has fallen to under 6 percent, down from its recession high of roughly 10 percent.
Companies are required by law to list all possible risks to their businesses in their 10-K, so you'll find all kinds of worries in the filings. It's also natural for a retail company to list the strength of consumers as a key risk factor.
But even as two-thirds of the companies in the study pointed to stagnating wages as a source of their problems, many of them have opposed or stayed silent on any proposed wage increases. There are a few notable exceptions. Gap promised to institute a $10 per hour minimum wage by next year, and Costco's starting pay is already $11.50.
Others have been quick to pin their plight on the weak consumer.
DineEquity, which owns Applebee's and IHOP, identified falling wages as a key risk to its restaurants in its 2013 10-K filing.
"If our customers' disposable income available for discretionary spending is reduced … our business could experience lower sales and customer traffic as potential customers choose lower-cost alternatives," the company wrote.
Even chains like Burger King acknowledge their sales are dampened by low wages.
"We believe that our sales, guest traffic and profitability are strongly correlated to consumer discretionary spending, which is influenced by general economic conditions, unemployment levels, the availability of discretionary income, and, ultimately, consumer confidence," the burger chain wrote in its 2013 filing.
Big companies are worried about the decline of the middle class.
Related
Popular in the Community