Fashion's Night Out might have been a boon to freegans, cater waiters, DJs and taxi cab drivers -- but not to the beguiled retailer. I was hoping I'd write a different post. I spent much of my night searching for people with gobs of shopping bags as encouraged by the public service announcement. There was even supposed to be free transportation to get the laden shopper home so they could safely go out for more. This was Anna Wintour's push to revitalize an industry that needs the consumer. After all, the ad pages of Vogue are shrinking quicker then a cheep polyester blend in the dryer.
United Colors of Benetton didn't get the memo that sales weren't taking place -- they offered a 20% discount. Banana Republic offered 25% from anything in the store, with someone greeting shoppers and mentioning it's Fashion's Night Out. Both stores were full.
The stores who packed the house and had lines around the block offered open bars, hors d'oeuvres, live entertainment, and celebrity appearances.
Cole Haan had cupcakes, a DJ, and champagne. This was the first time I started asking people if they were going to spend money and shop. Two girls said, "maybe," one man tried on shoes while clutching the Banana Republic Sale bag.
Versace had living models in the window and a velvet rope to keep the riff-raff out. Lot's of drinking, not much shopping. One girl bought a Fashion's Night Out shirt and happily clutched her Versace bag. At Cartier the same story -- lot's of booze, little spending. I asked a clerk if anyone was buying. With little confidence, she said, "some people." PR people manned the gate at Ferragamo and poured Veuve Clicquot. This is the first time I saw someone holding more then one shopping bag. Four guys whizzed by on their way to the next store.
Nine West scored with a Lucky magazine party. Instead of going in I tried to track down and snap pictures of cute guys laden with shopping bags zooming out of Zara. I was hoping this would trend, in fact it was the last time I would see people carry this many bags.
Henri Bendel had a crowd, mini-burgers and light shopping. Customers were puzzled by bacon-wrapped dates while stalking the catering kitchen. The shop clerks all looked very happy though. Maybe they were selling.
Prada was mobbed by the sighting of Grace Coddington. The line at Bergdorf's snaked around the block and inside it was quite crazy with Rachel Zoe, André Leon Talley and Nicky Hilton to name just a few of the celebs that stopped by. André was overseeing an Alice in Wonderland style craps game. Somehow this through the looking glass moment felt appropriate. On my way out a very drunk man was trying to pick up a very sober cocktail waitress. The Fashion's Night Out shirt might have been the best selling item of the night. But at $30 a pop, does it really help Versace's bottom line?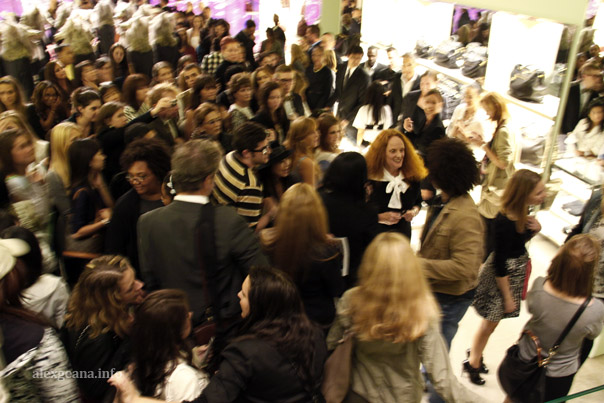 I waited for the A train downtown, the city's arteries clogged with cabs. I listened to a homeless man with a striking voice sing, "It's all right," and "we need to believe." I arrived in the Meatpacking district, stumbling on Moschino's palm reader and the line of people waiting to get in. Somehow more people seemed to be waiting in line then were actually in the store.
At Adam, Adam Lippe's store, movie lights hit the sky and I finally snapped a picture of an actual credit card transaction and someone buying something, although it was fleeting. Hugo had a burlesque show and some very tired musicians. Alexander McQueen's open bar was packed and drunk people felt up the clothes. Poker player, Beth Shak, was eager to have her picture snapped. I obliged.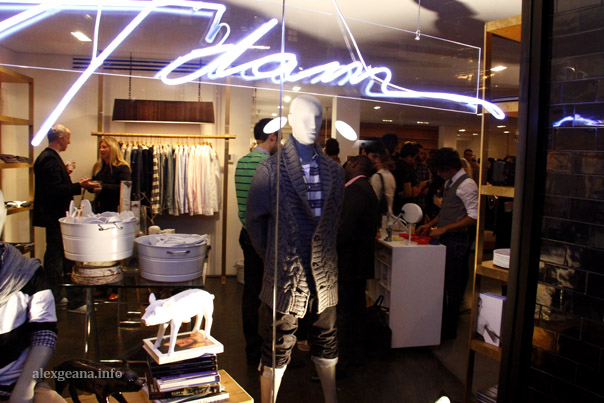 Stella McCartney was a madhouse with a pizza truck outside and a very obliging press gaggle waiting to snap pics. There were PR people manning the press rope and the common man was not allowed in.
At Jeffery, I found another shopper at the register. In this bastion of luxury and frivolous spending, they were studding Current Elliott jeans and waiting for Hugh Jackman. The cashier said people had been buying all night; I was kicked out for snapping a picture of their sole shopper. As I left, some passersby mentioned that one of the bartenders was drunk or high. I laughed out loud.
Diane Von Furstenberg sat on the steps of her store and took pictures with young ladies and adoring fans, she looked happy but tired.
Then it started to mist and drizzle and I had to put away my camera. I heard that Opening Ceremony did well and that the block parties were fun. I popped into a cab and got an amicable driver. I asked him about the night. At the beginning he picked up an excited retailer. Then he proceeded to pick up people excited about free food. Business was good for him. I asked if he picked up people full of shopping bags at any time during the night -- enough bags to cover the copious amounts of free booze, food and celebrity appearances. He said no.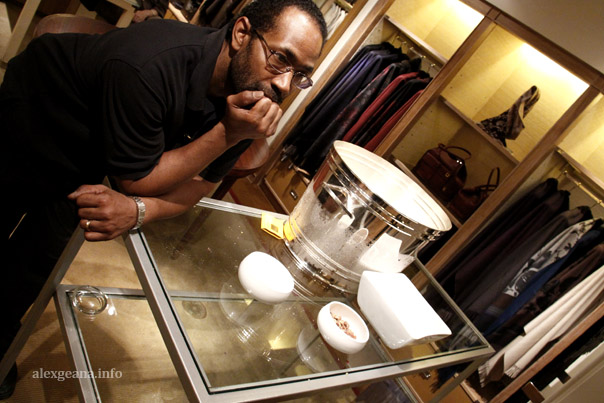 Popular in the Community