To explore the current attitudes and habits of American consumers and their use of technology as part of the shopping process, Salesforce Research published its third annual "Connected Shoppers Report". Harris Poll captured more than 2,000 U.S. adult consumer responses. The research highlights the impact of cloud computing, mobile and social technologies, Internet of Things (IoT) and artificial intelligence (AI) as disruptive and empowering technologies for today's shoppers. Retailers can use this survey to develop a data-driven strategy and business models in order to optimize and improve the shopper experience.
The future of retail and the shopping experience will be shaped by using AI-powered CRM and mobile applications, IoT and wearable technologies and augment and virtual reality.
Here are the 10 key takeaways from the 2017 connected shoppers report:
Researching Products: The new shopping process is no longer linear
1. 79% of shoppers research products prior to purchasing in-store, and 85% research products prior to purchasing online.
2. 40% of millennials (ages 18-36) are using voice-enabled digital assistants, such as Amazon Echo and Google Home to research products online.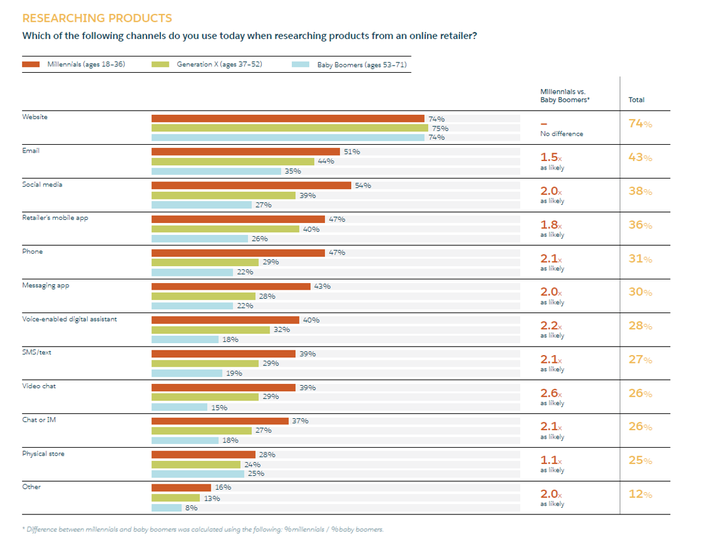 3. Millennials are 2.6X more likely to use video chat, 2.2X more likely to use voice-enabled digital assistants and 2X more likely to use messaging apps than baby boomers.
Buying Products: The impact of video chat, messaging apps and social media is rising
4. When buying products online, the number 2 channel shoppers turn to, second only to the website (67%), is a retailer's mobile app (32%).
5. Social media (27%) has entered the top-five channels for online purchasing.
6. Millennials are 3.1X more likely to use video chat, 2.7X messaging apps, and 2.4X social media to purchase products as compared to baby boomers.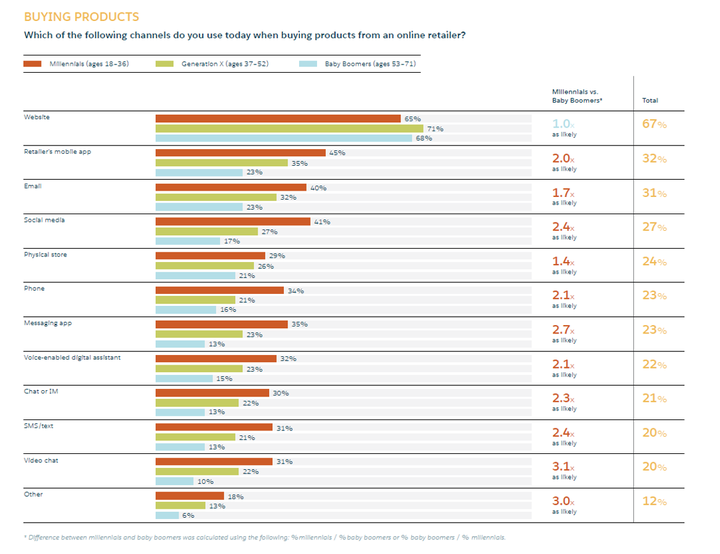 Customer Service: Service teams are no longer tethered to headsets
7. Shoppers cite the phone (39%) as No. 3 channel for requesting customer service from online retailers with website (52%) and email (45%) as the top two channels.
8. The top 3 preferred customer service channels for millennials, as compared to baby boomers are: 1. instant messaging, 2. mobile app and 3. social media.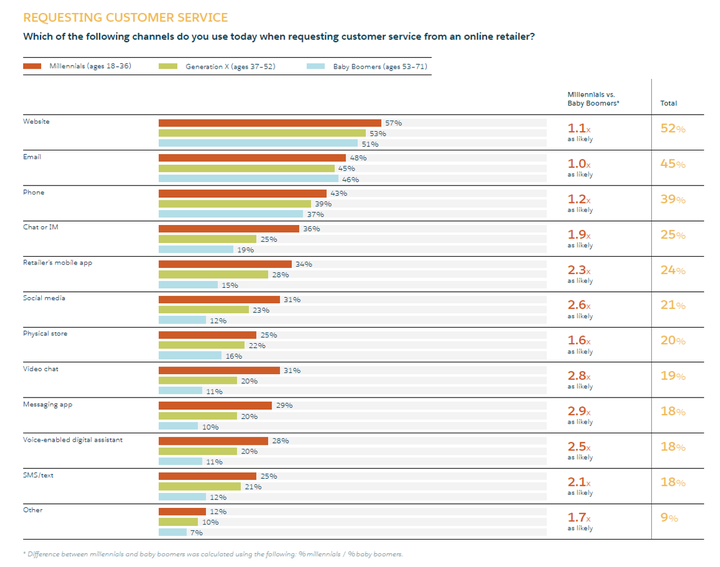 The brick-and-motar experience is far from obsolete
9. 87% of shoppers have visited a retail store within the past month. In fact, millennials are more likely to visit stores than baby boomers (78% versus 70%).
10. The top 3 reasons shoppers visit stores in person are: 1. get merchandise immediately, 2. touch and feel merchandise, and avoid shopping fees. Companies like Amazon and Alibaba are developing technologies to address the No. 1 and No 3 reasons, so in my opinion, retails must find other compelling reasons to invite shoppers to their stores.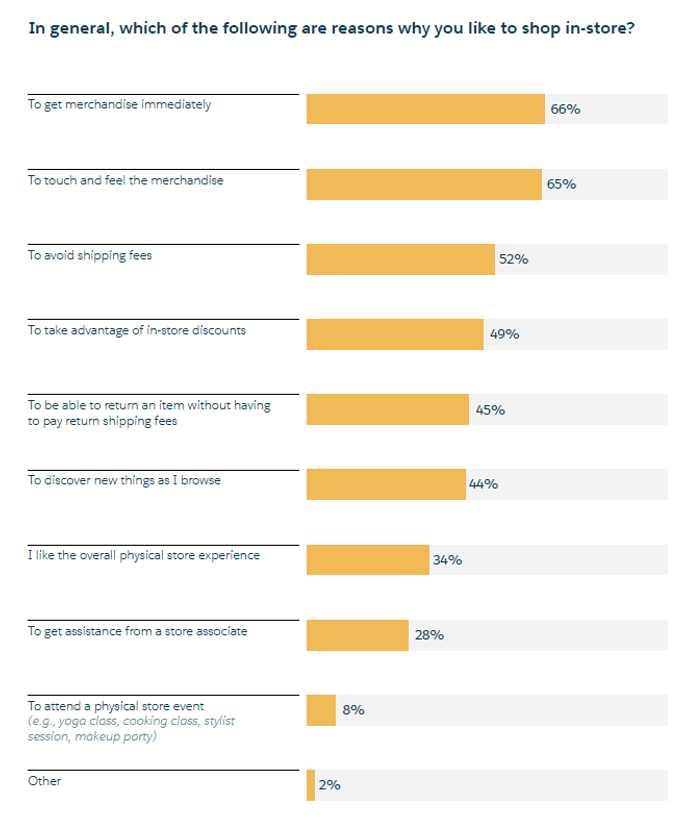 The omni-channel retail landscape continues to evolve as new new channels emerge - mass personalization at scale does not exits.
11. 55% of all shoppers report having purchased a product online to pick up in a physical store.
12. 28% of shoppers have embraced endless aisle capabilities that allow them to purchase a product for delivery that was not available while they were in-store.
13. 55% of all shoppers say retail experiences are generally disconnected from channel to channel.
14. 63% of shoppers don't feel like retailers truly know who they are.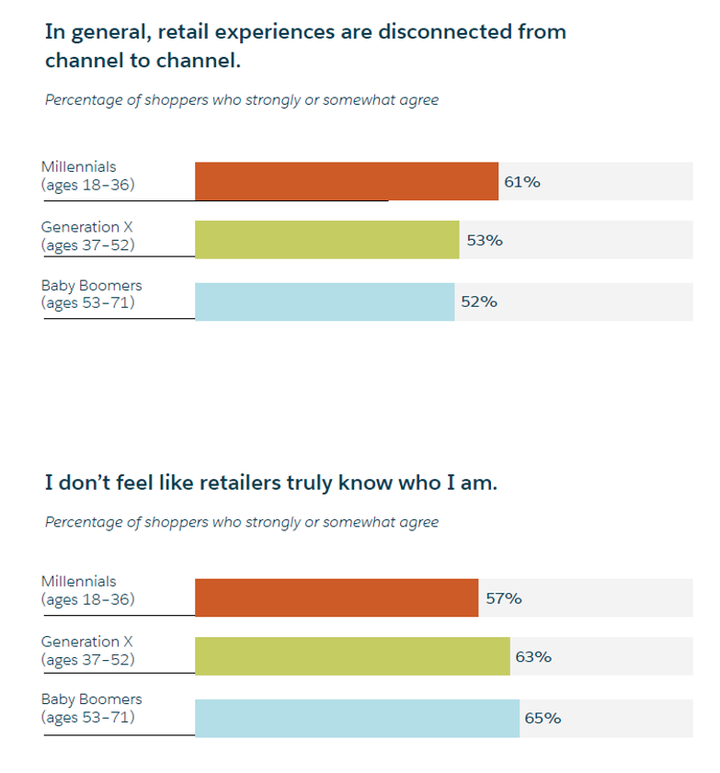 Physical Store vs. Online Shopping - the shopper experience and usage is defined by varying needs
15. The top three reasons shoppers go to physical stores are: 1. product availability, 2. price and 3. ease of checkout.
16. The top three customer experience factors for online shoppers are: 1. price, 2. product search and 3. site performance.
17. 58% of shoppers value personalized customer service when shopping in-store and 60% value relevant product recommendations when shopping online.
18. 34% of shoppers are using mobile devices to research products while in-store. Shoppers rely on smartphones to augment their in-store experience.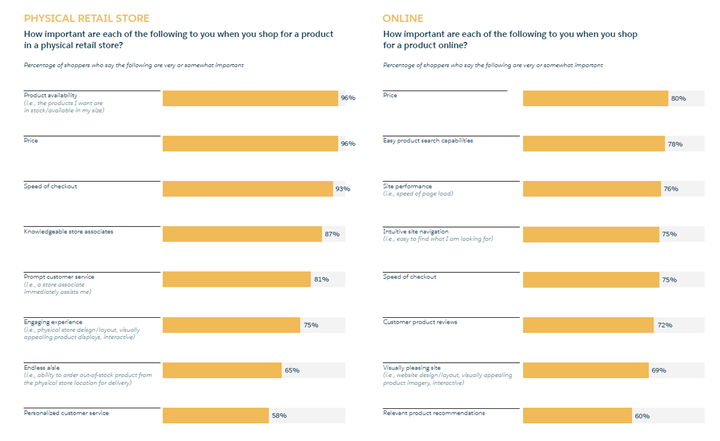 Retailers fall behind in the race to meet shopper expectations
19. 53% of millennial shoppers said that store associates do not have the tools they need to deliver excellent customer service.
20. 60% of shoppers think they typically know more about products than the store associates. 43% of millennials (43%) even think that robots could replace human store associates.
21. 62% of all shoppers would like retailers to provide product recommendations based on their purchasing history - 75% for millennials.
22. 54% of shoppers are willing to share data regarding their preferences with a store or a brand to receive faster and more convenience service once in-store.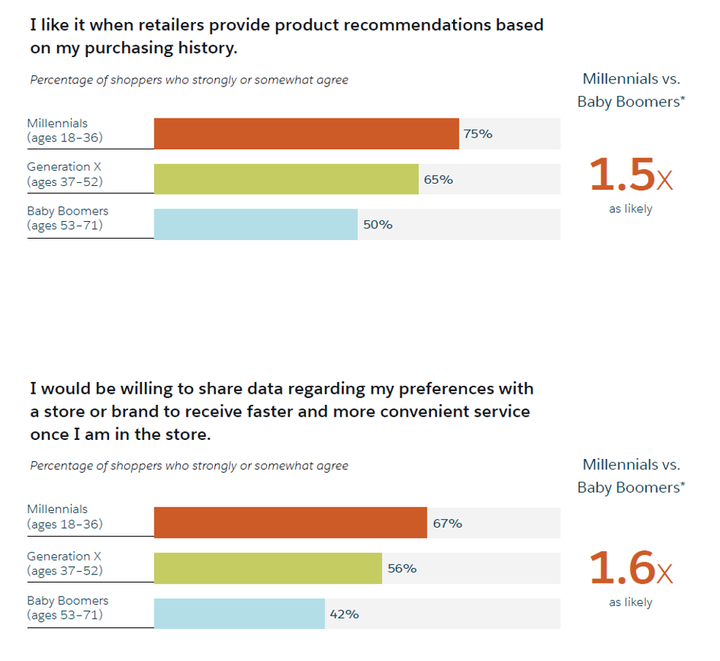 Connected employees keep shoppers happy
23. Millennials are 1.6X more likely than baby boomers to say that store associates need the ability to use mobile devices to reference automated product recommendations on a shopper's profile information, look up previous purchase history and check in-store inventory.
The best shopper experience (in-store and online) will be powered by artificial intelligence (AI)
AI is creating even more ways for retailers to reach shoppers with smarter, more predictive, and personalized messages - the new and improved shopping journey is key to retailer success.
24. Millennials are 2.5X more likely to say personalized offers from retailers in a digital channel based on their purchase history would appeal to them.
25. Future retail technologies of the future include: AI powered mobile apps (machine and deep learning tech), AI-powered chat bots (natural language processing AI), mobile wallets and drones.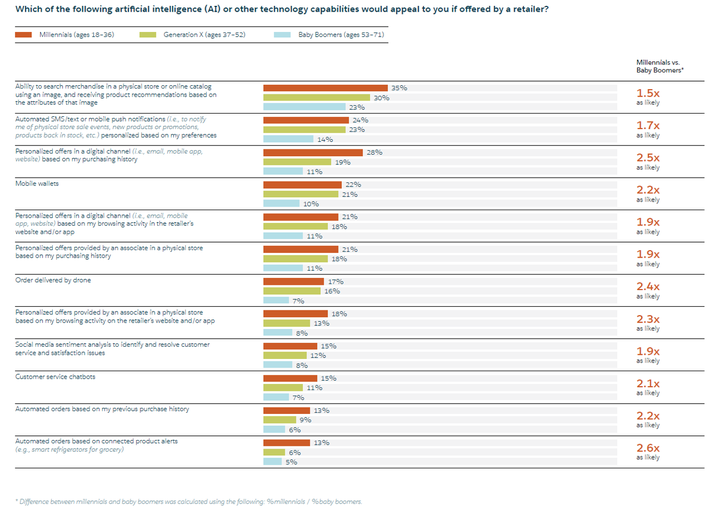 The customer experience will continue to be the battle ground for retail competitive advantage. I have written about designing the shopping experience for constant flow and movement, where technologies like AI, IoT, mobile, social and cloud computing can be used to deliver a friction-less and super convenient shopping experience. Brick-and-mortar retailers, on online retailers that ignore these technology mega trends like AI-powered CRM, mobile apps and chatbots will fail to compete and win in the age of the connected shopper.