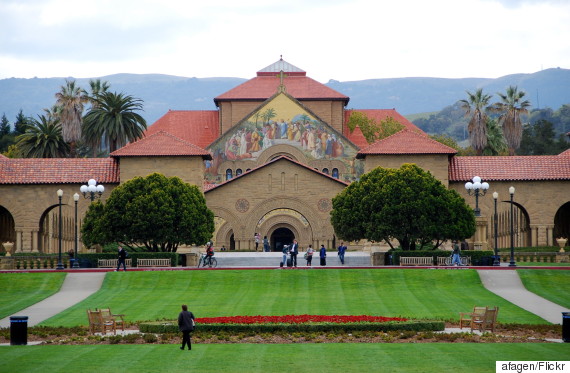 Tess Bloch-Horowitz did not report Sigma Alpha Epsilon members' sexist behavior to Stanford University. She was, however, treated like she had.
Stanford took away SAE's housing privileges for two years in December following an investigation by an outside lawyer into reports of misogynistic behavior at sanctioned fraternity events -- including a "Roman Bath" party Bloch-Horowitz had attended in Spring 2014, where she witnessed pledges forced to share sexist jokes like, "What do you tell a woman with two black eyes? Nothing, you've already told her twice," and other similar jests.
A few months later, a lawyer hired by Stanford asked Bloch-Horowitz to provide testimony about the party. She spoke with investigators but didn't think much of the case until the following March, when she went to Cabo San Lucas, Mexico, for spring break with a large contingent of Greek members from Stanford.
In Cabo, some SAE members began harassing her at bars and on Whatsgoodly, an app that allows users in the same vicinity to anonymously poll each other. Friends told Bloch-Horowitz the frat members were doing so because they believed she was the one who reported them for sexist behavior, which resulted in the frat's suspension.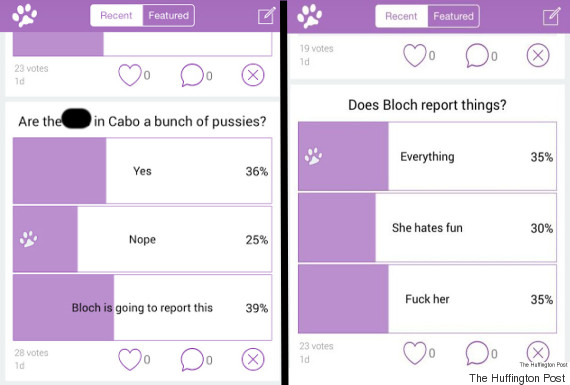 Bloch-Horowitz did not report the harassment she experienced in Cabo to Stanford officials, as she feared more retaliation. "You know speaking up in the first place is what got you into the situation, so the idea that you would go and do what got you in the position in the first place -- it doesn't even feel like an option," she said. Though she did later write an op-ed in her school paper about the experience because she refused to stay silent.
The lesson she walked away with: If it's this bad being part of an investigation into sexist behavior, how much worse would it be to involved in an investigation into an actual sexual assault?
The backlash Bloch-Horowitz faced is not unique to Stanford. Women like Bloch-Horowitz who were only a witness to sexual harassment -- and not an actual victim filing a formal complaint -- are also being harassed.
The Feminists United Club at the University of Mary Washington in Virginia complained for months to university officials that their group's members were being harassed, largely on Yik Yak, an app that allows users in the same vicinity to anonymously post messages on a virtual bulletin board. At student government meetings and in op-eds, members of the club had criticized the school for not acting quickly enough to address a sexist song that had been performed at a rugby team party in November.
After they published their criticism, users of Yik Yak started spewing derogatory comments and threatened to attack the club members, sometimes singling out individual members.
Yik Yak has filters for certain words, but it is not foolproof. Some users at UMW threatened to "grape" women in the mouth, a reference to a skit on the television show "Whitest Kids U Know." Some Internet commenters condoned the joke, defending it because it came from a comedy show. Julia Michels, the president of UMW's Feminists United Club, said the behavior was inexcusable, as rape jokes are threatening.
"Taking away Yik Yak wouldn't necessarily defuse these beliefs and thoughts," said Michels. "I believe we have a problem in our country regarding the education of young boys; we give very little thought about rape culture."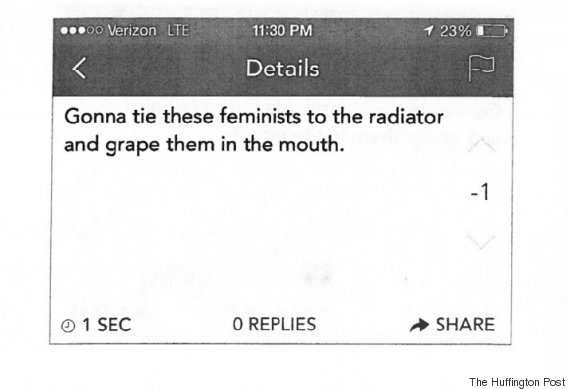 Alice Marwick, a researcher and director of the McGannon Center at Fordham University, said, "The attitudes that we see among people online are actually very similar to the attitudes we see of people offline regarding sexual assault and sexual violence." The offensive viewpoints expressed online, Marwick continued, are opinions that otherwise would have been discussed behind closed doors, and the people spouting those ideas "feel their feelings are valid because of the communities they belong to."
Back at Stanford, before Bloch-Horowitz could decide on whether to report what happened, the university began an investigation on her behalf after getting word from other students about her harassment.
Stanford requested the specific identity of users from Whatsgoodly, but co-founder Adam Charles Halper said they could not comply with that request because it violated their privacy policy, and besides, the app does not collect any personal information about users. Whatsgoodly also cannot block individual names "without unintentionally censoring a lot of perfectly legitimate content (references to celebrities, politicians, characters in literature, historical figures, etc.)," he added in an email.
On May 19, following the retaliation inquiry, SAE's two-year suspension of housing was extended "indefinitely," with probation added for three years. Some members of the fraternity "deterred a female student from reporting a potential Title IX concern" involving SAE, the university concluded in a report. Stanford continued: Members of the fraternity retaliated against Bloch-Horowitz "based on a false belief" she had reported the chapter for harassing behavior. Multiple SAE members declined to comment for this story.
SAE's national office condemned "any member who engaged in intimidation or retaliation" and apologized to the "campus and local community for their actions because we teach our brothers to be leaders, scholars and, most importantly, gentlemen."
Stanford has received other reports about SAE in the recent past, such as alleged drugging of drinks "and other misconduct involving women" at the house during the 2013-14 academic year. Part of the reason why those incidents never resulted in penalties, the university said, was because the "women involved and other witnesses ... were unwilling to participate in an investigation." It's possible they feared the process that follows filing a complaint.
While colleges have been put on notice about campus sexual assault, they are increasingly running into other issues about harassment and retaliation on campus that are inextricably linked, said University of Massachusetts-Amherst lecturer Kristine Newhall, who's also a Title IX researcher.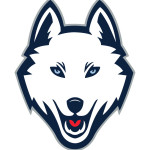 The University of Connecticut, for example, settled a lawsuit last year with a student who was harassed on campus and online over her critique on a blog of the school's new mascot. When the UConn student asked for help from the university, she alleged, campus police simply suggested she keep a low profile and wear a hat.
"All of this other stuff is part of that culture as well and contributes to sexually hostile climate on campus," Newhall said. "I think this is going to be one of the next big things we have to start to look at."
Do you have a story to share about your experience with cyberbullying or harassment on campus? Contact the writer of this story at tyler.kingkade@huffingtonpost.com.
Related
Popular in the Community