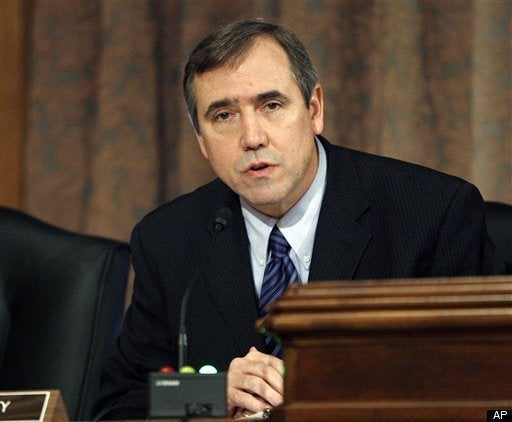 It's time to take another look at HAMP, Senator Jeff Merkley told MSNBC host Dylan Ratigan.
Senator Jeff Merkley, D - OR, said he had spoken to several families in his state who thought their loans were being reworked as part of the Home Affordable Modification Program and dutifully made reduced payments, before discovering out they were being foreclosed on anyway. (Video below.)
"Fees start to pile up, so the servicer starts to make a lot of money off fees that they don't make when a family is making their payments," said Senator Merkley, speaking on the Dylan Ratigan Snow on MSNBC. The lender is under no obligation to do the full modification that would assist a family in the end, said Merkley, and often didn't.
"It does seem like something's gone terribly awry."
"It's a mess," Terry Garwood told the MSNBC host. "And I can't believe that it's legal." Terry, and his wife Bea, made lowered mortgage payments for nine months on a trial basis before being told they did not qualify for the program. "They went into a foreclosure immediately when we signed up for this, which they didm't clue us in on either."
Bea and Terry Garwood's story was brought to light by the Huffington Post. Reporter Arthur Delaney told Dylan Ratigan theirs was a common problem.
"The federal auditors of the program have said repeatedly that this is something that can actually happen either you'll waste money trying to go after this trial modification will never happen, or in the worst case scenario, you weren't even seriously delinquent in the first place, then as a result of making these payments for a long period of time, you're totally delinquent and you're losing your house," he said.
Last week, Republicans in the House introduced a bill that would end HAMP.
"The Dylan Ratigan Show" is running a weeklong "No Way To Live" series on the financial crisis and its impact on ordinary Americans, in partnership with The Huffington Post. Check back here regularly for new posts in the series.
WATCH the vide below:
Popular in the Community