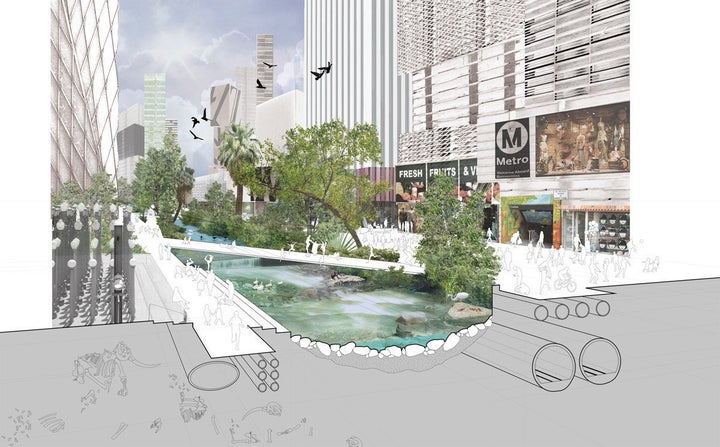 Water treatment plants transform into surf wave pools. Freeway interchanges are scene-y hotspots. Dodger Stadium is now a transportation hub. Welcome to Los Angeles -- fifty years into the future.
Rethink LA, an innovative new exhibit at the Architecture & Design Museum, dares to envision a new metropolis where health, environmental consciousness, and community are the forces that shape LA's urban development. The organizers behind Rethink LA are visionaries, activists, artists, designers and architects asking two questions: "Where are we going?" and "how will we get there?"
The exhibit has sound installations, short films, 3D models, and interactive displays. Its showpiece, however, is a series of photographs that capture the city's most iconic locations. The photos are then transformed by artists and architecture firms into a collage that re-imagines the space fifty years into the future. Highways become grassy parks, the Sunset Strip has double monorails, and the Venice canals become a river village.
Visit Rethink LA to immerse yourself in a city that could be. Then get inspired to walk outside and take on the city as it is.
Rethink LA
August 4 - September 4, 2011
Tuesday-Friday: 11am-5pm, Saturday-Sunday: 12-6pm (closed Mondays)
(Architecture & Design Museum, 6032 Wilshire Blvd. at S. Orange Grove Ave., Los Angeles, CA 90036. Call them at 323-932-9393)
Calling all HuffPost superfans!
Sign up for membership to become a founding member and help shape HuffPost's next chapter