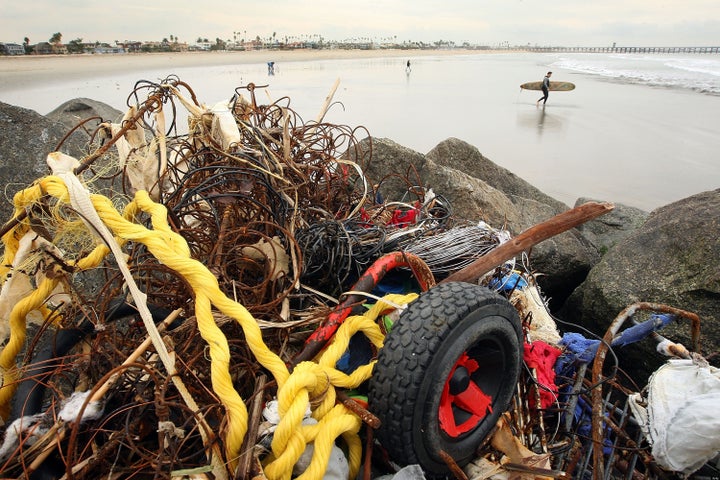 On the outskirts of Rio lies Jardim Gramacho, the world's largest landfill, where over 7,000 thousand tons of garbage are dumped 24 hours a day. Amongst this trash work 3,000-5,000 catadores (pickers), men and women who sift through the garbage to collect recyclables. While the work pays approximately double Brazil's minimum wage, allows the pickers to help the environment, and keeps them from falling into the traps of drug trafficking or prostitution, the life of a picker is one with no future.
Amidst this world of discarded objects and people, documentarian Lucy Walker (the Devil's Playground, Countdown to Zero) and Brazilian-born artist Vik Muniz partnered on a unique project. Muniz, a native of Sao Paulo who has become known for making art pieces out of unconventional materials, traveled to Gramacho with a plan to photograph the pickers, create large-scale portraits of them made out of recyclable materials collected from the dump, and give all the money raised from the sale of the pieces back to the pickers so they could improve their lives. Walker, over a three-year period, captured the process in the new documentary, Waste Land.
Waste Land -- which won the World Cinema Audience Documentary Award at the 2010 Sundance Film Festival, the Human Rights Film Award at the Berlin Film Festival, and has earned rave reviews -- is a testament to the transformative power of art, as well as a call for all of us to take a closer look at what we have, what we discard, and the lives of those pushed to the fringes of society.
See my ReThink Review of Waste Land on the Young Turks, as well as my discussion with guest host Ben Mankiewicz about how Muniz's project changed the lives of the pickers, as well as the challenges of making food in a dump.
Calling all HuffPost superfans!
Sign up for membership to become a founding member and help shape HuffPost's next chapter