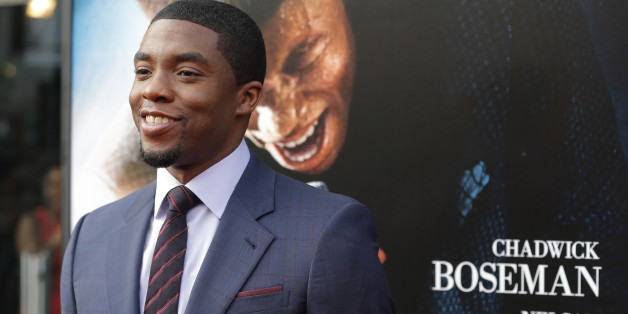 If you hear that there's a biopic coming out about an influential African-American icon, the six words you don't want to hear connected to it are "From the director of The Help". That's because despite The Help's box office and critical success, a lot of progressive-minded people (including myself) were upset that not only was The Help essentially another movie about a white savior inspiring and rescuing brown people, but that a movie supposedly addressing the struggles of black maids in the South before the Civil Rights Act could fail so grandly in addressing the realities of racism in Mississippi. Instead, the film portrays racism not as a longstanding institution baked into a region's identity, but as simply the crummy behavior of individual jerks, while the film opts for an oddly comedic tone with a plot that hinges on eating a pie full of poo.
So when I heard that The Help director Tate Taylor would be directing the James Brown biopic Get On Up, I began warming up my voice for some full-throated groans. But despite a lot of flaws, I enjoyed Get On Up more than I thought I would for two reasons: the music of James Brown and the Oscar-worthy performance of Chadwick Boseman as the Godfather of Soul. Watch the trailer for Get On Up below.
Biopics are a tricky genre -- a narrow focus may leave fans bemoaning the aspects of the subject's life that are missing, but trying to cover the scope of an entire life risks the lack of depth that comes with condensing a life to a list of greatest hits. Taylor and screenwriters Jez and John-Henry Butterworth chose the latter approach with an ambitious structure that jumps back and forth through the timeline of Brown's life, sometimes with the young Brown who grew up a virtual orphan in a Georgia brothel appearing in the place of the adult Brown as he becomes one of music's biggest and most influential sensations before fading into drugs and run-ins with the law. It's a risky decision -- along with several moments where Brown speaks directly to the camera -- that largely works even in a movie 138 minutes long, helping connect events in Brown's childhood to the talented but increasingly difficult adult he would become.
While Brown's surviving relatives have given their stamp of approval to the film, Get On Up is no hagiography, depicting Brown as a megalomaniac who seemed to mistreat nearly everyone in his life with his increasing demands on both his band members and the women in his life for complete control and unwavering loyalty, even in the face of disrespect, missing paychecks, and domestic violence.
While some may rightfully feel that Brown's history of domestic abuse sullies his entire career, no one can deny that Brown was an extraordinary one-of-a-kind talent who changed music forever. And that talent is more than represented in the stunning performance of Chadwick Boseman, who plays Brown from his teen years into his sixties, perfectly nailing Brown's sometimes incomprehensible voice and his scintillating live performances that, with the aid of Brown's original vocals, sometimes gives Get On Up the feeling of a boisterous live concert film. Boseman is able to embody the raw charisma and talent that earned the young Brown the attention of both musicians and the music industry while also justifying his increasingly confident and grandiose vision of himself.
It's a performance so terrific and Oscarworthy that it makes you forget -- or, more accurately, forgive -- the fact that Get On Up is from the director of The Help and shares many of that film's flaws. Get On Up's overly glossy cinematography often gives the film a feeling of idealized unreality that seems more suited to a theme park. Characters are poorly developed and deliver the kind of annoyingly on-the-nose, subtext-free dialogue where everyone says exactly what they're thinking at all times. Racism is only lightly touched on while white people who don't "get" Brown and his music are often portrayed as clueless buffoons.
But like The Help, Get On Up is also carried by a singular performance. In The Help it was Viola Davis (who also plays Brown's mother) and in Get On Up it's Boseman, putting the film's most dynamic presence in all but a handful of scenes, repeatedly and insistently reminding you why Brown was indeed Soul Brother No. 1, the Godfather of Soul, and the Hardest Working Man In Show Business.
Watch video of James Brown's 1968 Boston Garden concert after Martin Luther King Jr. was killed.
Follow ReThink Reviews on Facebook.
REAL LIFE. REAL NEWS. REAL VOICES.
Help us tell more of the stories that matter from voices that too often remain unheard.