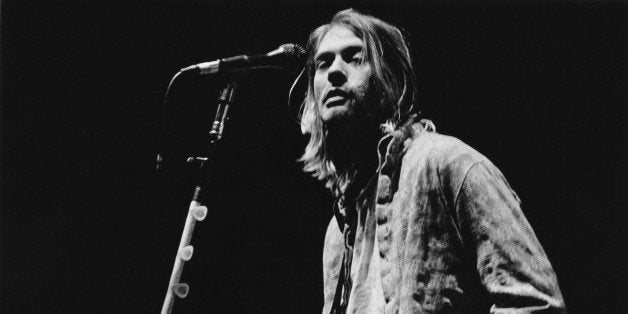 The moment I learned of Kurt Cobain's death is among those very rare flashbulb memories I've accumulated in my life. I was visiting a college in Minnesota with my mom, and as we walked through a gym full of exercise equipment, I heard just the tail end of a news story on a radio somewhere in the echoing facility reporting "...found dead in his Seattle home of an apparent suicide." I didn't hear the name of the deceased, and the owner of the radio hadn't been listening closely enough to tell me who it was. But for some reason I still can't explain, I had a sinking feeling that it was Kurt. I rushed over to our rental car and turned on the radio, first scanning for rock stations until my mom suggested that a news station made more sense. She was right, and I was crushed when I heard the sad news confirmed.
I was scheduled to stay overnight in a dorm room, and perhaps the second sentence out of my mouth to the two students hosting me was "Did you hear about Kurt Cobain?" I naturally assumed they would share my shock and grief to be experiencing such a tragically seminal moment in the history of music, grunge, alternative rock, pop culture, and Generation X, but the response I got was, "Who's Kurt Cobain?" I couldn't believe what I was hearing. "The lead singer of Nirvana," I told them, which was greeted with befuddled looks. I went to one of the student's CD towers and quickly identified the watery blue case for Nirvana's breakout album Nevermind. "You have their album!" I almost yelled as I waved the CD in front of their faces. My hosts shrugged.
I hardly remember anything else about that overnight stay, but I have to admit that the lack of Nirvana awareness amongst the student body was a major factor in my decision not to attend that school.
Judging from the reactions of younger people, I've apparently secured my indie cred forever by the fact that I've seen Nirvana perform live twice. Kurt had loathed his designation by the media as "the voice of a generation", but after his death on April 5, 1994, the myth and legend of Kurt Cobain has fully eclipsed the man. For many -- especially those too young to have witnessed, understood or contextualized Nirvana's ascendance -- Kurt Cobain is a sensitive yet hard-rocking martyr who was sacrificed on the altar of authenticity, forever frozen at 27 while leaving generations of moody teenagers to pore over and attempt to decipher four albums worth of often inscrutable lyrics. He's now another giant face on a t-shirt, joining Tupac Shakur, Notorious B.I.G., Tony Montana and Bob Marley.
The aim of the documentary Kurt Cobain: Montage of Heck is not to bolster that legend, despite the fact that the film has the blessing of Cobain's family, including former wife Courtney Love, who gave director Brett Morgen access to Kurt's archives of journals, artwork, home movies and more than 100 never-before-heard audio tapes. In fact, Frances Bean, Kurt's only daughter and an executive producer on the film, told Morgen specifically, "I don't want the mythology of Kurt or the romanticism." Fortunately, that's also what Morgen wanted, and the result is an ambitious, sprawling, unflinching, fascinating portrait of a sensitive, creative, angry, searching soul who, as Frances Bean said, was "attempting to cope with being a human."
Watch the trailer for Kurt Cobain: Montage of Heck:
Morgen burst onto the scene with his documentary The Kid Stays In the Picture, which was groundbreaking for its use of animated still images. In Montage of Heck, Kurt's notebooks and artwork spring to life as a young Kurt tried to make sense of a world he felt was sexist, unfair, and rewarded the violent and stupid. Through interviews with relatives, we learn how his parents divorce and the resulting fallout scarred Kurt irrevocably, turning a previously happy, hyperactive child into a brooding, rebellious, frustrated troublemaker who found solace in drugs and art before finding the punk music that would forge his future. Some of the most personal insights into Kurt's youth come from cassettes he recorded as a teenager, ranging from sound experiments to characters to intimate retellings of painfully formative moments from his life in Aberdeen, Washington.
Nirvana bassist Krist Novaselic (drummer Dave Grohl is strangely absent) takes us through Kurt's mindset through Nirvana's early days into their meteoric rise to superstardom, with interviews and concert footage showing the version of Kurt he was willing to let the world see. Courtney Love provides an unsettling view of Kurt's final years as he retreated into heroin, his marriage, and life with his newborn daughter, with previously unseen home videos that bear an eerie resemblance to a proto-reality show as we watch Kurt become a full-blown, rail-thin junkie. These videos are so intensely private you almost feel guilty for watching them, including perhaps the film's most disturbing moment as Kurt struggles to keep from nodding off while holding Frances Bean as she gets her first haircut.
It's difficult to imagine a documentary about Kurt Cobain that could be more thorough, intimate, and definitive than Montage of Heck, which has more than enough rare and exclusive material that will surely be new to even the most obsessive Nirvana completist. Brett Morgen's eclectic multimedia style perfectly matches the chaos of Nirvana's music as well as the restless, explosive mind of its frontman, with his uneasy mixture of sensitive introvert, playful prankster, loving father, and the prideful rage monster who could emerge when Kurt felt he had been humiliated.
Kurt Cobain: Montage of Heck is truly an experience more than it is a film, making it hard to describe or encapsulate. But the final result shows that Morgen more than honored Frances Bean's desire to portray the real Kurt Cobain with all of his anger, weaknesses, contradictions, talents, and complexities as he struggled to be human until the pain of his internal war became too much to bear.
Calling all HuffPost superfans!
Sign up for membership to become a founding member and help shape HuffPost's next chapter