Last Thursday night, I found myself in the strange situation of being at a midnight screening of No Strings Attached at the Grove in Los Angeles. I soon realized that the only thing more embarrassing than being a solo guy at a midnight screening of No Strings Attached was being forced to wait in the lobby to see a midnight screening of No Strings Attached without the cover of darkness.
Of course, I wouldn't have been there if I hadn't been reviewing No Strings Attached for the Uprising radio show the next day and had been able to attend an earlier screening. But I was surprised to see that a romantic comedy like No Strings Attached was having midnight screenings across LA -- something I thought was reserved for movies with large geek/fan followings -- and that the theater was between a third and a half full.
What kind of people pay full price to see a romantic comedy of dubious quality (especially judging from No Strings Attached's gag-inducing poster) that won't let out until 2AM? And why would they have such faith in a genre that appears to be dying, if not already dead?
For several years, the romantic comedy has largely been a place of dread, disgust and horror, striking fear in the hearts of boyfriends, husbands, and people with taste. These days, virtually any movie starring Jennifer Aniston, Katherine Heigl, Matthew McConaughy, Drew Barrymore, Ashton Kutcher, Jennifer Lopez, or Kate Hudson is virtually guaranteed to be an awful time at the movies and further proof of the romcom's plummeting health and/or rotting stench. Even talented actresses like Amy Adams (Leap Year), Anne Hathaway (Love & Other Drugs) and Reese Witherspoon (How Do You Know) have been laid low by predictable romcom contrivances. It's a genre that has become known as a place where likable actors can cash big paychecks for trying to be likable in unlikable movies, undermining their likability in the process.
Does No Strings Attached, with its slightly unconventional plot and glow of recent Golden Globe winner Natalie Portman, manage to rise above the morass? Or is it further proof that the romantic comedy is a genre that should be put out of its misery? Click the image below to hear my review on Uprising or click here to read a transcript.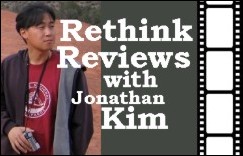 In recent years, the romantic comedies that have distinguished themselves have attempted such different approaches that they can barely be called rom-coms at all. Eternal Sunshine of the Spotless Mind and (500) Days of Summer both focus on an uncomfortable truth -- that love is sometimes not enough to save a relationship, and there's nothing you can do about it. Knocked Up is actually more of a coming of age movie, with impending fatherhood forcing Seth Rogen's manchild to finally grow up. For part of the film, No Strings Attached attempts to tweak the romcom formula, but eventually succumbs to it.
No Strings Attached really made me want to revisit (500) Days of Summer, to appreciate how rare and rewarding it is to see a great, modern relationship movie. To watch my ReThink Review of (500) Days of Summer, click here.
To subscribe to ReThink Reviews on YouTube, go here.
Calling all HuffPost superfans!
Sign up for membership to become a founding member and help shape HuffPost's next chapter