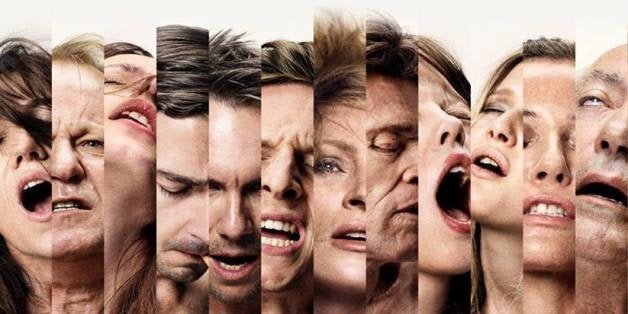 Producer Mark Burnett's Jesus movie Son of God (my review here) that was released this year clocked in at two hours and eighteen minutes. But director Lars Von Trier knows that if you want to tell a story about someone important, like a nymphomaniac, you're going to need more time than that, which is why his new opus Nymph()maniac is made up of two films with a combined running time of four hours to tell the story of a self-diagnosed nymphomaniac's journey of discovery and darkness as she attempts to satisfy her insatiable urges. Watch the trailers for Nymph()maniac vol. I and II below.
The nymphomaniac in question is Joe, played by Charlotte Gainsbourg, who continues to be one of the boldest actresses out there. We first meet Joe, beaten and unconscious, in an alleyway where she's discovered by a studious stranger named Seligman (Stellan Skarsgard) who takes her in and attempts to find out what happened to her, leading Joe to tell him her entire sexual life story starting from childhood over the course of a long night. Seen in flashbacks, the younger Joe is played in her teenage years through her twenties by British model-turned-actress Stacy Martin, then by Gainsbourg in the second film.
Joe's youth is spent discovering her sexual nature, which soon becomes a full-blown obsession as she begins experimenting with sex at an early age before making her way through dozens (if not hundreds) of men, learning valuable lessons about what makes different types of men tick while carelessly endangering or outright wrecking relationships along the way. Her endless string of meaningless affairs is eventually sidetracked when she falls in love with Jerôme, a man from her childhood played by Shia LaBeouf, whom she later has a child with.
Things turn darker in the second film, as Joe's appetite strains her relationship with Jerôme with things getting worse when she loses sexual sensation, leading her into new and riskier endeavors in an attempt to end her numbness, along with an attempt to "cure" her nymphomania all together through therapy. In the meantime, Joe -- who continually maintains that she's a bad person -- uses her lack of scruples and extensive knowledge of the male psyche to enter the shadowy criminal world of debt collection.
Other cast members include Christian Slater as Joe's loving arborist father, Jamie Bell as a controlling sadist, Willem Dafoe as a debt collection mentor, and Mia Goth as Joe's potential protégée.
Thankfully, there's a lot of nudity and sex in both volumes of Nymph()maniac, because it would be ridiculous for there not to be with a story like this, which is a fascinating look at how an unquenchable sexual appetite, which may seem fun and liberating at first, inevitably exacts a toll on the one who has it as well as those around her. The flashbacks, filmed in Von Trier's naturalistic style, feel authentic, immediate, and unflinching, which is a welcome change from the puritanical, tittering aversion to explicit nudity and sex found in most American films. There are also some interesting stylistic flourishes with clever editing to illustrate points and sometimes lighten the mood.
Unfortunately, the major downside to this flashback format is the present-tense scenes in Seligman's dingy apartment, where the dialogue between Seligman and Joe always sounds labored and totally unlike the way real people talk. Throughout the first film, Seligman repeatedly interrupts Joe's storytelling to make strained comparisons between her anecdotes and fly fishing, and later uses his encyclopedic knowledge to compare her endeavors to events in history and literature to the point that even Joe gets sick of it. That's because Seligman, in a word, is a bore who you would never want to hang out with in real life, and his interjections slow the film down more often than they add needed context.
It's too bad since aside from Seligman's interruptions, Nymph()maniac vol. I and II is a fascinating, ambitious, button-pushing epic that both plays with and challenges the power of female sexuality, its place (or denial of it) in society, and the audience's comfort with it when it's let loose on an unsuspecting populace. It's also a detailed account of the power of addiction/compulsion and the fun that turns to dread when increasing tolerance sends an addict further and further out as they chase that elusive rush. Nymph()maniac vol. I and II is not for the squeamish or prudish, but if you're worried about the judgmental eyes of theater employees and patrons, you can also watch both films at home through video on demand.
Popular in the Community