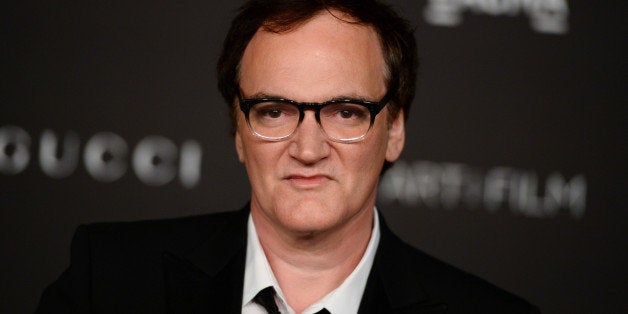 As its promotional material is fond of telling us, the Hateful Eight is only Quentin Tarantino's eighth film in his more than twenty-year career. However, few if any other filmmakers have had as much of an impact on film and television as Tarantino has. And his films are so distinct, singular, and uniquely Tarantino-esque in their use of dialogue, violence, and genre that they're in a category all their own, making it nearly impossible to compare his work to any other director's. Tarantino's films can only really be compared to each other, and the Hateful Eight serves as an excellent progress report for how Tarantino has and hasn't evolved as a filmmaker, since not only does it find Tarantino revisiting the themes and conventions that define his work, but also bears similarities to his 1992 film that started it all, Reservoir Dogs. Watch the trailer for the Hateful Eight below.
The Hateful Eight takes place in the middle of a Wyoming blizzard sometime shortly after the Civil War. Bounty hunter John "the Hangman" Ruth (Kurt Russell) and his driver O.B. (James Parks) are transporting murderess Daisy Domergue (Jennifer Jason Leigh) to the town of Red Rock for a $10,000 reward. While heading to a remote trading post called Minnie's Haberdashery, Ruth picks up two men stranded in the storm -- former Union officer and fellow bounty hunter Major Marquis Warren (Samuel L. Jackson) and, later, former Confederate raider Chris Mannix (Walton Goggins), who claims to be the future sheriff of Red Rock.
When the five reach Minnie's Haberdashery, they find not Minnie, but four rather questionable characters -- Oswaldo Mobray (Tim Roth), a Brit claiming to be Red Rock's new hangman; a cowboy named Joe Gage (Michael Madsen); a Mexican named Bob (Demián Bichir) who says Minnie left him in charge of the Haberdashery; and former Confederate general Sandy Smithers (Bruce Dern). Over the course of a long night, we learn which of these nine people is who they say they are, what really brought them to Minnie's, and who will be left standing at the end.
The Hateful Eight is a Tarantino film through and through. The cowboy genre suits Tarantino well, since nearly all of his films are set in worlds full of armed, hard-boiled killers where violence or death could occur at any moment -- and the word "nigger" can be used liberally. The Hateful Eight also has the Tarantino staples of a chaptered format, a non-linear timeline, and characters who themselves are performing as someone else. We also see Tarantino's more recent interest in directly confronting America's racist roots, which can be seen in Django Unchained and Tarantino's vocal support of the Black Lives Matter movement. And, like Reservoir Dogs, the Hateful Eight mostly takes place within a single building as a group of killers attempts to figure out which among them is gunning for the rest of them.
But despite these similarities, the Hateful Eight isn't simply a rehash of Tarantino's previous films. And the main reason why is one of the major things that put Tarantino on the map from his first film in 1992 -- his use of dialogue.
From the beginning, characters in Tarantino's films talked like actual people -- a trait that remains oddly rare in film and television even today. Their speech was full of pop culture references, anecdotes, interruptions, theories, organic humor, and mannerisms that were entertaining, differentiated each character, and explained the relationships and power dynamics between them. But if you watch Reservoir Dogs, you'll see that some of these speeches -- like the one about the true meaning of Madonna's "Like A Virgin", the social convention of tipping at restaurants, and the story about the angry stripper -- do nothing to advance the story, up the tension, or even set up a payoff later in the film. They're just funny, cool, help establish a vibe, and that's about it.
While Tarantino has retained every bit of his penchant for sudden, gory spasms of violence, it's his ability to use dialogue -- and dialogue alone -- to ratchet up tension and push the story forward without diversions from entertaining but insignificant tangents that has undergone the biggest evolution over his career.
While this was sometimes evident in his earlier films, I feel like this evolution was first truly felt in the opening scene of Inglourious Basterds where Christoph Waltz as SS colonel Hans "the Jew Hunter" Landa interrogates French dairy farmer Pierre LaPadite (Denis Ménochet) about the location of a Jewish family Pierre is hiding in his basement. It's an excruciatingly tense scene that establishes the film's villain, elucidates his feelings towards Jews, and sets up the constant fear of discovery and violence Jews in occupied Europe experienced under the Nazis, all without ever leaving Pierre's kitchen table.
The Hateful Eight feels like the logical conclusion of Tarantino's sharpened, more focused use of dialogue. The Hateful Eight is both violent, gory, and suspenseful, yet it's virtually all talking in a nearly three-hour movie that spends the vast majority of its time within the walls of a single large room. It's the Tarantino film that looks and feels most like a play -- or, more accurately, a murder mystery, but about a murder that's yet to be committed. When I rewatched Reservoir Dogs for this review, I was reminded of how many scenes and gunfights take place outside the criminals' warehouse meeting place, providing diversity and action to keep the story moving. The Hateful Eight is almost completely contained within the four walls of Minnie's Haberdashery, yet manages to be even more tense even though nearly all of its battles, subterfuge, and evasions are verbal. But when the bullets do inevitably fly, Tarantino once again demonstrates that gunshot wounds in his films are the most splattery and skull-destroying in the business.
Of all Hollywood directors, Tarantino certainly seems to have the game figured out better than the rest. He puts out films at the comfortable pace of one every three years or so, giving each enough time to be appreciated and discussed on its own while providing enough distance between films that moviegoers remain hungry for his next project. And when Tarantino releases a film, each one is so indelibly imbued with his unmistakable voice, DNA, and love of film history even as his films change time periods and genres that they're sure to delight his fans and film buffs alike, even if the movies themselves don't leave viewers with any deeper understanding of the world or the human condition. But they absolutely deliver a fun, funny, bloody, unique, exciting, and -- most importantly -- surprise-filled time at the movie theater. And it's hard to ask for more than that.
Popular in the Community