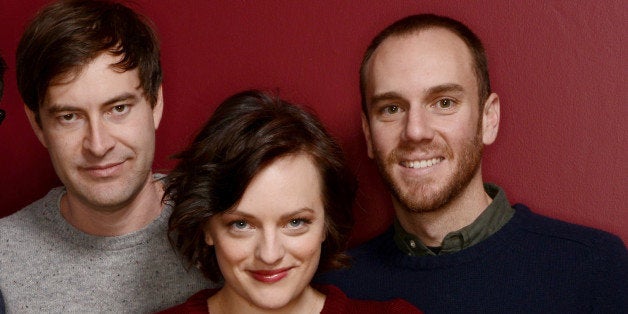 The One I Love is one of those perfect indie gems you feel lucky for finding, and it's yet another example of how an interesting premise, real emotion, and a few great actors will trump big budgets, special effects, and star power every time. That's because The One I Love, about a struggling couple whose attempt to reinvigorate their marriage during a weekend trip takes a turn for the surreal, may be my favorite movie of this summer. But to explain why I love this movie so much, I'm going to do my best to avoid revealing a key aspect of the film's premise that's revealed early in the film. So don't worry -- this review contains no spoilers. Watch the trailer for The One I Love below.
Mark Duplass and Elisabeth Moss play Ethan and Sophie, a couple who have been trying in vain to get past trust issues and rekindle the excitement of their relationship's early years. Their therapist (Ted Danson) recommends they spend a weekend alone at a secluded house with the promise that every couple he's sent there has returned "renewed". So Ethan and Sophie head to scenic Ojai near the California coast, where the couple finds a beautiful house and guest cottage tucked amidst idyllic orange groves with all the wine, food, and privacy (plus a little marijuana) they'll need to rediscover the intimacy they've lost.
But soon, things get a bit weird when Ethan or Sophie find themselves getting in confused arguments regarding differing recollections of events. They eventually realize that this strangeness has something to do with the guest cottage, but I'm afraid that's all I can say without revealing the discoveries Ethan and Sophie make that are part of what makes The One I Love so fun and intriguing. Trust me, the less you know, the better.
The performances by Duplass and Moss are fantastic and utterly believable as a real couple having difficulties and confronted by the truly bizarre, while the fact that supposedly half of their dialogue was improvised elevates the film's realism and naturalism in contrast with the extraordinary circumstances the couple finds themselves in. The cinematography is also crisp and pretty with an intermittent and appropriately dissonant score.
Despite the fact that The One I Love is written and directed by two guys in their early thirties, they've achieved a terrifically clever way of examining one of the biggest problems couples in long-term relationships face -- the loss of passion, trust, and intimacy due to events or simply the passage of time. But does that mean that the person you shared such a spark with at the beginning of the relationship is gone, just a figment of the past? Can you ever return to the mindset you had during that honeymoon period, or is pining for that novelty like a drug addict chasing the thrill of that first hit? And if a grave enough transgression occurs in a relationship, can you ever return to the relationship you had before it happened? And if you can't get past it, does it not only destroy any chance of a future, but also poison what had previously been a golden time?
And even more impressively, the filmmakers have done this by going outside the romantic comedy and dramedy genres, instead employing aspects of science fiction and magic realism that are often used for social or political commentary. But instead of using those genres to look outward, The One I Love uses their conventions to delve inwards, using the surreal to explore whether Ethan and Sophie's relationship is going to make it, and perhaps illuminating our own questions about love, romance, memory, and commitment. In that sense, The One I Love is an excellent companion to Eternal Sunshine of the Spotless Mind, as well as more modern relationship films like (500) Days of Summer and Blue Valentine that acknowledge the evolution of relationships and don't take the standard Hollywood "happily ever after" as a given.
The One I Love is small in its scope, budget, and the size of its cast, but its ideas, emotions, and performances loom larger than anything else I've seen this year in a film that constantly had me wondering what would happen next. Fresh, clever, creative, and utterly modern, The One I Love is a movie you shouldn't miss, and you shouldn't have to since it's already available on demand as well as on iTunes, Amazon, and Google. Just see it soon before someone spoils it.
Calling all HuffPost superfans!
Sign up for membership to become a founding member and help shape HuffPost's next chapter