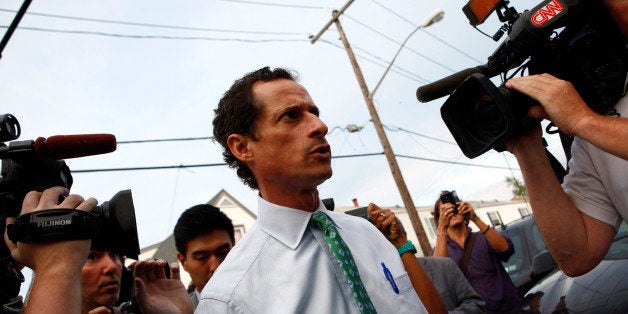 Most kids couldn't survive the embarrassment of growing up with a last name like Weiner and hope to emerge with their souls and spirits intact. At the same time, a lot of politicians couldn't expect to salvage their political careers if they were caught in an embarrassing sex scandal, especially one where the evidence included explicit photos and text messages that all the world could see. But Anthony Weiner was able to do both, becoming a popular democratic congressman who was later forced to resign after a mortifying digital-age scandal, only to bounce back two years later to make a serious run for mayor of New York city.
Anthony invited budding filmmaker and former staffer Josh Kriegman (and his partner Elyse Steinberg) to film his campaign, and the insanity that followed became the documentary Weiner, one of the best (and most cringeworthy) political documentaries ever made, particularly for the mindboggling fact that Anthony himself signed off on it. Watch the trailer for Weiner below.
In case you don't remember, Anthony Weiner is a former House representative of New York's 9th district whose star was on the rise for his fiery speech in 2010 denouncing republicans for refusing to fund healthcare for 9/11 first responders. But that came to an abrupt end in May of 2011 when he accidentally tweeted a photo of his underwear-sheathed boner to all of his Twitter followers. After many denials, this eventually led to the revelations that he'd been talking/typing dirty -- but never actually having sex with -- several women he'd met online, causing him to resign in shame a month later. This was made even worse by the fact that his wife, Huma Abedin, is not only one of Hillary Clinton's closest aides and confidantes, but was also pregnant with Anthony's first child.
But the makers of Weiner assume you already know this, and they pick up the story in 2013 with Anthony and Huma warily getting their marriage back on track as Anthony begins a campaign to become mayor of New York City. And with Anthony's operation picking up steam, his innate political skills, his record as a steadfast champion of the middle class, and America's love of redemptive comeback stories, he seems poised to pull it off. That is, until more of Anthony's sexting partners come forward, including ones who had communicated with him after he had resigned from congress, turning his once-promising campaign into the ultimate uphill clusterfuck and a cautionary lesson in crisis management.
Like most documentaries, Weiner won't blow you away with its cinematography or production value. But it's packed full of the most important currency documentaries can possess that scripted films can't provide: access. In fact, the directors of Weiner had so much access to Anthony, his family, and his campaign as one of the most embarrassing scandals in modern political history unfolds that viewers -- and even the filmmakers themselves -- are left wondering why Anthony allowed cameras in to document a campaign that could erupt in embarrassing revelations at any moment.
It's this question that makes Weiner about more than an unfortunately named politician with a sexting obsession. No matter how well-meaning and civic-minded a politician is, simply wanting to be a politician necessitates a certain amount of arrogance since the candidate is claiming that they are the most deserving of the power, responsibility, attention, and respect the position affords. Add to that the loss of privacy that comes with America's celebrity culture, the 24-hour cable news cycle, and political "journalism" too focused on scandals and personalities, and it becomes hard to imagine what kind of person would ever volunteer for such a job.
The answer, unfortunately, is that our political system may increasingly -- or even exclusively -- attract people like Anthony Weiner. With the media spotlight now unavoidable, maybe we'll only get politicians who crave it or can craft the mostly tightly controlled public personas. With people living more of their lives online and leaving a digital record wherever they go, maybe it will soon be normal for candidates to have embarrassing or explicit aspects of their personal lives exposed. Maybe there will be an increase in the number of cheating scandals as politicians increasingly use social media to seduce willing constituents.
Or maybe since politicians will be unable to keep their peccadillos secret, politicians will simply become more shameless -- or at least more clueless. How else would you describe someone who, having almost ended his marriage and political career by sexting with online randos, not only continued doing it, but put himself back in the public eye where his indiscretions were more likely to be revealed and could cause even more damage and embarrassment for his family, campaign staff, and anyone else who supported him? How could someone base his campaign on the claim that he was sorry for the pain he'd caused through his infidelity and had learned from his mistakes when his actions could prove that neither was true? And while I partially admire Anthony's fighting spirit for refusing to cancel his mayoral bid in the wake of the second scandal, it seems tone-deaf when considering how brazenly he had lied to voters and heartless for the pain it causes his wife, especially considering her high-profile career working for one of America's most public victims of infidelity.
And why would Anthony invite people to film all this? Anthony has his reasons, though few viewers (and probably Anthony himself) will believe it's worth immortalizing his most shameful moments on film and releasing it for public consumption. But in the meantime, his mistake is our gain because it's given us Weiner, a view of a comeback, a political campaign, and a marriage in crisis so intimate, insightful, and cringeworthy that its hard to believe that it even exists.
Calling all HuffPost superfans!
Sign up for membership to become a founding member and help shape HuffPost's next chapter