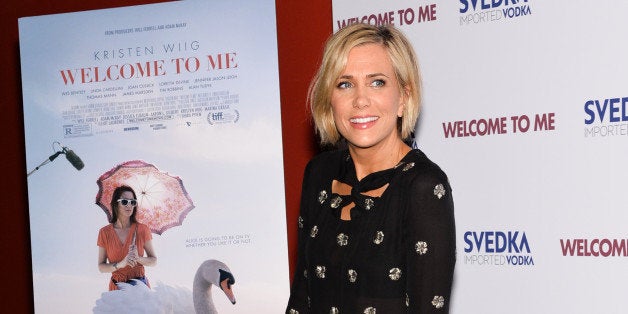 After the breakout success of 2011's Bridesmaids, it seemed like Kristen Wiig could write her own ticket. Not only had she co-written and starred in the year's most successful and beloved comedy, but the film was heralded as incontrovertible proof that not only were women funny(!), but that female-led comedies didn't have to be "chick flicks", could attract a diverse audience (meaning men) and ultimately be box office hits. At the center of all of this was Wiig, and with the known commodity of her comedic talents honed over years at Saturday Night Live, it felt like she could truly do anything she wanted.
But, instead of using her newfound clout to pursue even bigger box office success in broad comedies, it turns out that Wiig was much more interested in smaller, decidedly darker independent fare where she could challenge herself as an actress. She still has plenty of big projects on the way (Ghostbusters, Zoolander 2, The Martian), but Wiig seems to have signed on for the "one for them, one for me" plan, using big-budget crowd pleasers to fund her more fulfilling indie habit.
And it's because of this strategy that we get Welcome to Me, where Wiig plays a woman with borderline personality disorder who wins the lottery and uses the money to start a talk show. Watch the trailer for Welcome to Me below.
Wiig plays Alice Klieg, a divorced, unemployed near shut-in who loves Oprah Winfrey and records and memorizes every episode of her show. When Alice wins $86 million playing the lottery, she abruptly goes off her medication, fires her therapist (Tim Robbins), moves to a casino and eventually decides to spend her fortune on a talk show to be produced out of a struggling infomercial studio. While she aspires for her show to be like her idol Oprah's, Alice's show (also called Welcome to Me) has no guests and only one subject: Alice. As she fills her two-hour episodes with dubious dietary advice, re-enactments of formative/humiliating moments, and other interests, the studio's staff (which includes Joan Cusack, Jennifer Jason Leigh, James Marsden, and Wes Bentley) and Alice's best friend (Linda Cardellini) are left wondering if Alice's antics are due to self-absorption, eccentricity or something more troubling. Meanwhile, Alice's growing audience tries to figure out if they're watching performance art, mental illness or simply a new take on cringeworthy, over-sharing, train-wreck, can't-look-away reality programming.
Wiig is in (or is the subject of) every scene, and she ably carries the film, despite the fact that Alice's self-centeredness doesn't make her the most sympathetic person as she plows forward with her vision, either ignoring or failing to notice the feelings of others. However, Alice can partly be forgiven this due to her mental illness, as well as the fact that having a single-minded, sometimes insensitive dedication to a project is also a trait commonly possessed by great artists, geniuses and others who excel in their chosen field. The same could be said of Alice's emotional, cathartic outbursts as she watches actors recreate scenes from her past. Is she having a breakdown, or is she allowing herself to be totally present and surrendering herself to the emotions of the moment? But Welcome to Me manages to walk a fine line when it comes to Alice's mental condition. It's neither used to mock Alice, nor is it romanticized and portrayed as a conduit Alice uses to access a deeper truth. And when in the grips of her disorder, things quickly get sad and scary.
I don't think Welcome to Me is trying to make any larger statements about the world or mental disorders, but the film is an interesting reflection on the role television continues to hold in our lives. Even as the internet continues to disrupt nearly everything about how news and entertainment are delivered, there's still something about the immediacy and specialness of television that keeps us tuning in to a certain channel at a certain time even when we could easily find the same content on the internet that's ready whenever we are. Despite having all the world's information at my fingertips, I still enjoy watching the 11pm local news, and people still want to watch Game of Thrones on Sunday night instead of waiting to see it on HBO Go the next day. And because not everyone gets to be on TV (unlike the internet), we can't help but assume that those allowed to grace our flat-screens must be or have done something noteworthy to have earned the airtime.
Alice's life is one of increasing isolation as her disorder shrinks her world, but TV provides her with a lifeline, a window, and role models to aspire to. By putting herself on TV, Alice is declaring that not only does she exist, but that she matters and the pain that shaped her is real. And because of the legitimizing power of television and the way it is beamed into our homes, begging to be discovered, people will listen. By putting everything about her life on the air with no filter, Alice is reaching out to the world using the most powerful medium she knows to explain who she is and why. But it's still a one-sided conversation -- the real challenge for Alice is learning how to handle when real people reach back.
REAL LIFE. REAL NEWS. REAL VOICES.
Help us tell more of the stories that matter from voices that too often remain unheard.