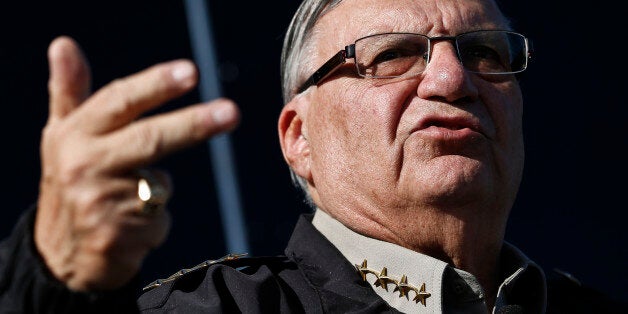 On May 2, a federal court in Arizona allowed Maricopa County Sheriff Joe Arpaio to continue his workplace raids to search for undocumented immigrants using false identities to work. In the wake of this decision, we should reconsider how we define identity theft. Rather than immigrants being "identity thieves," my research with farmworkers in California's Central Valley suggests that in many industries dominated by undocumented workers, employers actually give undocumented workers work authorization documents.
In 2008, Arizona broadened its definition of identity theft to include those who use fake documentation to obtain work. The Maricopa County Sheriff's Office (MCSO) has since used this law to arrest more than 780 people--mostly undocumented workers--in 83 workplace raids. A closer look at how undocumented immigrants obtain the documents they need to work complicates Arpaio's view of them as "identity thieves."
In 1986, the U.S. passed the Immigration Reform and Control Act (IRCA), intended to reduce employment as an incentive for undocumented immigration. IRCA requires that employers inspect proof of identity (such as "green card" or passport) and proof of work authorization status (a Social Security card) for each prospective employee. Yet IRCA does not require that employers verify the authenticity of such documents. So the law encouraged employers to accept fake, loaned, or stolen documents. In industries like agriculture that are reliant on undocumented labor, employers either turn a blind eye to false or purloined documents or provide them themselves.
Employers know that frequent "No-Match" letters from the Social Security Administration--that is, notifications of discrepancies between a worker's name and his reported Social Security Number--trigger federal immigration raids or audits. Because of this, employers' degrees of compliance depend on their size and employee turnover.
For example, among small labor contractors in California's Central Valley, the high turnover of their seasonal workforce makes federal immigration raids uncommon. Labor supervisors who hire field hands can therefore dispense with IRCA's required documentation inspection entirely.
In contrast, large agribusiness companies with a more permanent workforce bear a higher risk of workplace audits or raids. These companies often have a formal policy of only hiring workers with valid documentation. This poses a dilemma for labor supervisors, who have devised a strategy to evade this policy. Farmworkers said that labor supervisors often qualify the official company policy. As one said: "They tell workers, 'Yes we want good documents... But they don't need to be yours.'"
In large agribusiness companies, then, supervisors encourage what I call identity masking. They ask undocumented immigrants to work loaned or stolen documents in order to hide their presence from the federal government. The practice allows these companies to disguise their employment of undocumented immigrants from the immigration authorities, and their use of child labor from state and federal labor departments.
Identity masking is not unique to agriculture. During the 2008 raid of a kosher meatpacking plant in Postville, Iowa, Agriprocessors, Inc., federal prosecutors charged 389 undocumented workers with "aggravated identity theft," meaning that they had "knowingly" and "intentionally" used the identity of a third party to work. A year later, after the workers had been imprisoned and deported, the Supreme Court reversed their convictions, finding the charges unsubstantiated. Meanwhile, one supervisor was convicted for directing six undocumented employees to obtain "new identification documents" to avoid federal scrutiny and another was similarly convicted of conspiracy to commit document fraud. And one plant manager admitted in court that he had conspired with the former vice president a week before the raid to buy fake identification documents for 19 employees. This suggests that supervisors may have been the ones who had in fact provided the workers with loaned or stolen documents--precisely in an effort to avoid a federal raid.
In Arizona, too, evidence suggests that some workers arrested for "identity theft" were merely working the documents or Social Security Numbers provided by their employers. On August 9, 2012, the MCSO arrested Luz Ruiz Rascón during a raid at a GNC vitamin supply company warehouse. The federal I-9 and W-4 forms that Rascón's employer had on file bore Social Security Number that had been invented, and Maricopa County prosecutors charged Rascón with six counts of identity theft and forgery. Yet the Maricopa County Attorneys' Office (MCAO) eventually dropped the felony charge against Rascón and offered her a plea bargain of a misdemeanor. As the MCAO spokesperson later told a reporter, Rascón's work authorization papers "appeared to support a possible finding by the jury that she may not have completed all the sections of the documents herself."
Arizona must reconsider its broad definition of identity theft. Laws that punish undocumented immigrants for working find too easy a scapegoat. If we call this identity theft, we must remember that it is rarely perpetrated by the worker alone.
Popular in the Community