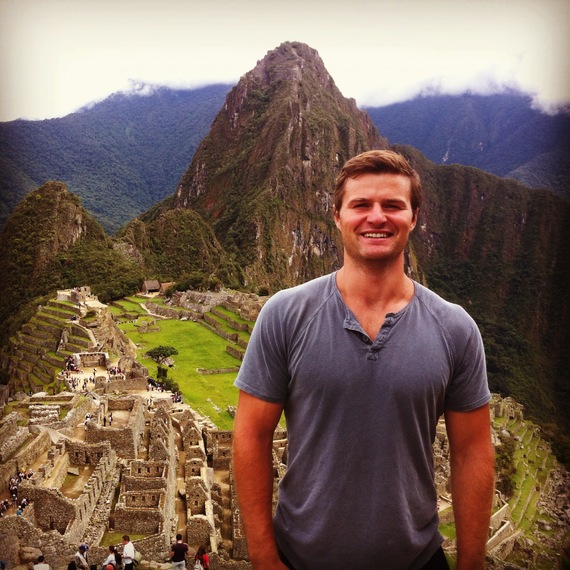 Before I entered the tech startup scene, I began to reach out to some of the up and coming players in New York to see what I can learn. The first two people I reached out to and replied were Alex Taub and Scott Britton. Alex ended up hiring me and Scott became one of my close friends. When I first met Scott, he was working at SinglePlatform, which soon got acquired by Constant Contact relatively early in its life cycle. After some time working for the company, Scott announced he was leaving not just the company but New York. He was packing up and moving to Brazil.
"Pursuing my own personal ventures and interests."
"Beautiful beaches, amazing culture, world class steak...and the women. What single guy in his mid-twenties wouldn't want to go somewhere like that?!"
If you know Scott, that's the typical rockstar kind of response you would hear from him. We exchanged a few emails here and there to keep in touch. When he said he was finally returning to New York, I shot him a note. Though he's been busy as usual, constantly making the most of every time, he was kind enough to catch up with me.
Brian Kil (BK): What have you been up to the past two years?
Scott Britton (SB): All kinds of stuff man. I moved to Brazil to live with a few friends for a little less than a year. While I was there I learned Portuguese and got to practice while I traveled all over Brazil. I learned to surf and even joined the Flamengo Semi-Pro American football team for a bit in Rio. On the professional side, I got deep into online marketing. Some cool results of this were growing my blog to a top 40 trafficked personal development site on the Internet, launching a book that hit #1 in multiple categories on Amazon as well as a podcast that was regularly a top 20 in iTunes Business. After a while I wanted to come back to the U.S. and try out living in Southern California. I spent 3 months living with one of my closest friends. I spent a lot of time surfing and became a CrossFit instructor while working out at Invictus, arguably the top CrossFit gym in the world. I wanted to build a new business and decided New York would be the best place to do it so I moved back a little less than 6 months ago. I've been working on a new mobile, software company for about 3 months with 2 friends. I also teach this cool fitness class called Peak State once a week that focuses on human empowerment within a high intensity workout. Lots of good stuff going on!
BK: How was that made possible?
SB: Just before I left New York I had started working on a side business that was teaching courses on business development and lead generation. I ended up growing that to a 6 figure business and automated most of it pretty quickly once I left my job. This freed me up to explore all these other things including taking my own shot with my current venture and making my first TV appearance on Good Morning Australia! The key to making this happen was learning to become a decent online marketer. Most "passive" business opportunities online are facilitated by developing this skill.
BK: Why are so many people averse to the idea of "passive income"?
SB: I think because there's a lot of slimy marketers who make it seem like it's so easy to achieve or that you have to sell snake oil to make it. It's just not true. It takes a lot of work and you can add a lot of value to people depending upon the business.
BK: Your blog, life-longlearner.com, was one of the first blogs I began following. It was still published on Tumblr but had great quality content. At what point did you realize it would become the platform it is now today?
SB: Aww thanks man! I didn't really ever think it'd become anything to be honest. I wrote because I loved sharing and crystallizing my ideas. One day I woke up and realized I had written over 300 posts and over 15,000 email subscribers. It's a classic example of something starting small and over time consistent effort resulting in creating value.
BK: How do you decide what may or may not be interesting to other people?
SB: I haven't admitted this to many people, but I usually just write for myself. Either what I think is interesting or something that I wish I knew before doing it myself. A great way to make this decision though is to focus on what people continually ask you. Those are always great content topics.
BK: What is the biggest misconception people have about passive income/alternative revenue streams?
SB: That it is an overnight thing. It takes time and you can't expect to become rich while doing no work overnight. Again, almost all passive income opportunities require online marketing expertise and setting up a system so if you don't invest in those things it will take a bit to create them...but it is absolutely possible. I actually gave a talk recently on what I believe is the easiest way to get started making passive income here if anyone wants to check it out.
BK: You're back in New York! What's next for you?
SB: I'm really focused on getting this new mobile, software company off the ground. We're still very early so don't want to talk too much about it, but it's a solution to make sales people better at their job which I'm pretty excited about. I will also continue running my workout class once a week : )