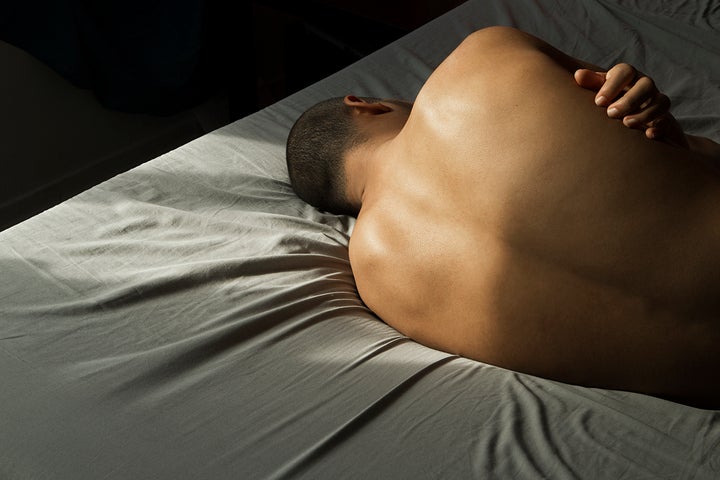 Through photography, one of my aims is to reflect on and respond to my experiences as a queer individual. Sweet Dreams, Francis seeks to do just this. On view from July 12 to August 13, 2017 at the Ryerson Image Centre in Toronto, the exhibition explores themes of masculinity in relation to the body and its portrayal in the nude genre. By focusing on individuals who do not subscribe to heteronormative values, Sweet Dreams, Francis ultimately encourages viewers to reflect on commonly held definitions and depictions of "manliness" and its relevance in present-day society.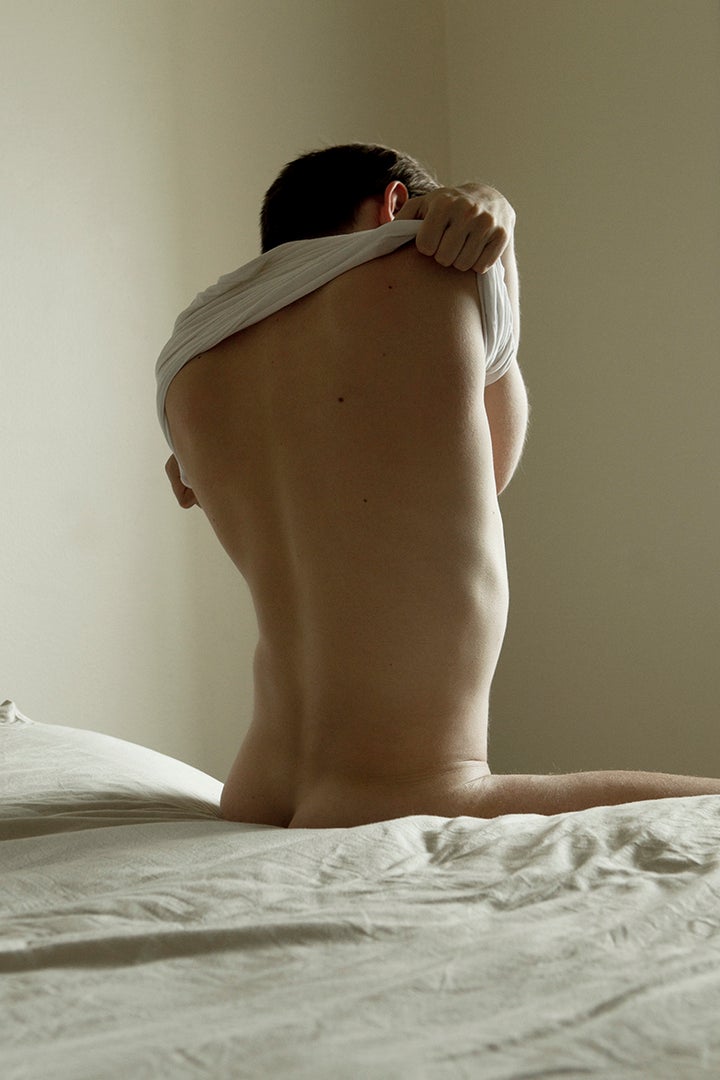 The photographs of various gay and queer men are intended to evoke a sense of calm and quiet – a proposition that contrasts with images of male bodies in photography and visual media in general. Fabrics are employed throughout as a means of softening the imagery and gently disrupting traditional notions of masculinity.
In a vitrine in the corner of the exhibition space are a collection of vintage snapshots from the 1940's – 60's that I purchased on eBay. The postures in these photographs, which hold a homoerotic charge, were an inspiration for my own images. At that time, these images were made and viewed outside of the mainstream gaze. In a direct response to these snapshots, I created images that extend this gaze and offer a place for the gay male body within the canonical history of the nude.
I am influenced by the work of Minor White, whose raw and vulnerable photographs of nude men are commonly interpreted as a direct expression of his homosexual desire. I also looked to Collier Schorr's bookwork, Jens F. where she photographed an adolescent male over a period of years, mimicking portraits of Helga by the painter Andrew Wyeth. She too explores notions of masculinity and identity by juxtaposing Wyeth's imagery with her own. Both White and Schorr's use of light work to draw emotion or sentimentality from the viewer. To that effect, I used natural light to create a sense of calm and tranquility that paralleled the subtle and languid poses of my models. The domestic spaces are rendered ambiguous, grounding the body, though not overpowering its presence and creating an intimacy between me, the subject and the audience.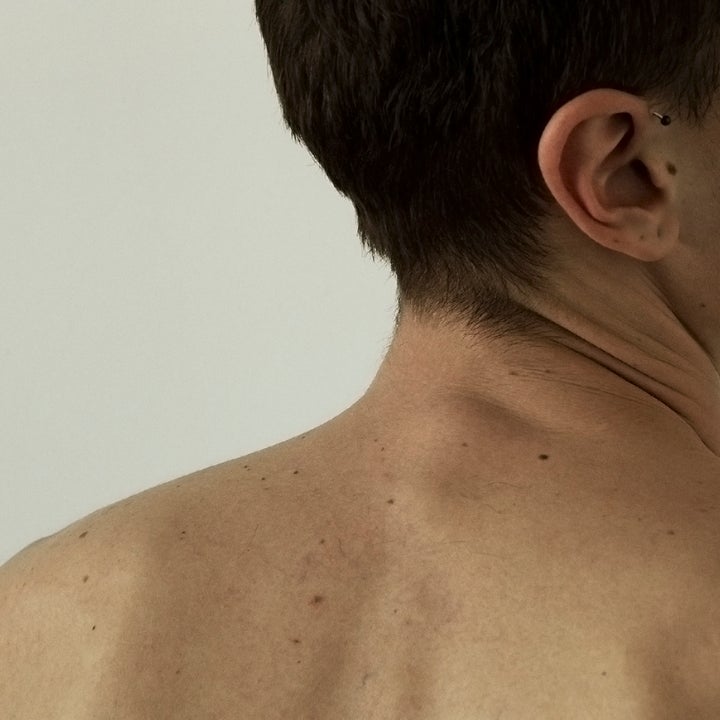 I also studied ideas of desire in relation to historical portrayals of Saint Sebastian. The body of Sebastian is idealized in form, with a likeness to ancient Greek sculpture, as well as to gay pornographic imagery. Sebastian's portrayal is often affiliated with that of lust and homosexual desire. He is in pain but appears to be reveling in a state of ecstasy. While not explicitly illustrated in this exhibition, these images of Saint Sebastian provided a framework with which to understand the nuances of gay imagery and its legacy in contemporary gay culture.
The exhibition also includes photographs of textiles, in an attempt to draw connections between the smoothness of the skin and the softness of the fabric. These specific fabrics were selected because of they are commonly associated with femininity, which too, serves to disrupt traditional notions of masculinity when exhibited alongside images of nude men.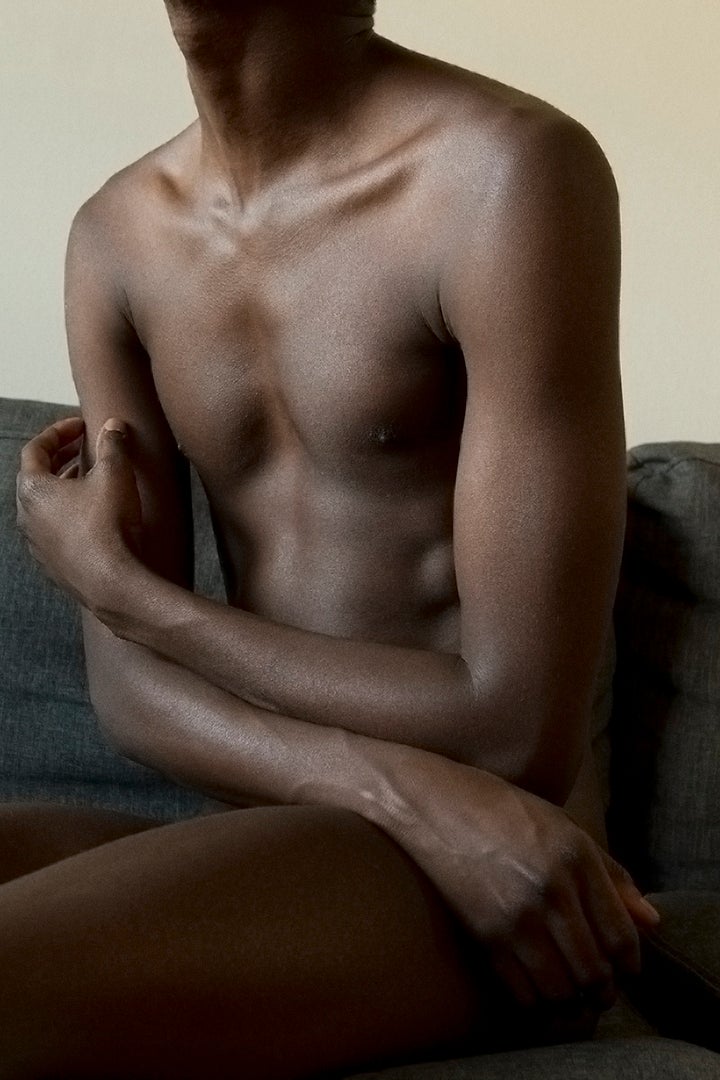 It is my hope that visitors to the exhibition will consider how our understanding of masculinity is shaped by social norms and culture. When reframing masculinity within a non-heteronormative space, our understanding of these images may, or may not change. That is for the viewer, and the reader of this piece, to determine.
Jordan Browne is a photo-based artist located in Toronto whose work focuses on the nude form and the ways in which body language and gesture can communicate underlying emotions. Browne obtained his BFA in Photography at the School of Image Arts, Ryerson University, in Spring 2016. He has participated in group exhibitions and auctions within the Toronto community. Sweet Dreams, Francis is his first solo exhibition.
Calling all HuffPost superfans!
Sign up for membership to become a founding member and help shape HuffPost's next chapter