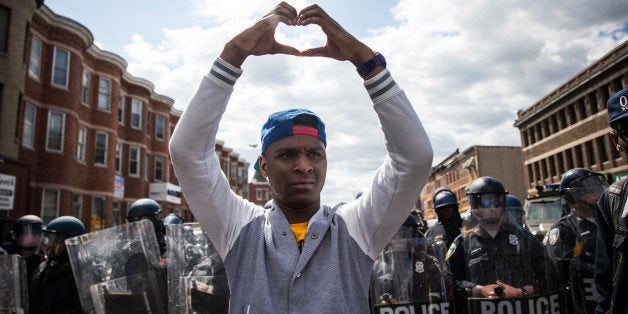 Michael Brown, Eric Garner, Tamir Rice, and now we add Freddie Gray to the names of unarmed black Americans who have died at the hands of police.
Despite requests for peace from Freddie Gray's family, Baltimore erupted in anger on Monday after the young man's funeral. In moments of serious unrest, the reflex for politicians, media and religious leaders is to call for an end to violence. But, in the face of the systematic racism of America's policing and prison system as well as crippling poverty that disproportionally affects the black community, how does non-violence work to actually solve the root of the problem? Or does it work at all?
When nonviolence is preached as an attempt to evade the repercussions of political brutality, it betrays itself. When nonviolence begins halfway through the war with the aggressor calling time out, it exposes itself as a ruse. When nonviolence is preached by the representatives of the state, while the state doles out heaps of violence to its citizens, it reveals itself to be a con. And none of this can mean that rioting or violence is "correct" or "wise," any more than a forest fire can be "correct" or "wise." Wisdom isn't the point tonight. Disrespect is. In this case, disrespect for the hollow law and failed order that so regularly disrespects the community.

So, is it time to re-think non-violence? Not to reject it, but to remember that non-violent resistance was born as a strategy, an effective means of resistance to systematic oppression. To remember that non-violence is also a spiritual discipline that inculcates resistance to hatred of one's enemies and resistance to violence that destroys one's own soul.
After the unrest in Baltimore on Monday I spoke to Pastor Raphael Warnock who is the Senior Pastor at Ebenezer Baptist Church in Atlanta, which was Martin Luther King, Jr.'s spiritual home, Pastor Heber Brown III, who is the pastor of Pleasant Hope Baptist Church in Baltimore, and Marc Lamont Hill, who is Distinguished Professor of African American Studies at Morehouse College and a colleague of mine at The Huffington Post.
My guests on All Together used the word 'uprising' to describe the growing awareness and mobilization of the unacceptability of the way African-Americans are treated by our police and criminal justice system. We discuss what we mean when referencing the non-violent resistance and wondered together what Dr. King and others really had in mind when he preached non-violence?
In 2012, I spoke to congressman and civil rights icon Rep. John Lewis about his experience of training in non-violence in the civil rights movement. He told me:
The philosophy of non-violence is in keeping with the teaching of Jesus. As Dr. King said, Jesus gave us the way, the philosophy; and Gandhi gave us the method.

I grew to accept nonviolence as a way of living before I went on any demonstration, or any march. For a whole year, a group of us studied the great religions of the world, and Gandhi and Thoreau, and I made up my mind that I would make a lifetime commitment to the way of peace and the way of love. No matter what happens. Whether I'm beaten, whether I'm arrested and thrown in jail, I am going to commit my life to a new way, a better way.
You can hear my guests and Rep. John Lewis talk about non-violent resistance and the movement towards justice that is happening in the streets of America. My sense is that there are already non-violent tactics being used but that more intentional training is needed.
I want to end by highlighting the words of Martin Luther King, Jr. who's line "I must say tonight that a riot is the language of the unheard" was widely circulated in social media in recent days.
I would be the first to say that I am still committed to militant, powerful, massive, non-violence as the most potent weapon in grappling with the problem from a direct action point of view. I'm absolutely convinced that a riot merely intensifies the fears of the white community while relieving the guilt. And I feel that we must always work with an effective, powerful weapon and method that brings about tangible results. But it is not enough for me to stand before you tonight and condemn riots. It would be morally irresponsible for me to do that without, at the same time, condemning the contingent, intolerable conditions that exist in our society. These conditions are the things that cause individuals to feel that they have no other alternative than to engage in violent rebellions to get attention. And I must say tonight that a riot is the language of the unheard.
Popular in the Community