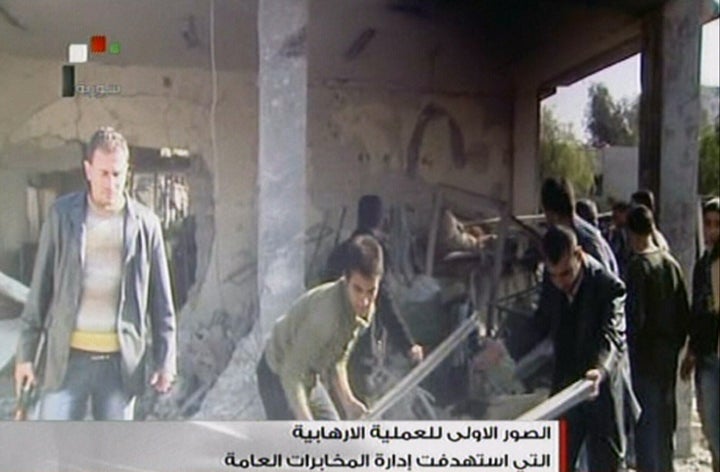 Russia's surprise tabling of a draft UN Security Council resolution last week has been interpreted by some as the first sign that it is beginning to move away from the Assad regime. For others, it was a pre-emptive tactic that sought to head off more effective international action against the Syrian regime. What is clear is that the Russians have had to act, alarmed by the deteriorating situation in Syria and perhaps embarrassed by the on-going killing of protesters. Russia may finally be ready to engage on Syria in the UN Security Council, some ten weeks after it exercised its veto -- and after more than 2,000 killed since then. Hopefully, it is learning the lesson that protecting Assad has only made his regime more brutal and made Syria more violent and more unpredictable.
In considering the future of Syria, Russia matters. Its support for concerted international action could prove crucial to attempts to stop the violence in Syria and further pressuring and isolating the Assad regime. Its commitment to working towards a post-Assad transition in Syria could reassure key minorities and help stabilize the country. It is therefore time to forge a new international compact, which includes a Russia that is focused on helping Syrians rebuild a post-Assad Syria.
Russia may be best placed to convince Assad and his cabal that the time has come for them to leave Syria. Failing that, Russia enjoys strong military-to-military ties that could prove a useful channel to convincing key Alawi security officers, who form an integral part of the regime to depose Assad and engage in a transition to a truly democratic Syria.
The Russian Orthodox Church also has close historical ties with Syria's Christian community, based largely in the country's two largest and most important cities, Damascus and Aleppo. Some 70 percent of Syria's citizens follow the Russian church and its leader, Patriarch Kirill, who, in a bid to stop the violence, visited Damascus in early November. The continued efforts of the Church, which has extensive ties to Christians in Syria, may provide the best reassurance to this community of trusting change in Syria. Such ties would be useful in any future transition in the country.
But the question remains: how can Russia, Syria's opposition, key Arab states, the Turks, the US and Europe work together on Syria? Even more importantly, how can Russia be assured that its strategic interests would be better served by preparing for the day after the Baath regime ends its brutal and stultifying 41 year rule?
With Moscow experiencing its own version of popular protests and Vladimir Putin accusing Washington of inciting Russian activists, the diplomatic mood is hardly conducive to the US and Russia working together on a strategically important Syria. Furthermore, Russia's deep skepticism of the use of UN mandates to protect civilians as in Libya, and broader suspicions that humanitarian aims could be used to promote regime change among its allies, even at home, has made an international compact on Syria that includes Russia seem improbable.
However, Russia's tabling of its own resolution at the UN represents a first tentative step
at cooperation, particularly with the Arab world. Improving the text by adopting the Arab League's peace initiative, which it first presented to the Assad regime just over six weeks ago, and which the League is now threatening to take to the Security Council, should be the next step.
The current Russian draft shows what has been wrong in its position. The draft continues to equate the regime's brutality with that of the largely peaceful struggle of the majority of hundreds of thousands of protesters in Syria. The recent UN Human Rights independent commission of inquiry report and other reports by international human rights organizations cite arbitrary killings, torture and other acts that constitute crimes against humanity being committed by the Syrian security forces. They clearly show that there is no practical or moral equivalence in the regime's actions and the protesters.
Russia also needs to reverse its total rejection of the political, financial and trade sanctions imposed by the Arab League if the Assad regime does not comply with its demands. Already, the regime has employed its usual delaying tactics in pulling back its forces from major cities and towns and allowing human rights monitors and international media in to the country. As the Arab League has recognized, albeit belatedly, exacting a price on the regime may be the only action left to stop its "killing machine."
Dialogue, not confrontation, with Moscow is the best way forward on Syria. The Russian Foreign Minister, Sergey Lavrov's, meeting in November and on-going contacts with the Syrian National Council since then are important developments. The opposition's growing internal consensus that it could offer Assad and his family a way out of Syria, potentially offers Moscow an important role.
To date, a concerted effort has not been made with Russia to discuss the ongoing crisis and its longer-term strategic interests in a changing Middle East. Arab states, in particular, need to engage with Russia, rather than hoping that isolation will persuade it to change course. Saudi Arabia is especially well placed to do so. It has long- standing historic ties (Russia was in fact the first state to recognize Saudi Arabia in 1932) and has increased its bilateral cooperation and trade since Vladimir Putin became the first Russian leader to visit the Kingdom in 2007.
Similarly, an emerging Egypt could seek to deepen the 2009 Treaty on Strategic Partnerships with Moscow, which promised greater bilateral cooperation in science, education, and tourism (Russians are the largest group of tourists to Egypt). Talks on future cooperation with other Arab countries, such as the UAE, which has been discussing the supply of nuclear fuel from Russia, should reassure Moscow that it can forge enduring relations with key states in the region after Assad.
Nine months into its people's uprising, the situation in Syria is slipping dangerously out of control. Urgent action is needed to avert a bloodbath inside Syria and protect its civilians, including its minorities. Very soon, the diplomats at the UN and their leaders in capitals will have little ability to manage events inside the country. Today, there may still be an opportunity to act. Russia's engagement of the UN Security Council, the Arab
League's continued efforts to end the violence and the Syrian opposition's willingness to engage with Moscow and to consider a way out for Assad could be the cornerstones of a new international compact on Syria. Moscow must seize the opportunity.
Salman Shaikh is Director of the Brookings Doha Center and Fellow, Saban Center for Middle East Policy at the Brookings Institution. He previously served as the Special Assistant to the UN Special Coordinator the Middle East Peace Process.
Calling all HuffPost superfans!
Sign up for membership to become a founding member and help shape HuffPost's next chapter