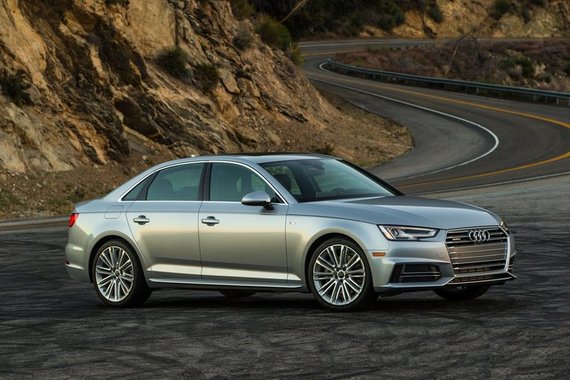 Space Equals Luxury
A luxurious small car -- or a small anything, for that matter -- just doesn't make sense to me. It's like "Small luxruy" is an oxymoron. Think about it: Can you imagine a first-class seat on an airplane with a super-cushy seat but the same amount of space you'd get in coach? It doesn't make sense. Or how about a luxury apartment with 400 square feet -- sort of undermines the "luxury" part of the equation, right? The same is true of cars, or so I've thought.
I don't see how you can take a car the size of a Smart or a Toyota Yaris and do anything to it to really make it luxurious. Heated leather seats, chrome trim and a high-end stereo don't add up to luxury unless there's adequate space inside.
Smaller Is Better?
And yet I think Audi has disproven my theory with the 2017 Audi A4. It's a car that can only be described as compact. However, Audi has disguised the car's less-than-luxurious dimensions both inside and out.
On a recent trip to Los Angeles, a new A4 was waiting for me at The Parking Spot - a nicer than average park and fly garage. Maybe it was the way sunlight filters through the big, mission-style openings and large plants just outside on the ground-floor parking area. Maybe it's just Audi's designers.
As I walked up to the car, I actually thought to myself, "I didn't realize the A4 is that big -- this can't be an A4." But as I got closer, I could tell it was a smaller car thanks to the Ford F-250 parked next to the Audi. Then, as I sat inside, I again asked myself, "Is this really an A4?" Somehow, Audi has managed to make a small car, a compact sedan, both premium and desirable.
Dimensions
In some ways, the new 2017 Audi A4 is a trick. One of the tricks is to give the car a long wheelbase. That's just a car-guy way of describing the distance between the front and rear wheels. Look at the photo above, and you can see that there's almost no room left in front of the front wheels or behind the rear wheels -- the body just ends almost as soon as the sheet metal reaches those wheel openings. It's smart engineering, and it's also a trick. The long wheelbase gives the illusion from the outside that the car is long, which translates into "big" in most people's minds (including mine, I guess).
Another brilliant move on the part of Audi designers is to make the car a little wider than your standard compact sedan, or at least it feels that way. "But doesn't this add up to a large car overall?" you might be asking -- no, not really. See, the longer wheelbase fools the eye into thinking it's a bigger car than it is, while also adding usable interior space. The width gives interior space between the two front occupants and the doors. It's just a little, but that little gives the feeling of luxury in a small car.
Although they're not competitors, the Toyota Corolla is similar in size to the Audi A4. Here' s a case of small things really adding up to big things. The Audi is just 4 inches longer than the Corolla, but it also has an extra 4 inches between the front and rear wheels - wheelbase. This one dimension is enough to give the A4 that little extra room that adds up to comfort, not cramped space. The Audi A4 is about 2.5 inches wider than a new Corolla, and shoulder room is nearly identical between the two cars.
Add a pinch of extra space and size, plus stunning on-road manners, and the Audi A4 comes off as much more than the expensive box I was expecting. The Audi's on-road manners are spectacular, and the choice between normal and dynamic drive modes really changes the character of the car. Handling and acceleration are excellent, and road noise is nicely muted.
From the Inside Out
My one complaint is that some of the tech features, such as navigation destination entry, aren't very easy to use.
Interior finish is really well-done. As much as I hate to say it, getting a car like the A4 is partly about personal enjoyment, but it's also about impressing your friends and neighbors. The A4's interior does that. The gauges and lights are clear and precise, the seats are comfortable, and the materials have a premium look and feel. Plus, the 252-hp turbocharged 2.0-liter engine that also delivers 31 miles per gallon on the highway and 27 mpg in combined city and highway driving.
The base price for a 2017 Audi A4 with quattro all-wheel drive is about $39,000. The car I drove had the Sport Package with sport seats and a black cloth headliner, as well as the 19-inch wheel package with grippy summer tires. I'd skip both these options if I were the one ordering the car. The one option I can't see skipping, however, is the Prestige Package, even though it adds $8,000 to the price (according to the window sticker). That package includes features like the S-Line exterior look, three-zone climate control, a sunroof, auto-dimming rear-view mirror, leather seats, and heated 8-way power front seats with driver seat memory plus 14-speaker Bang & Olufsen audio and Audi MMI navigation.
Personally, I'd rather have an Audi A6 or even a less premium but larger car like the Kia Cadenza. Still, I have to admit that my dislike for small cars has hit a snag. The 2017 Audi A4 isn't big, but it feels like someone forgot to tell the car that it's a compact. It's like the biggest-feeling, best-driving small car you can get, and I'm as shocked as anyone that I now think the A4 is bigger and better than its actual dimensions suggest.
Popular in the Community