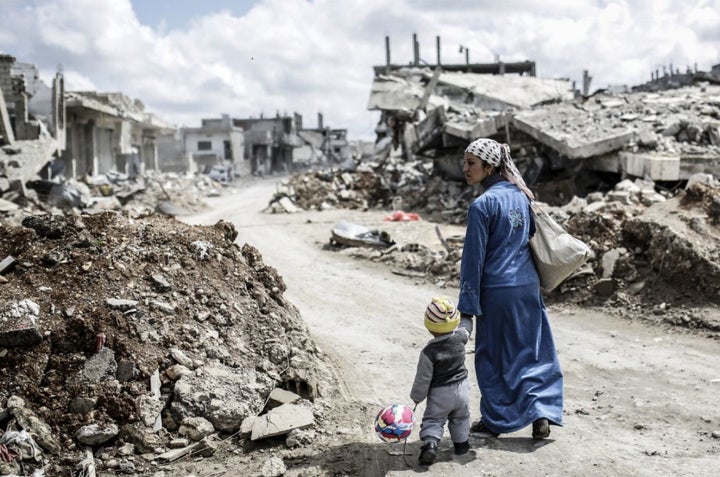 The speed and precision of Thursday night's military strike on Shayrat Air Base in Syria was as impressive as it was predictable. Within one week of Bashar Al Assad's chemical weapons attacks, a major military strike was conceived, planned, and executed with deadly precision. It was America at its most impressive. No military in the world has more capacity than ours. None are more lethal. None are more efficient. And so no one was surprised on Thursday night when word came down that the attack went as planned.
And on Friday morning, no one was surprised when the attack did nothing to change the reality of dystopia-creating civil war that has killed 400,000. No matter how badly damaged the airfield was, Syria is still just as big a national security nightmare for the United States and our allies, with a political solution still a billion miles away.
Why? Because the root of the crisis in Syria, and its ultimate resolution, are problems that cannot be solved with cruise missiles alone. They require political, social, and economic solutions.
When a problem is diagnosed as a military problem, the Department of Defense never has to worry about having enough money or capacity and support from Congress. But when a problem, like Syria, is diagnosed as a political or economic or social problem, no one can even imagine a real solution because the agencies that do that work, State and USAID, are set up to fail – only given funding crumbs and never resourced to actually win, just to keep the doors open.
A strong American military is still vital to guard against conventional security threats, but the emerging threats to global stability exert influence that cannot be checked with military power alone. The world has changed. The tools that our rivals and enemies use have transformed. But our foreign affairs playbook has fallen behind.
That's why, today, I unveiled Rethinking the Battlefield, a new plan for rebuilding America's foreign policy and national security toolkit by increasing our foreign affairs budget by $50 billion. It's time for America to think about our diplomats the same way we think about our war fighters. We give the Department of Defense everything they need to succeed, and we should. But we cannot protect America if we don't realize that an under-resourced, constrained, inflexible State Department and USAID make us less safe every day. Rethinking the Battlefield calls for nearly doubling non-military security funding over five years. Here's how it would work.
First, we need to recognize that the success of the Marshall Plan in helping to rebuild Europe after World War II wasn't an accident. Spending money on building stability is a great national security investment, and we need it now more than ever. We cannot compete with China, Russia, or even ISIS if America exits the economic development playing field. And we cannot continue playing the role of global fire department, responding to crises only after they've developed into four-alarm blazes. Instead, we need a 21st Century Marshall Plan that recognizes that the best prophylactic against extremism, despotism, and armed conflict in at-risk regions, and the best pathway to open new markets to American goods, is economic empowerment. This new plan would create a new U.S. International Development Bank, expand the Millennium Challenge Corporation, provide incentives and assistance for fragile states, and increase our investment in global health programs.
Second, America must have the capacity to truly respond to security crises before they necessitate the deployment of troops and missiles. There is nothing soft about the work that our diplomats do to protect and advance U.S. security. Whether they are countering Russian-fed corruption in the Balkans, working to stem the flow of undocumented migrants from Central America, or fighting the spread of intolerant strains of Islam in the Middle East, our diplomats are hardened defenders of U.S. security all over the globe. My plan proposes ramping up our physical diplomatic presence across the globe by increasing the number of State Department Foreign Service Officer and USAID positions by 50%.
We must also expand our best tools to spread American values and understanding by investing in our global exchange programs and significantly increasing our number of Peace Corps volunteers. And we should continue to amplify America's message through traditional media and online in order to counteract the harmful propaganda of our adversaries and curb corruption.
Finally, we must put into place the necessary funding for America to lead on global crisis prevention. Eventually, the slope of every international crisis flows to the United States. Developing and festering crises, whether they be military conflicts or famines, eventually threaten our nation. Civil wars in the Middle East drive extremist recruitment. Public safety crises in Central America drive undocumented migration to our borders. Disease epidemics in Africa can be at our shores within hours. If the United States does not step up to address these existing crises, and prevent others before they arise, no one will. And we will end up paying the price for this abdication of global leadership.
My plan proposes increasing funding for disaster assistance and global health emergencies so that we are ready for the next unexpected event and can deploy resources at a moment's notice. These new crisis prevention and global health accounts must be flexible and agile, allowing diplomats on the ground to identify pressing needs and direct spending in order to head off a brewing crisis before it bubbles over.
President Trump's medieval view of the world, in which the United States can protect itself with a big army and a bigger moat, is wrong and it is dangerous. The United States has the most powerful military in the world – we need to keep it that way. But the world is changing. And in this new world, a strong military alone simply cannot protect American interests. The blizzard of crises engulfing our world cannot be solved if we continue to fund the Department of State with only leftover crumbs. That strategy has not worked and it will not work. The world has changed -– the tools of our rivals have transfigured. The battlefield is different today than it was decades ago. And they way we fund the fight must keep up.
REAL LIFE. REAL NEWS. REAL VOICES.
Help us tell more of the stories that matter from voices that too often remain unheard.
BEFORE YOU GO