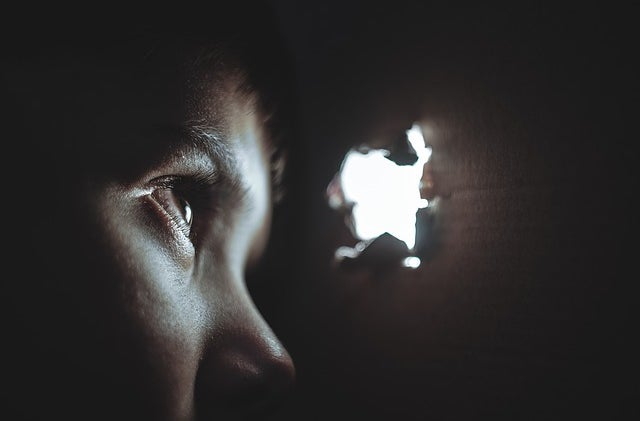 This is Part Two of a three-part series about Mitigating the College Mental Health Crisis.
Brian* tracked me down after class. The look on his face told me he needed to talk.
"I have schizophrenia. And I'm a little episodic right now."
Schizophrenia…episodic? It was like he was telling me he liked soccer, or chocolate chip cookies without the walnuts.
What if I say the wrong thing, and it triggers him further? How bad is this episode? Is he in treatment? Are there any safety concerns?
He went on to tell me about his journey back to campus after a long road from his first psychotic break. His story moved me. He'd been through hell and back—and while the 5 hospitalizations, voices, med side effects, and endless repercussions of his illness were incredibly difficult experiences to contend with, they paled in comparison to the social stigma and isolation he felt.
"I want to be a psychologist. That's why I'm back. People think you're scary and broken when you have mental illness. I've lost so many friends. I want to show people that it doesn't define you…that recovery is possible". Brian didn't waste time hiding his condition. He knew he'd need to access all the help he could find, so that he could do the same for others.
One thing's for sure. This guy is teaching me. Talk about bravery and brilliance.
Even in 2017, when we have more evidence and examples of recovery and resilience than ever before, Brian's plan to become a psychologist will raise eyebrows. It seems counterintuitive and potentially dangerous. But, then again, life has its contradictions.
Take Dr. Fred Frese, for example. When I first met him at the annual National Alliance on Mental Illness annual convention in the summer of 2016, I quickly began to unlearn some of my earlier training that took a broad-brush view, no hope view of schizophrenia.
For over forty years, Dr. Frese served in prestigious roles in public mental health care—ranging from professor of psychiatry at Northeast Ohio Medical University to Director of Psychology at Western Reserve Psychiatric Hospital. And he isn't just a mental health expert because of his professional experience.
At 25, Dr. Frese had his first psychotic break, was diagnosed with schizophrenia, then cycled in and out of hospitalizations for a decade. Fortunately, the availability of medications and evidence-based treatment approaches brought him back from the brink, and then some.
Boomers: Schizophrenia? Strap him down and lock him up. There's no hope.
Generation X: I'm afraid. What if you hurt me?
Millennials: Isn't that like the movie, Beautiful Mind?
Gen 2020: He's like Elliot in Mr. Robot. I get it. He's probably cool.
It's not that precautions aren't warranted. Someone struggling with severe mental health disruptions shouldn't simply jump from one side of the desk to the other without significant intervention, and investment towards recovery. It would be irresponsible to have a person who isn't at a stable point in his or her life put in charge of helping someone else progress towards it.
But, unlike antiquated framings of mental illness, we now know that recovery is not only possible, but also likely when we have the right policies and measures in place to promote prevention, integration and access to treatment. And we also know that those of us who've endured significant mental health disruptions are well-equipped with the needed empathy and perspective desperately needed in clinical, educational and advocacy realms.
I was so glad that Brian didn't keep his illness hidden from me. Within a college environment, mental health issues are not only a major health concern, but the #1 impediment to academic performance and persistence. Luckily, he had a whole team of therapists behind him telling him to disclose. Even still, he didn't know he was able to file with the Office of Disability Services on campus to receive the accommodations and support he was eligible for. Most people don't know that mental health issues qualify as disabilities, just as if someone has a language based learning difference, like dyslexia.
"Unlike antiquated framings of mental illness, we now know that recovery is not only possible, but also likely when we have the right policies and measures in place to promote prevention, integration and access to treatment..."
Not all students are like Brian. For starters, a small proportion of students suffer from schizophrenia, although the risk factors are highest between ages 16-30. According to the National Institute of Health, we don't have conclusive data on the prevalence of schizophrenia among college students, but we do know that it's far less likely than anxiety, the predominant mental health concern of today's students.
"Within a college environment, mental health issues are not only a major health concern, but the #1 impediment to academic performance and persistence..."
Unfortunately, Brian's comfort with disclosure is uncommon, with students unlikely to reach out for help, both due to fear of stigma and lack of awareness of what resources are available. A College Students Speak Report from the National Alliance on Mental Illness (NAMI), identifies stigma as the most significant barrier to getting needed treatment. Sadly, of the 64% of students leaving college due to mental health issues, 45% had no accommodations and 50% of them never disclosed their conditions.
This cannot continue. We need to end the game of hiding and not seeking. We can create an environment of reciprocal help seeking, in which students look for help and institutions look to help them, when we:
1. Make it safe for students to come out of hiding. End mental health discrimination and stigma. Create a welcoming culture for students in and outside the classroom. Avoid language that stigmatizes or demeans persons who experience mental illness. If a student needs a leave of absence, assure them they will be welcomed back. Demonstrate campus wide mental health savvy and compassion. Make sure policies that protect students are upheld.
2. Broadcast help. Train faculty and staff to make use of the myriad resources available to prevent and treat mental health issues, for both themselves and their students. Include messaging in public outreach campaigns, within course syllabi, orientation programs, academic advising, within clubs and co-curricular spaces. Host public forums, educational workshops and peer support groups. Repeat it enough that students can recite it in their sleep. That help is available cannot be overstated. Encourage it 24-7.
3. Rethink normal. A mental health diagnosis is not an eternally damning stamp. 73% of students will experience at least one mental health crisis while on campus. It's more likely that symptoms will be present than not. Toss out shaming conceptions about mental health that are deficit driven and limit human potential and progress. Embrace the dual narratives within our shared humanity, and avoid boxing in someone in as "abnormal" at a point in their development when stressors are known to be especially high. Make getting help the new "normal".
Stayed tuned for Part Three of this series, focusing on strengthening campus resilience.
* "Brian" is a pseudonym. Identifying details have been adjusted, but without compromising the integrity of the content, or the confidentiality of brave students who've taught me more than I could ever teach them.
Dr. Kristen Lee, known as "Dr. Kris", is an award-winning behavioral science professor, clinician and author from Boston, Massachusetts.
 Dr. Kris is a Licensed Independent Clinical Social Worker known for her advocacy in promoting increased mental health integration in social policies and institutions to facilitate access and improved health outcomes in the U.S. and across the globe. She regularly works with students and faculty and consults with Universities and Colleges to mitigate the college mental health crisis. She is the author of RESET: Make the Most of Your Stress, Winner of the Next Generation Indie Book Awards Motivational Book of 2015, and the upcoming Mentalligence: A New Psychology of Thinking.
Calling all HuffPost superfans!
Sign up for membership to become a founding member and help shape HuffPost's next chapter
This post was published on the now-closed HuffPost Contributor platform. Contributors control their own work and posted freely to our site. If you need to flag this entry as abusive,
send us an email
.