I'm excited to see designers and developers laying a new path toward deep green design and re-envisioning what communities can look like. The future of nature and the future of people are tightly bound. I applaud the disruptive design leaders who are tackling old problems in new ways that are more equitable for communities and heathier for both people and the environment.
Historically, in most of our communities, streets have been about managing the movement of people and cars. We don't think about that space in-between buildings as being ours to shape. But like the white space on a page, or the connective tissue between our bones, the in-between stuff can offer a whole lot of impact.
The "right of way" is just a nerdy planner way of saying the space in-between buildings: the road, the sidewalk, that grassy strip between the road and sidewalk. Here in Seattle, the right of way makes up almost 30% of the overall landscape.
Cities around the world face the same chronic challenges. We have less developable land, less buying power with tax revenue, aging infrastructure, more people, more pollution, more need. People around the world, too, do what needs to be done to meet the demands of multifaceted lives. Many of us have friends who can do laundry, run a business, check the news, send flowers for Mother's Day – all while caring for a skinned knee and serving breakfast.
And they are not anomalies. The world is full of multi-taskers. Our phones have been redesigned to serve a variety of critical daily needs. Even watches are doing double duty these days as health meters. We are hyper-functional. It's a hallmark of our time.
But that nerdy right of way – those streets and sidewalks – represents one of the last great unwarranted extravagances of single-purpose infrastructure.
So, what if we could re-imagine how the right of way could serve us better?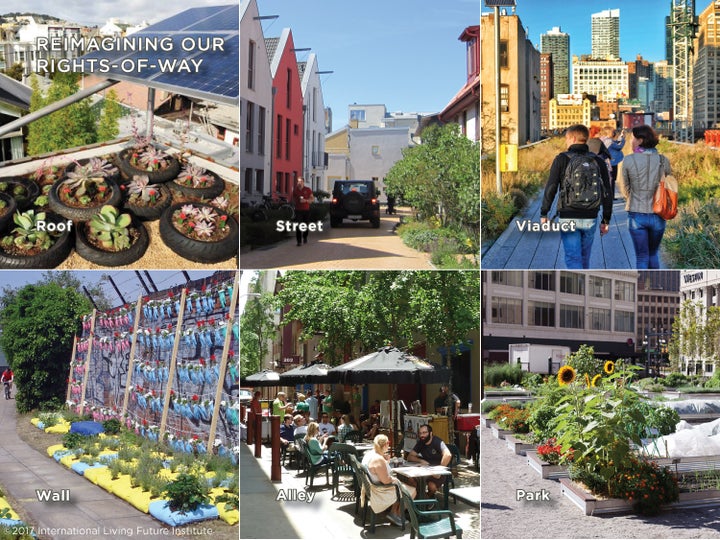 Nearly 40 years of research reveal that when nature is woven into the world around us, we see a wide range of positive outcomes for people: kids learn better, employees are more creative and productive, we are healthier and more active. Economies are stronger, happiness goes up and some studies suggest a decline in property crime.
And a new vanguard of designers, engineers and city builders are taking a different approach. Each day we hear new stories of innovation and creative thinking emerging from around the world – design teams that are taking hyper-functionality to heart. Here are two from our neck of the woods:
The Bullitt Center, which received Living Building Challenge certification in 2015, has expanded the impact of its project by turning an old street leading to a dangerous intersection into a place devoted to people and water. The updated corridor seamlessly integrates the adjacent park with a new pedestrian walkway lined with a greywater infiltration planter and rain garden.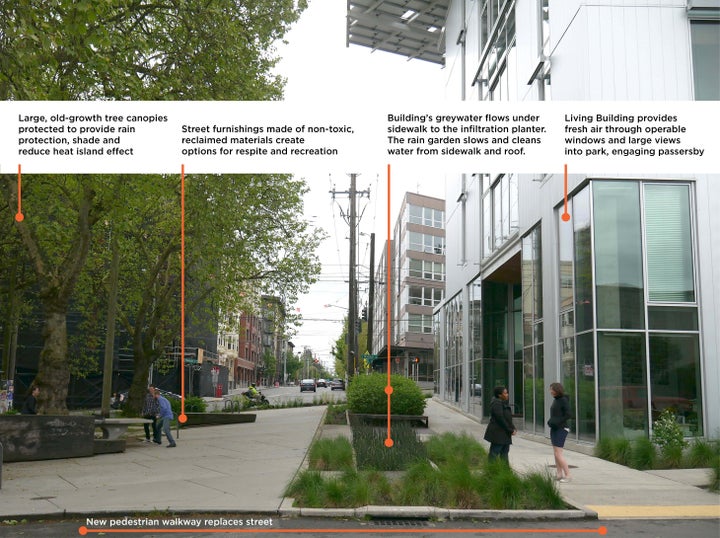 Another project that goes beyond the footprint of the building is by the developer of a new office building, the Watershed Building, in Seattle's Fremont neighborhood. The developer saw research about how stormwater runoff from highways can kill Coho salmon within just a few hours, and thought he could make a difference. In converting the landscaping to raingardens, the project will be able to create an inviting space for the community and treat polluted stormwater from 21,125 square feet of highway bridge deck overhead, totaling 433,000 gallons of polluted runoff per year. Besides being a high-performance building, the goal of this project is to deliver ecological function in an urban setting and to provide clean water for Pacific Northwest salmon habitat. The developer is designing the building for Salmon Safe certification and is pursuing the Living Building Challenge Petal certification. Salmon Safe will monitor the project for five years.
This idea is also being embraced beyond Seattle and at a much larger scale. For example, Copenhagen's Cloudburst Management Plan has been embraced as a resiliency strategy through incorporating green streets and pocket parks to mitigate rising sea levels and downpours.
The Living Building Challenge launched in 2006 and now has more than 60 projects certified and just under 400 on the path toward performance certification. This global challenge set the stage for re-thinking a building's function and calls for the creation of buildings that operate as cleanly, beautifully and efficiently as nature's architecture - projects that generate all of their own energy with renewable resources, that capture and treat all of their water, and operate efficiently with maximum beauty.
The emerging Living Community Challenge is aiming to do the same thing on a broader scale: rethinking the space between buildings to make sure our blocks, neighborhoods, towns, cities and campuses are designed to provide restorative benefits for people, for nature and for our future.
As these and other initiatives show, investments in nature are ultimately investments in our communities, ensuring a more sustainable future for all.
Popular in the Community