Co-authored with Niki Psarias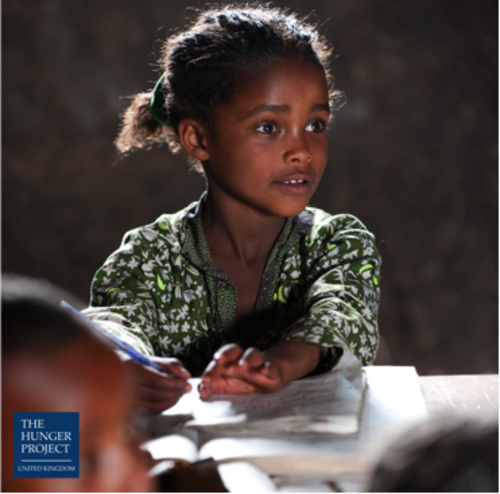 Women make up more than half of the world's population, yet in parts of the world, especially in South Asia, South America and Africa, they are more likely than men to go hungry. This is a direct consequence of unequal access to resources, education and income, and because they participate less in decision-making.
Women may make up the majority of the world's hungry, but they are also the driving force behind solutions to combating and preventing hunger. In many regions of the world, women form the core of agricultural labourers, support food production systems, and are responsible for their family's food security. If these women had equal access to the same agricultural resources as men do, the Food and Agriculture Organisation of the UN (FAO) estimates that as many as 150 million fewer people would go hungry.
This logic demonstrates the need to empower women as part of the fight to end hunger. And this strategy is fundamental to the approach by The Hunger Project (THP), a global, non-profit, strategic organisation, committed to the sustainable end of world hunger. Founded in 1977, THP works in partnership with communities in Africa, South Asia and Latin America, reaching over 20 million people.
World Hunger Day is Born: A global call to support women ending their own hunger
World Hunger Day, celebrated every year on May 28th, was launched by The Hunger Project UK, in 2011 to galvanise a global solidarity movement in support of those taking the steps to end their own hunger and poverty.
"Start with women, and everyone rises," says Sophie Noonan, Country Director of The Hunger Project UK. "Empowering women and girls is key to our global efforts to end hunger. All our programmes start with women."
World Hunger Day is celebrated around the world in schools, businesses and homes with various initiatives including pop-up shops, cake bakes, 12 -hour fasts, or dinner parties.
One of the most popular ways to support World Hunger Day is to take part in the Live Below the Line campaign running until the end of June. This campaign challenges participants to live on £1($1.50) per day for all food and drink, in solidarity with the 1.2 billion people globally who live below the poverty line. This year The Hunger Project raised £25,000 in the UK and $62,000 in the US through the challenge.
Women as Key Stakeholders of Food Security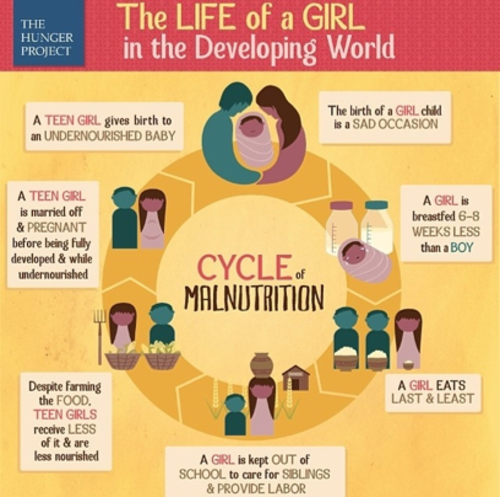 Of the 795 million people that the FAO estimates are chronically undernourished, roughly 60 percent are women. There are several forces that have perpetuated a gendered cycle of poverty as illustrated in the infographic above. Breaking this cycle is key to creating a future free from hunger.
Through its approach, The Hunger Project aims to end hunger and poverty by pioneering sustainable, grassroots, women-centred strategies. It focuses on empowering women in rural villages to become agents of their own development and make sustainable progress in overcoming hunger and poverty. While adapted to meet local challenges and opportunities wherever they work, all programmes have at their foundation three essential pillars:
• Start with women: Empowering women as key change agents
• Mobilise everyone: Mobilise communities to be self-reliant
• Engage government: Foster effective partnerships with local government
"The empowerment of women is a top priority and key to ending hunger," says Sophie. "Through our programs, rural women are gaining access to credit and skills in leadership, literacy, women's rights, nutrition, and better incomes."
A holistic understanding of the driving factors behind food and hunger necessitates looking at the social perpetuation of gender inequality. As such, The Hunger Project promotes working with existing local democratic institutions to strengthen capacity and make the most of the resources that are already available, which makes for sustainable change.
Working in partnership with local government bodies to ensure that they are effective, that they include the leadership of women, are directly accountable to local people, and provide access to resources and information are what sow the seeds for equitable governance over food ownership, production and distribution. Essentially, regressive social norms can be challenged when women play an active and central role within their communities.
Rethink World Hunger - Ending hunger is possible:
At a Glance: The Hunger Project Success Story
"In over 24,000 villages and communities where we are working, we're witnessing the fantastic accomplishments and transformations that women are initiating," Sophie explains.
"When women are empowered and supported, communities become more resilient, families are healthier, more children go to school, incomes increase, and agricultural productivity improves."
Adélia Mate, born in Zuzu, Mozambique, is 57 years old, married, and a mother of five. She is an animator at The Hunger Project-Mozambique. Adelia first learnt about The Hunger Project in 2010 during a Vision, Commitment and Action session. She went on to train in agro-processing and in 2011 decided to join The Hunger Project-Mozambique as an animator. Adélia describes her experience and transformation:
"My participation in different programs implemented by The Hunger Project led to notable changes in my life as well as in my community in general. With the trainings and financial support given to me, I started to produce and sell breads.
After the training, I worked with another animator who is my neighbour and together we started to do business in the village. This business made us overcome challenges and suffering we were facing, because before starting the business I used to walk 15km to Chalucuane while caring firewood to sell there. Now, with the microfinance loan I received from The Hunger Project, apart from bread, I also sell clothes and I am able to provide food and pay school expenses, particularly for my younger daughter who is studying at grade 11 in Maputo city. I bought a cow that helps me in farming and I started to produce bricks for building an improved house."
Shapla Banu was almost married by her parents at just 13 years old.
"One day I went to the study group of Youth Ending Hunger from The Hunger Project-Bangladesh. That day the group's topic was child marriage. After the session, I promised myself that I would never get married before 18. Besides that, I want to go to University. I want to be a teacher.
One afternoon, when I came back from school, I was surprised to see so many people gathering at our house. I came to realize that all of this was for the preparation of my wedding. I was bewildered. I am only 13 years old. I remembered our ward member, Ms. Rajia, and her lecture. I decided to call her for help.
Ms. Rajia arrived at our house. She spoke with my parents and asked my father if he asked my consent for this marriage. After a while, my father admitted that, marrying a girl child is not right. My mother said that she has seen so many sad cases of child marriage victims, and that she will not do this to me. My mother was never so vocal, but this time she stood up for me."

The Road Ahead
The Hunger Project is changing the status quo by elevating the status and role of women in their communities to break the cycle of poverty and hunger. Achieving the ambitious goals set out by THP will empower women to be the change makers communities need, and help mobilise collective effort to fight hunger through family farming and sustainable and resilient food systems.
Invest in the sustainable end of world hunger
£10 could support communities in Africa planting 21 trees, which reduce soil erosion and provide sources of food, energy and income.
£15 could support a woman in participating in The Hunger Project India's Woman Leadership Programme.
£30 could train 40 people in material and child health, and nutrition in Africa
£80 could train a Women's Empowerment Programme volunteer leader in Africa
£200 could support two groups of entrepreneurs, the majority of whom are rural women, in initiating and carrying out income-generating projects, such as an integrated poultry farm, in Mexico.
Learn More:
Get involved with the Rethink World Hunger campaign.
Invest in the women and men who are working to end their own hunger and poverty.
Calling all HuffPost superfans!
Sign up for membership to become a founding member and help shape HuffPost's next chapter