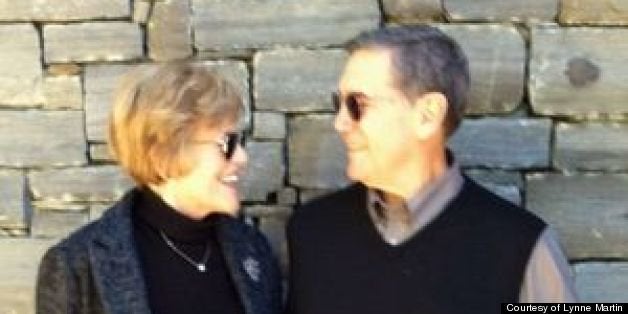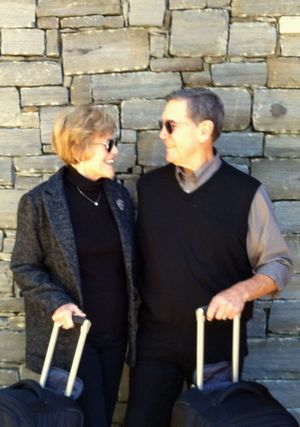 Becoming home free is a lot like mature people starting a new marriage. It boils down to what we do with your junk and my THINGS. The minute we decided to disengage ourselves from most of our house and possessions so we could spend our retirement traveling internationally, the grinding elimination process began, and we were faced with deciding whose possessions were worthy of how much space!
Before listing the house we needed to remove unnecessary items so the buyers could imagine their own treasures in place. Our daughters scooped up most of the sterling silver serving pieces I'd been dragging around since the '60s, plus my mother's gorgeous antique serving pieces and Havilland china, part of her gracious living heritage from her background of faded southern aristocracy.
My husband, Tim, lovingly wrapped his grandmother's collection of curious salt and pepper shakers and shipped them away to another daughter. Packing and sending his vast collection of music CDs to the same lucky offspring made his lower lip quiver.  
We worked quickly, listed the house and sold it in a day! It was shocking and terrifying. We weren't emotionally prepared for such a breathtaking quick start toward our new life. Since we had thought it would take months to sell and prepare for our escape into the world, the sorting and planning process became immediate and intense.
Children spoke up for most of the large pieces and antiques, the buyer's inspector bought my lovely old dressers and the realtor scooped up the big leather sectional. The dining room furniture went the way of Craigslist, and we were feeling cocky about the whole thing. If it all went so well, we couldn't possibly be making a mistake leaving our home and family to live temporarily, a few months at a time in Paris, Marrakech, Ireland, France, Portugal, Italy and beyond, could we? Certainly not, we reassured each other.
Even with the furniture out of the way, we were still left with 10,000 other decisions. Clothes, for instance. What do you do with a mid-calf, honey-colored, bias-cut suede skirt that weighs 30 pounds? How about Tim's elegant cashmere overcoat -- perfect for a living in Manhattan for an exciting year long ago but useless in Ishmir? The clothes-sorting job dragged on for weeks and the fellows at the local charity whose truck was always in the corner of the supermarket parking lot knew us by name before we left town.
Our books were their own special hell. We had moved often in previous years, looking for the place we'd feel at home forever, and in the process we left a trail of books all over the United States. Several libraries are still gloating over the gems they've inherited and each of our moves has included a free-to-our-friends open house with stacks of interesting things on offer. We still had hundreds of volumes that had to go. Tim winced, not from exertion, but from ambivalence, as he trolleyed boxes of his beloved detective novels and poetry books out to the car. I culled my huge collection of cookbooks, lingering over the coffee table foodie photo essays and the fat in-depth technical textbooks I knew I'd never use again, but I refused to part with the classics like Julia's books, the Silver Palate dames' output, Larousse, The Joy of Cooking and Peg Bracken's original I Hate to Cook Book.
Then there were the photo albums, family videos and films. We couldn't throw them away, didn't want to store them and couldn't persuade children to take them, although they certainly wanted us to keep them! I bought a scanner and doggedly ripped apart 40 big photo albums, preserving the best ones forever somewhere in a cloud where they will be accessible. Each image was embedded with its special emotional charge. The process hit every sentimental nerve and was a bittersweet journey through generations of family celebrations, vacations and holidays. I ran out of time and courage before the job was done, so most of those smiling faces and snow-capped mountain shots live in a tall stack of shoe-box photo saver gizmos in our 10 x 15 storage unit, awaiting a time when we stop wandering around the world and get down to what some think are more serious pursuits. Helping Tim search for an apartment rental on vrbo.com in Marrakech or deciding whether Spain or England would be more pleasant in September was a more compelling activity at the time.
The videos and old family films were transferred to DVDs by a fellow I found on Craigslist. They are now preserved and take up little space, but of course it required looking through each one, a tedious, entertaining and sometimes tear-producing process.
Finally almost all of Tim's junk and my THINGS were gone or safely jammed into that storage place. I had anticipated that the last time we closed the door and staggered, exhausted, to the car, we'd feel sad, frightened and regretful. We were, instead, jubilant and giddy as teenagers. We were FREE! The world was ours and, at least for a few years, a broken sprinkler system or damaged roof could not reach out to spoil our exploration of Istanbul or ruin dinner with friends in Paris. We miss our family and friends every day, but in two and a half years being home free, we have never for one moment missed our trappings. My THINGS and his junk fit nicely into two 32-inch rolling duffles and two carry-ons, which seem light as air compared with 2,000 square feet full of stuff!
Calling all HuffPost superfans!
Sign up for membership to become a founding member and help shape HuffPost's next chapter