I'm here to tell you that I've found the Holy Grail of expat destinations.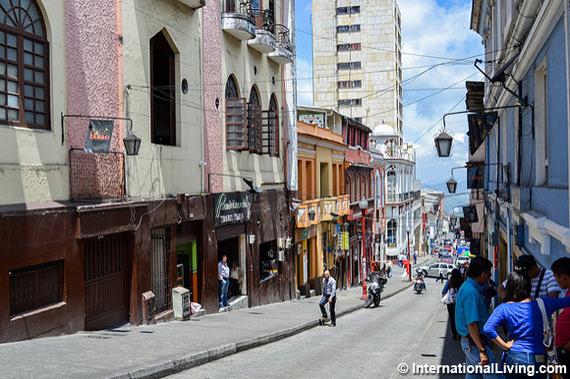 Street Scene, Manizales, Colombia
Each of us has our own priorities, but to find a place that ticks the boxes on nearly everyone's list is something special. A perfect climate that's neither too hot nor too cool (60 F to 80 F all year); amazing natural surroundings; plenty of cultural events; history-filled cities; superb healthcare; friendly people; and a welcoming country ... all with a fantastically low cost of living -- figure $1,500 a month for a couple, all in.
Right at the heart of Colombia is a region known as the Coffee Triangle. It's made up of three big cities, with plenty of fertile countryside in between. Though the terrain sits high in the Andes Mountains, plenty of the land is flat and interspersed with hills. And, as the area's name suggests, this is where most of Colombia's world-famous coffee is grown.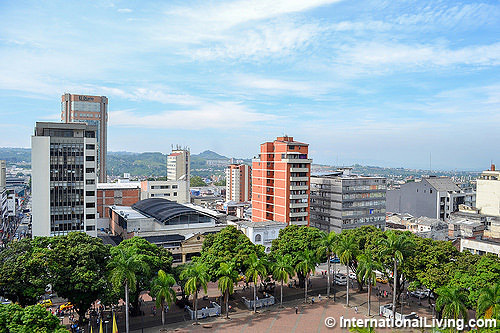 View of Pereira Skyline, Colombia
The three anchor cities of the Coffee Triangle are Pereira, Manizales, and Armenia. Each has its own distinct flavor and feel. Among them, you won't lack for locations to live. Nor will you run out of things to do or places to explore.
With a population of 440,000, Pereira is the largest city in the Coffee Triangle. It's vibrant and bustling, filled with parks, cultural centers, business plazas, and colonial architecture.
Early morning in Pereira is a magical time to roam the streets. You'll encounter locals with small carts selling coffee and empanadas to folks off to start their day's work. Old ladies on park benches throw seeds to the excited flocks of pigeons. And if you're lucky, you'll catch the sun casting its rays over the high office buildings into the tidy plazas, before illuminating the high-rise buildings and store-lined streets.
Pereira is a great spot if you like a big, bustling city with plenty of job opportunities (mostly teaching English) and lots going on. There is plenty to keep you occupied here, including shopping, concerts, theaters, and cultural events.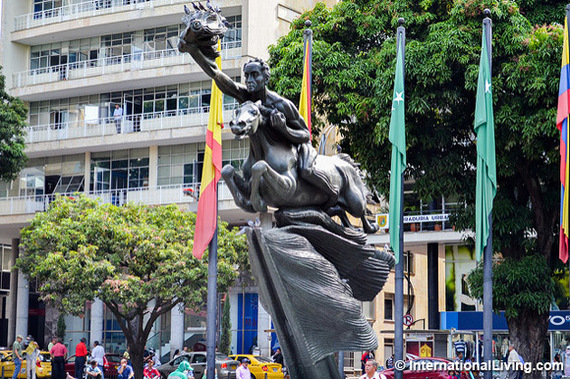 Simon de Bolivar Sculpture, Pereira, Colombia
Expats living in Pereira report that a couple can easily live on $1,500 a month, or even less. You can get a weeks' worth of groceries for two for about $25 to $30, while electric, gas, and water will cost around $25 per month, depending on your usage. An apartment in Pereira's upper-middle-class El Centro district with four bedrooms rents for only $200 per month.
Quality healthcare is readily available, as well, with several hospitals and private-practice doctors in town. In general, the price should run between 25 percent and 50 percent of the U.S. cost.
About a 90-minute drive northeast of Pereira is the city of Manizales. Manizales itself looks like a town straight out of a fantasy book. The city, slightly smaller than Pereira, lies among low mountain peaks, and it climbs, drops, and climbs again onto adjacent hilltops. Cable cars transport residents and visitors from the lowest part of the city to the upper reaches.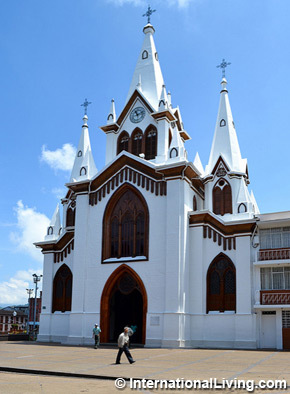 Church in Manizales, Colombia
At the top of the city, you find yourself in the beautiful historic district, filled with grand, colonial buildings interspersed with modern sculptures and fountains. You can wander through the regal Gobernación de Caldas -- the local government building -- or the gothic Manizales Cathedral, with its splendid stained-glass windows and piercing spires. When hunger strikes, be sure to stop into La Suiza restaurant, where you can order everything from fruit-drenched waffles to Portobello mushroom burgers to rich and creamy caramel cheesecake. Typically, a lunch entree with a drink and dessert will run $5 to $8.
Manizales's cost of living is similar to that of Pereira. However, you may choose to take more taxis in this town, if you're not up for the steep climbs between neighborhoods. Healthcare options are also plentiful here, with many hospitals, including the Instituto del Corazón Manizales.
A bus ride out of Pereira will get you to the city of Armenia within 45 minutes. With a population of 280,000, Armenia is the smallest of the three cities and has the least colonial look about it, the tragic result of an earthquake in 1999. Luckily, severe earthquakes are not common, and new structures adhere to stringent building codes, making Armenia a much safer place.
Armenia is my favorite city in the Coffee Triangle. It's small and manageable, while still having all the amenities you would need as well as nice parks and restaurants, and an inviting countryside nearby.
Today the city has rebuilt itself and has a new and sleek look to show off. There are modern hotels, condo buildings, and offices, along with parks and well-maintained public areas. In the northern part of the city you can enjoy a steamy latte made from local coffee beans, as I did for $2, at the trendy and better-than-Starbucks Café Quindío. Afterwards, enjoy a stroll through Parque de la Vida, which is filled with flowering trees, palms, waterfalls, and even small animals, such as songbirds, agoutis (a small rodent), and turtles.
If healthcare is a concern, Armenia has you covered. The city has an entire sector devoted to medical offices. Some offices offer general care, while others are more specialized.
Numerous cosmetic surgery centers dot the area; Armenia is where many wealthy Colombians come for such procedures.
This article comes to us courtesy of InternationalLiving.com, the world's leading authority on how to live, work, invest, travel, and retire better overseas.
PHOTO GALLERY
What Post 50s Want Most In Retirement
Calling all HuffPost superfans!
Sign up for membership to become a founding member and help shape HuffPost's next chapter