Don't you just hate it when your kids are right?
In January 2011 we were in the middle of "talking" about moving overseas during one of our daughter's visits home from college. She sat quietly during dinner, listening to our conversation. During dessert she just couldn't stay quiet anymore. She blurted out, "You guys are never going to do this, you know."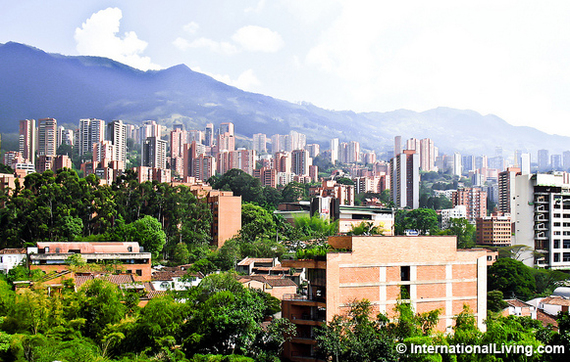 Medellin, Colombia Skyline
We stopped mid-discussion and asked why she felt that way. She smiled and said, "Because you haven't decided to do it. Both of you have always accomplished whatever you decided to do."
Here we were -- a couple in our mid-50s -- being shown the error of our ways by our 21-year-old daughter. After she returned to school, we finally made the decision: By the end of 2011 we would be doing something different.
But where? It's a huge world out there. How would we choose?
Living in the U.S. northeast, we wanted to choose a part of the world that was a reasonable commute back to visit family and friends. That helped narrow it down to Central or South America.
We decided to embark on a four-month fact-finding trip that included Ecuador, Uruguay, Panama, and Costa Rica. The idea was to spend a month in each country, visiting different areas, looking for our place to retire five to 10 years down the line.
Once we made the decision to move in 2011, things just seemed to fall into place. Our house sold in April 2011, so we down-sized and put our best things into storage. I left my job as a healthcare executive, and my husband was on his four-month winter hiatus from his job as a cruise ship captain. We boarded the plane for Quito, Ecuador, on November 1, 2011.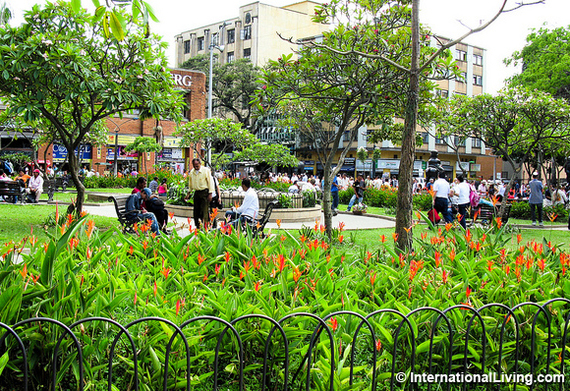 Plaza Botero, Medellin, Colombia
Traveling through Ecuador for two months was exciting and full of new experiences, but we just couldn't see ourselves living there. Although Ecuador is a truly amazing country, none of the cities we visited quite felt like home.
We told an acquaintance we met at an International Living conference in Quito what kind of location we hoped to find. He thought that Medellín, Colombia, would be just what we wanted.
So we stopped by for a couple of weeks to see what all the fuss was about, even though it wasn't on our list of countries to visit. By day three we were both in love with the city. The people were welcoming and the climate perfectly suited our taste. Two weeks became two months, and then we just took the plunge and moved here. We never made it to the other countries on our list. And we haven't looked back...
In Medellín we found a new culture to experience, a new language to learn ... and so much more.
How does a typical day play out? There is no "typical" day! Walking through the lovely green parks ... drinking coffee in chic cafés ... or watching the sun set over the Andes Mountains from our balcony.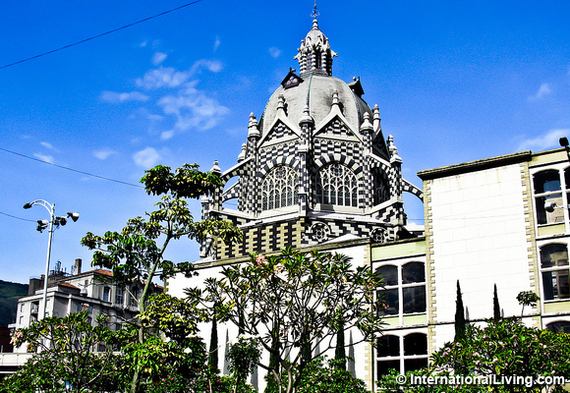 Downtown Medellin, Colombia
I spend nearly every weekend in one of Medellín's many restaurants or museums or attending a concert. With over 30 universities in the city, there are more cultural events to attend than there is time.
For us, Medellín checked all the important boxes on our list. In Colombia, Medellín is dubbed the City of Eternal Spring. Temperatures are in the upper 70s F to lower 80s F during the day and the mid-60s F in the evening. Although we are only six degrees north of the equator, being at 5,000 feet above sea level allows for non-humid, bug-free weather. Our apartment doesn't have screens on the windows or a thermostat. We don't need A/C or heating. This is a very nice change from paying heating bills six months of the year back in the U.S.
Our cost of living is less than half what it was back in Maine. Our 2,200-square-foot, three-bedroom apartment, with a huge terraza (terrace) that overlooks the city and the Andes Mountains, is located in one of the most desirable neighborhoods. It cost us just under $150,000. Average utility bills run us about $115 a month for water, sewer, electricity, and gas. (Keep in mind we have a dryer and our own private Jacuzzi. Apartments without those average $50 a month in utility costs.) Fresh fruits and vegetables are plentiful and inexpensive. Farmers' markets offer locally grown, farm-fresh food. I can get a week's worth of fresh produce for less than $10.
The cost of services is extremely inexpensive. A full mani/pedi in an upscale salon is about $8 (tip included). You can have an experienced handyman come to your house for an entire eight-hour working day to do whatever projects you have -- electrical, plumbing, carpentry, painting -- for only $15 ... yes, for the entire day!
The healthcare you can get at the top-notch hospitals here is both affordable and of a very high quality. (As a former healthcare executive, I can evaluate professionally the quality and accessibility of health services.) In Medellín we have world-class healthcare at a fraction of the U.S. cost. My husband and I have basic health insurance here through the National Health Insurance Plan. The monthly premium is $70 for both of us.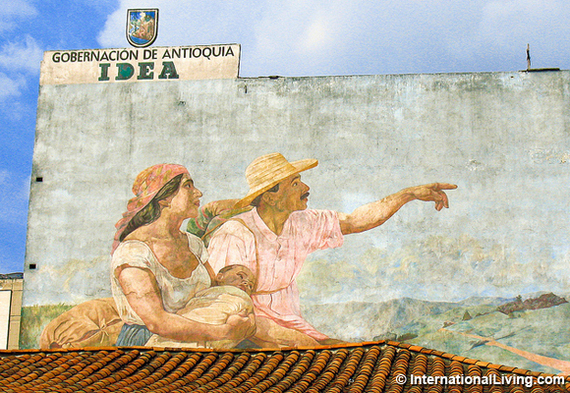 Mural in Downtown Medellin, Colombia
We've both used the health system here regularly. And I can tell you first-hand that the quality of care is excellent and access to services is faster and more efficient than my experiences in the U.S. When my husband needed a CT scan, he had an appointment within a few days, and we walked out with the results in hand the same day. Our copay for this was $3. He pays the same copay for a 30-day supply of his medications ... all five of them.
But for us, the warmth and friendliness of the local people are what make Medellín feel like home.
When we first arrived, my husband continued to work in the U.S. as a captain and traveled back and forth regularly. I, on the other hand, stayed in Medellín. I learned Spanish, became certified to teach English, and now have a small travel agency that is focused on bringing people from the U.S. and Canada to Colombia.
Without a doubt, moving overseas is a big decision ... but it can be the best one of your life. It has been nearly four years for us in Medellín. And neither one of us regrets it at all.
This article comes to us courtesy of InternationalLiving.com, the world's leading authority on how to live, work, invest, travel, and retire better overseas.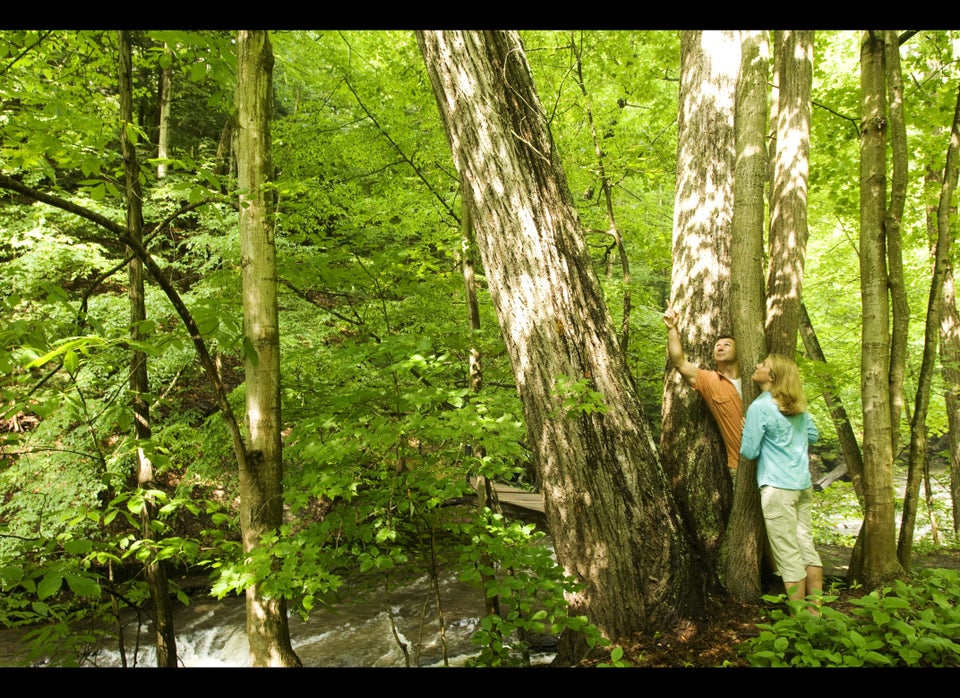 7 Hot Travel Trends For Boomers
Related
Popular in the Community