Popayán could be the nicest city you've never heard of ... unless you're Colombian, of course. Since its founding in 1537, this has been one of Colombia's most important cities, serving as a major trading center for goods moving to and from Lima, Peru in the south and the port at Cartagena in the north.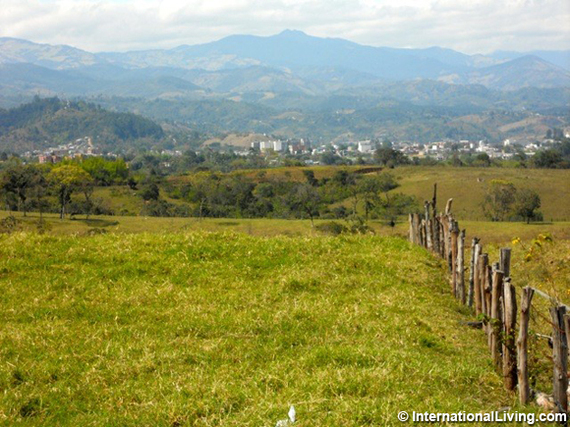 At an elevation of about 6,000 feet in the Andes, the climate is nearly perfect.
Entrepreneurs moved here to exploit nearby gold mines, which created a culture of wealth that helped build what became known as the "White City."
Popayán's central historic district perpetuates that moniker with its ancient whitewashed colonial churches and buildings, now home to shops, restaurants, hotels, apartments, and more.
The historic district is also home to the University of Cauca, founded in 1827. It's one of the most important educational institutions in Colombia. In fact, many of Colombia's presidents and other government officials have been educated here. Today around 13,000 students attend the University of Cauca and help give Popayán an intellectual and artistic energy.
Situated in southwest Colombia along the Pan-American Highway -- about halfway between the larger cities of Calí and Pasto -- Popayán is the capital of Colombia's Cauca department. It's easy to get here. You can fly into the domestic airport via regular flights to Bogotá or, if you're traveling from North America or Europe you can fly into the international airport at Calí and drive the 86 miles onward to Popayán in a couple of hours, depending on traffic. (A round-trip ticket to Calí from Miami currently costs less than $350.)
In the Andes Mountains at an elevation of about 6,000 feet, Popayán is home to somewhere near 300,000 people. The climate is mild, with highs typically around 75 F and lows in the mid-50s. While temperatures don't vary much year-round, Popayán has a wet season from October through December when it can rain 10 inches or more per month.
Thanks to the temperate climate, there are plenty of year-round outdoor activities to be enjoyed in and near Popayán. You can spend a leisurely day at nearby hot springs, go mountain-biking, or hiking up the volcano at Puracé National Park.
The charms of Popayán are many, and they're attracting the attention of foreign tourists and, to a lesser degree, foreign expats, including retirees. Those numbers may increase, though, as word gets out about the low cost of living and the high quality of life this city has to offer.
Along with its deep historic roots, Popayán has the modern infrastructure and conveniences that make it a comfortable place to live.
The city's Campanario Mall, for example, is home to a bank, a four-screen cinema, and a food court where you can watch sporting events on the big screens. There are optical shops, camera stores, and loads of clothing stores. Jumbo, a large department store, sells everything from groceries to the latest smart TVs.
(And yes, the cinema shows first-run blockbusters in English. A movie ticket costs about $4, and there are matinees and twilight discounts.)
You'll also find two excellent hospitals in Popayán, Hospital San Jose and Hospital La Estancia. As with most major hospitals in Colombia, you can get hospital-based insurance plans that, for a low cost, cover all your medical needs at one facility or system of facilities.
Cost of living in Popayán are very affordable. Taxis within the city limits typically cost $2 and city buses charge 75 cents. A bus ride to Calí costs less than $7.50. A bus trip from Popayán to Bogotá is about $40 -- and that's on a modern line that features personal television screens and WIFI.
Renting and owning property in Popayán is affordable, too, especially depending on where in town you choose to reside. In the downtown historic center, one expat we know rents a lovely two-bedroom apartment in a building that's been nicely updated and modernized. She has access to an expansive rooftop terrace with a birds-eye view of the historic center. For this she pays just $300 a month.
Other typical monthly expenses might include $60 for electricity, $35 for water, $10 for natural gas, and $36 for Internet and cable TV service. Our expat friend says she lives comfortably on a budget of just $1,000 a month.
Some of the old colonials downtown are still for sale as residences ... for a price ... but many people in Popayán have moved into the growing suburbs, especially after a 1983 earthquake limited options in the old part of town.
Thanks to today's weakness of the Colombian peso to the U.S. dollar, you could expect to pay $65,000 to $90,000 for a brand-new three-bedroom two-and-a-half-bath townhome in a gated community with a social center and swimming pool where monthly association fees will run you about $70.
Supermarket meats and vegetables usually cost at least 20 percent to 50 percent less than in U.S. stores. Packaged foods cost about the same as or sometimes more than you'd pay in the United States. However, you can save a bundle if you shop in local markets. Across the street from the city bus terminal, a large cooperative farmers' market sells fresh fruits, meats, and vegetables for a fraction of what you'd pay in supermarkets.
Speaking of food, the National Gastronomy Congress of Popayán is held each September. This festival, named an official UNESCO cultural heritage event in 2005, features chefs and foodies from all over the world paying homage to Popayán's unique cuisine, blending European, Latin American, and indigenous ingredients.
But that's not the only distinction UNESCO has bestowed on Popayán. Since the 1600s Popayán has mounted extravagant celebrations of Holy Week, and today the festivities draw people from all over the country and the world. These Holy Week festivities have been added to UNESCO's Intangible Cultural Heritage of Humanity list.
Popayán has just about everything you'd need for a comfortable, affordable, and entertaining lifestyle, including an elegant blend of old Colonial traditions and modern art, education, and attitude. Put it all together, and Popayán just could be the greatest retirement destination you've never heard of.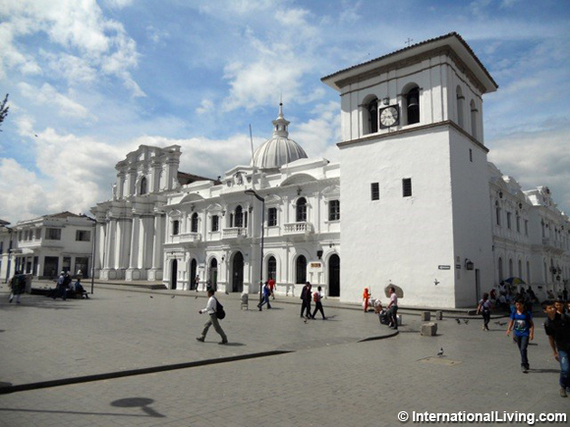 Popayán is known as the "White City."
Related Articles
My Time Is My Own In This "City Of Eternal Spring"
Yoga, Fresh Coffee, and Champagne in Medellin, Colombia
Good Health and Culture in Bogota, Colombia
PHOTO GALLERY
15 Foodie Towns For Retirees
Calling all HuffPost superfans!
Sign up for membership to become a founding member and help shape HuffPost's next chapter