Marty and Michelle Kramer know that the road to paradise is not always direct. They're okay with that. As they will tell you, what counts is being happy where you end up. They found the right fit for their retirement dreams in the bright and breezy beach town of Playa del Carmen, on Mexico's famed Riviera Maya.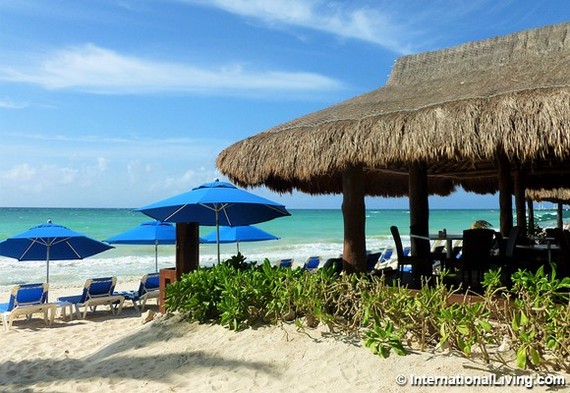 Playa del Carmen, Mexico
It's no wonder that Marty and Michelle love Playa del Carmen. Situated about an hour's drive south of the tourist mecca of Cancún, on Mexico's Caribbean coast, Playa offers stunning beaches and warm, clear water filled with brightly colored tropical fish. The temperature is nearly always warm to hot, and shorts and sandals are the standard (unless, of course, you choose swimwear).
"It's perfect for scuba and snorkeling, which Marty and I do regularly," offers Michelle. "Marty has also started diving in the cenotes (underground sinkholes)."
"They have large, brand-name stores and smaller boutique shops," says Michelle of the varied shopping available in town. "In fact, Playa has one beautiful street designated for shopping and dining, and no cars are allowed: walking only. And there are plenty of wonderful places to enjoy a cup of locally grown coffee."
Shoppers and diners can take a leisurely stroll down Playa's Fifth Avenue, where small cafés spill onto the sidewalk and upscale shops blend with smaller stores, their windows filled with jewelry, local crafts, and the latest fashions.
"It's easy to spend a sunny afternoon there just enjoying the atmosphere and the sights. Nights on Fifth Avenue are wonderful, with strolling musicians and music filling the air. Sometimes we go there and don't buy anything but a coffee. The people here just have a happy vibe. It's wonderful! Everyone is always smiling and friendly -- tourists, expats, and locals alike. They're just happy and it's wonderful to be around," Michelle says. "I've even joined the Rotary Club, so Marty and I can work together on community service projects."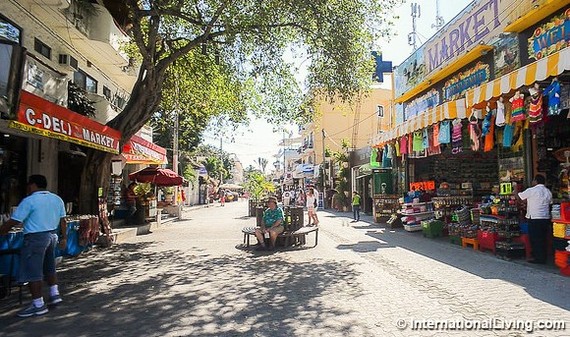 Playa Del Carmen, Mexico
The Kramers did not take a direct route to their beachside paradise. In June 2013, the couple moved to Cuenca, Ecuador. Cuenca offered them a substantial expat community, friendly locals, an extremely affordable cost of living, and an impressive array of activity options. The Kramers are grateful to have launched their expat journey there. They found that they truly enjoyed the expat lifestyle, but over time the novelty of the city's mountain climate began to wear off.
"It was a great place to begin our expat life, but we both missed warm weather and the beach," says Marty. "After living in Florida for 40 years, Cuenca and mountain life just didn't work for us."
"By November of 2014, we realized that Cuenca was not for us," says Michelle. "We said our goodbyes, packed up, and moved to Mexico in May of 2015."
"The Caribbean coast is exactly what we wanted ... actually, what we needed, and we made that discovery by moving to the mountains of Ecuador first," says Marty. "We got it right this time, and we expect to be in Mexico for the rest of our lives.
"Our retirement has turned out great," he adds. "We spend about $3,000 per month and have an amazing life. We have a beautiful condo, two bedrooms and two baths, for $1,000 a month, and it's only a block from the beach. We eat out about three to four days a week and never worry about healthcare. There are a couple of good hospitals here and Cancún has six or seven large hospitals just up the road. We have a car, so that's no problem. Medical care is inexpensive here, but we do have a medical evacuation policy that will fly us back to the States in an emergency. It's about $600 per year for both of us, and it's worth it, because we're both covered by the VA in the States."
"I feel safer than anywhere I've ever lived," says Michelle. "The weather is perfect and even when it rains, it's warm, friendly rain. Playa del Carmen is definitely our place."

This article comes to us courtesy of InternationalLiving.com, the world's leading authority on how to live, work, invest, travel, and retire better overseas.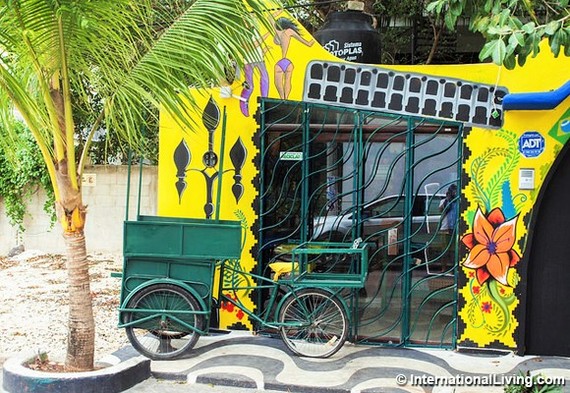 Playa del Carmen, Mexico
Related Articles
Easy Living By Tranquil Lake Chapala, Mexico
Retired Life In Cuenca Is Better Than I Ever Imagined
The Perfect Mexico Beach Town For Lazy Days In The Sun
PHOTO GALLERY
10 Great Places To Retire Abroad
Calling all HuffPost superfans!
Sign up for membership to become a founding member and help shape HuffPost's next chapter