Bill and Mitzi Martain are living the retirement of their dreams. "We have a lovely new home, a beautiful farm, wonderful friends and neighbors, and each other," Mitzi says. "There's no way we could have this lifestyle and quality of life in the U.S."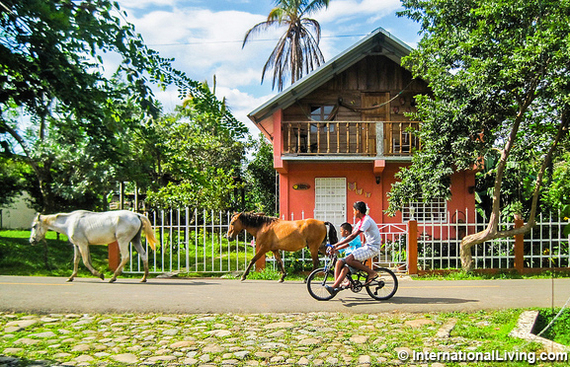 Children Cycling in Santa Fe, Panama
Bill and Mitzi have what they consider an ideal life. They own 10 acres of fertile land in a rural valley, surrounded by hills and mountains. They enjoy sunny, warm weather year-round, with no snow, no ice, no hurricanes or tornadoes. They grow much of their own food and stay active and fit doing chores on their farm. They do all this and more in Veraguas Province, Panama, near the town of Santa Fe.
"I made my first visit to Panama in 1999, on a cruise ship transit through the Panama Canal," says Mitzi of her first visit to the country. "At that time I had my own travel and tourism business in Winston-Salem, North Carolina. That's where Bill and I met and were married. Then I won a diving trip to Isla Coiba, so we came back to Panama together."
As a young man, Bill was in the Navy and afterward went to work for the airline industry. "Eventually I became a supervisor and thought I had it made-- good job, great benefits, nice pension, the works." But that all changed when the economy went bad, the airline downsized, and Bill lost his job... and all his benefits and pension.
"We had expected to live on Bill's pension when we retired, and when that was gone, everything changed," says Mitzi. "We had to find an affordable place to live."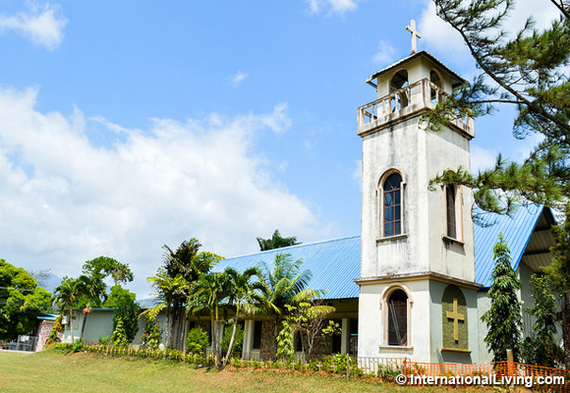 Church in Santa Fe, Panama
When they decided to look overseas, even though they had both traveled all over the world, Panama was their first choice. "It's close enough to the States to get to easily," Bill says. "It has a stable economy and government, low cost of living, and a warm climate, so we can be outdoors year-round."
So in 2003 Mitzi sold her business and they moved to Capira on the Pacific coast, about an hour west of Panama City. A life-long farmer, Mitzi's goal was to have a teak farm. "We planted acres of teak trees and applied for a reforestation visa. Unfortunately, the law changed and we did not qualify for the visa, so we had to move on to Plan B."
But you can't take the farm out of the girl, and before long Mitzi was looking for more land. They explored all of Panama looking for the perfect spot. "We wanted a place in the highlands, where it's cooler. When we came to Santa Fe, we just fell in love with the area and knew it was the right place for us. Eventually we found 10 acres of cleared, flat land alongside the Santa María River at a good price, just perfect for a small farm. We bought it in 2006."
Initially the Martains built a basic home on the farm and spent holidays and some weekends there. "Then one day I just realized that I wanted to be at the farm all the time," says Mitzi, "so we moved to Santa Fe full-time in 2007 and stayed in our little cabin. Later we sold the house in San Carlos and built a larger home at our farm. We moved into our new home in June 2014 and couldn't be happier.
"It's important to us to eat well and live a healthy lifestyle. So growing or producing our own food is great. We have delicious ruby red grapefruit, avocadoes, mangos, bananas, pineapples, and of course lots of oranges and limes. Our garden gives us broccoli, tomatoes, green beans, peppers, onions, and more. I use my farm-fresh eggs in all my cooking."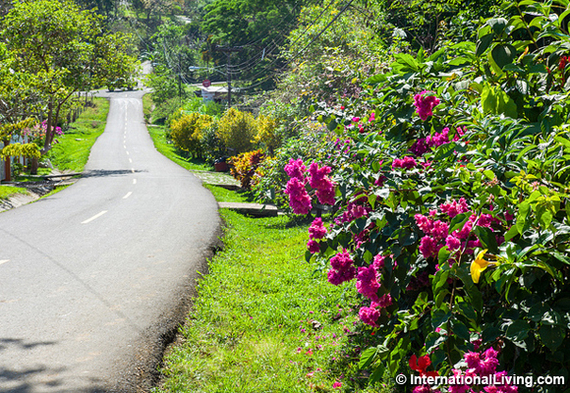 Roadside Foliage in Santa Fe, Panama
Bill and Mitzi live entirely on their combined Social Security income. Their home is paid for and they have no heating or air conditioning costs. To eliminate any property taxes, they divided the 10-acre farm into three parcels, each with a value below the minimum for taxation. They pay about $60 a month for electricity and internet service.
"Our biggest expenses are salary, social security, and health benefits for our farm worker Sixto (around $500 a month), and fuel for our pickup truck and farm equipment (mowers, tiller). Because Santa Fe is such a small town and doesn't even have a gas station, we go to Santiago two or three times a month to do our shopping, our banking, and get gasoline and diesel."
While individual expenses will vary, a couple can live comfortably in Santa Fe for as little as $750 a month if they own their home. A monthly budget of $1,500 will easily cover rent, owning a car, and going out to eat or to the movies in Santiago.
Santiago, about an hour's drive away, is also the healthcare hub for the area. "We're happy with the doctors and dentists in Santiago," Mitzi says, "and that's where we go for routine things. For more serious issues we go to Panama City (a four- to five-hour drive). Bill saw an eye specialist there for cataracts not long ago and was very impressed with the doctor. We'll go back when he needs surgery."
Most folks who settle in and around Santa Fe are independent and self-reliant. "It helps to be a bit of a 'MacGyver' to live here," says Mitzi. "Working around the farm and doing chores keeps us active and fit, which at our age is really necessary. And here there's no pollution in the air or our river. We couldn't enjoy half the quality of life in the U.S. that we do here on our income. We love it here!"
This article comes to us courtesy of InternationalLiving.com, the world's leading authority on how to live, work, invest, travel, and retire better overseas.
PHOTO GALLERY
International Hospitals For Medical Tourism
Calling all HuffPost superfans!
Sign up for membership to become a founding member and help shape HuffPost's next chapter