This article comes to us courtesy of InternationalLiving.com, the world's leading authority on how to live, work, invest, travel, and retire better overseas.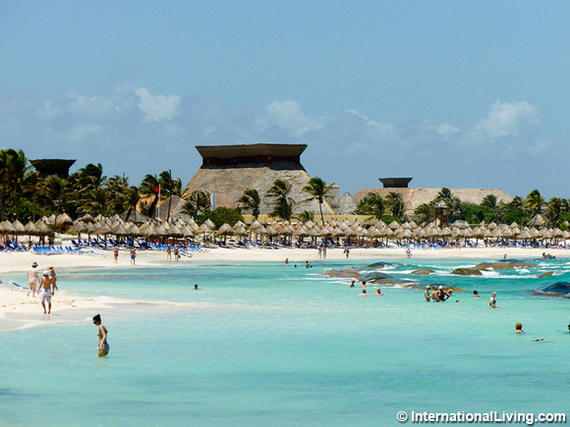 Time has slowed. I'm squinting from the midday sun. The low roar of gentle waves lapping the white-sand shores all along the three mile-long bay mixes with the calls of seabirds. On the horizon, breakers foam over the reef, contrasting with the vivid turquoise sea. It's hypnotic... a nearly out-of-body experience.
Tulúm, a community of around 30,000 people on the south end of Mexico's Riviera Maya, tends to have that effect on people. It's the type of place where vacationers fall in love and the next time they return it's for good.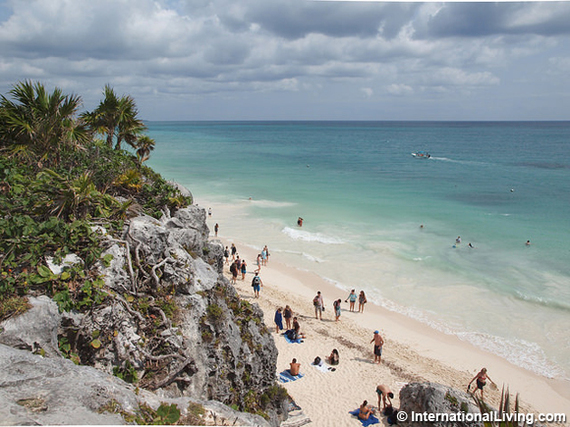 Once the province of the backpacking set, Tulúm has "grown up." Retirees seeking a quiet coastal community, business owners who've spotted opportunity in the coming growth...they all rub elbows with the elite of the fashion world and celebrities, who in recent years have flocked to this community and made it their playground. But still it's bohemian...quiet...laidback.
About an hour-and-a-half from Cancún--the first area developed as part of the Mexican government's master plan for this coast--Tulúm is on the path of progress. Development is here and more is coming... though it will be manageable and limited due to some unavoidable factors. Construction, for example, is restricted due to the Sian Ka'an Biosphere Reserve south of town.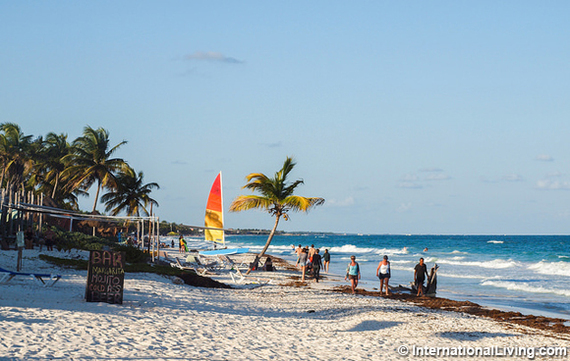 Tulúm also has a totally different character than the resort mecca Cancún or the glamorous beach resort of Playa del Carmen. The feel is funky, chilled out. To the north, you do have some all-inclusives and large resort complexes. But it's nowhere near the level you find in other parts of the Riviera Maya. And it's still a low-key place in general: booming, but still small enough that there is a close-knit expat community and no big-city hassles.
Development has brought large stores--like the relatively new Chedraui supermarket on the road to the beach--with groceries and any household items you may need. You used to have to drive to Playa del Carmen to get your shopping done. Now you don't have to leave town. Shopping in the grocery store for "box" food and imported items will cost you about the same as in the U.S.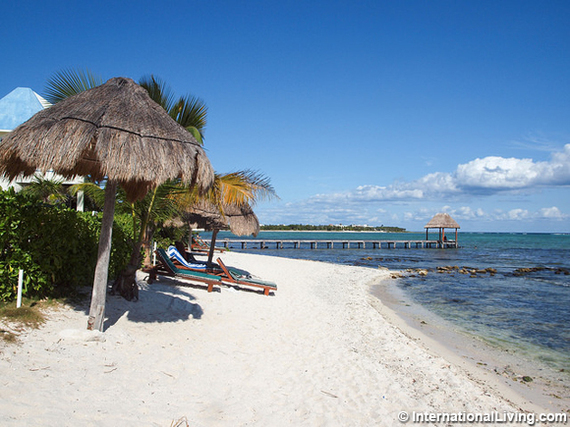 The ruins of ancient Tulúm, a Mayan trade center that flourished in the 13th to 15th centuries, are just north of the modern town. Arrayed on the cliffs and rocky outcroppings along the coast are watchtowers, homes, palaces, and temples overlooking that azure sea? It's raw, natural beauty that is still enjoyed today.
The ancient Maya may be long gone, but modern Tulúm has its own distinctive charms. Along the beach you'll find low-slung buildings, boutique hotels, and open-air restaurants. A narrow two-lane road meanders down the coast, offering glimpses of the Caribbean through the vegetation. The overhanging trees provide shade. Yoga studios, spas and wellness treatment centers, small boutiques where you buy clothes for a night out or for lounging by the sea, whimsical jewelry stores, artisanal mezcal and tequila shops...it's all here, with a soundtrack of downtempo house music, world music and reggae.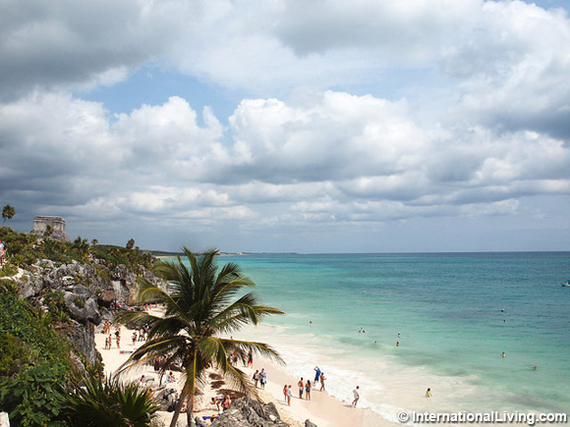 You can still see palapas--traditional thatched-roof huts--here and there. And the hotels and shops have followed that style with their architecture. Thatched roof and open air to let cooling sea breezes pass through. The restaurants, too. And it's the type of place where people take food seriously: organic, locally-sourced, gourmet. They're not looking for fast fried food or for big menus with pictures of each dish on them.
If you visit Tulúm, try Chamico's, on the far south end of Soliman Bay, for lunch. There's no sign...well, there's one that says "Private Property." That's when you know you're there. Tulúm is made up of a lot of these mom-and-pop places.
Calling all HuffPost superfans!
Sign up for membership to become a founding member and help shape HuffPost's next chapter