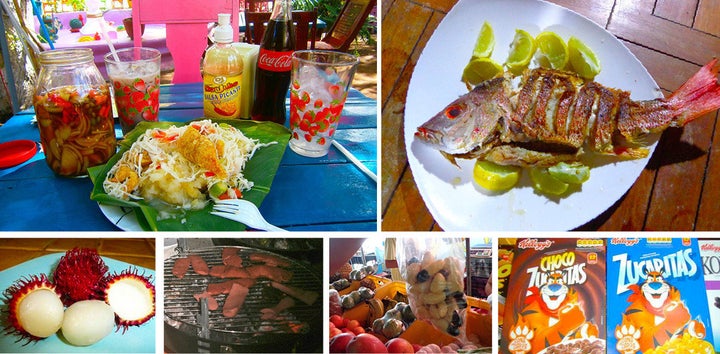 Google "Costa Rican restaurant New York City" and what comes up? I'll tell you what: nothing. In the most densely restauranted city in the world, there is not one Costa Rican restaurant. In our old NYC neighborhood alone, along with the Chinese, Thai, Italian, French, et cetera, we had an entire block of Indian joints, a Burmese, a Tibetan, an Afghani and even an Ethiopian spot. At one point we had a restaurant across the street from us, Cave Canum, which only served food of the ancient Romans (various grasses, I seem to remember, along with four different skate dishes). And still... no Costa Rican restaurants. Why?
Because Costa Rican cuisine is kinda crappy. I mean, it's not horrid... like haggis. Or matzoh. Or gefilde fish. It's more like... Kansas; there just ain't a whole lot of there there.
This isn't just our opinion; every travel guide to Costa Rica kinda breathes a heavy sigh when the topic turns from beaches and jungles and wildlife to the more prosaic topic of what to eat. Posts on Chowhound asking, "Can anyone suggest some good restaurants in Costa Rica?" grow cobwebby waiting for replies. (I'll take the liberty here of suggesting two in our small town of Puerto Viejo, neither of which serves "Costa Rican" cuisine; The Point, for the American-style sports bar experience, and Stashu's, whose eponymous owner knows his way around a curry sauce.)
Anyways, between the biking, snorkeling, surfing, lazing in the hammock and cocktail mixing, we kinda like to eat. Back in NYC, I put at least one hot meal on the table every day for 30 years and had a robust repertoire of family-pleasing recipes -- few of which, for various reasons, could be reproduced here.
The gustatory gauntlet had been thrown down. Game on...
The mainstay of Costa Rican cooking is known as casado, which means "man of the house." This is a big plate (I'll give it that) of simple rice and beans, a mayo-based salad (more on the Tico love affair with mayo later...), some yucca (have you met the yucca?) and largely unadorned stew meat, fish or chicken. The concept of eating a casado every day of your life brings to mind the charming Australian expression, "ball and chain porking," a euphemism for married sex.
Of course different is good; we came here for different. But different is always so easy to... digest.
The Good, The Bad and The Weird.
Unlike other Latin American fare, Ticos have little use for spicy. No hot tamales, no jerk pork or chicken, no spicy Dominican chicharrones. The most common Costa Rican salsa picante, Chilero, can be shlurped by the spoonful by a 3-year-old. Señor Blandings builds his dream kitchen.
Another issue is that few Costa Rican homes have ovens. Think of all the things you like to make with your oven; now cross them all off the list of things you can have.
And then there's the general weirdness of Costa Rican groceries.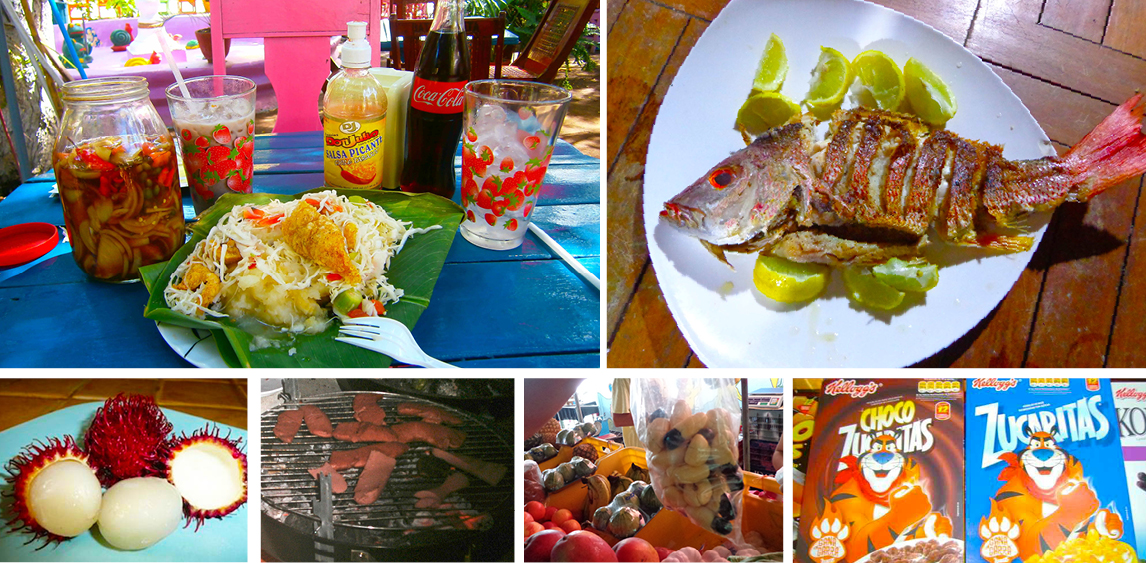 Quite often the weirdness is good. There's the mamón chino, a Dr. Seussian fruit that looks like a Spaldeen with wiry spikes. You peel the spiky outer shell and eat the grape-like fruit inside. Delicious. Another fruit, ackee, hangs from the trees; yeah, it's poisonous if you eat it before it's ready, but fry up the ripened fruit in a pat of butter and it comes out looking and tasting exactly like scrambled eggs.
Ketchup, tomato sauce, mustard and mayo all come in squeezable bags (brilliant, really), and lime flavored mayo... where have you been all my life? You can also get mustard- and ketchup-flavored mayo (Ticos love their mayo) but a mayo-based diet? No me gusta.
Milk comes in a box, or you can get organic milk at the farmers market in a recycled 2-liter soda bottle. (And by recycled, I mean you can still see the edges of where the Coca-Cola label once was.)
Eggs are not refrigerated (but somehow, in eight months, I've only gone home with one rotten egg).
Every woman I see buying groceries gets Sazón Completa, so I picked some up, only to discover the primary ingredient listed was MSG. (Let's go Rangers... thunk thunk thunkthunkthunk!). Ehh.
And then there's the chopped meat issue. There are at least two ranches in our small town and the cows look healthy and happy enough. So what the hell happened to these poor creatures to result in chopped meat with the consistency of farina? Thankfully, a friend who's lived here for a while told me you have to drain the chopped meat in a strainer before you try to cook it.
You don't select your fish at the fish stand, Ricardo sells you whatever the fisherman caught that day along with hints on how to prepare whatever the fish may be. (Here's his recipe for pargo frito entiro -- whole fried red snapper: Toss the fish around in flour that's been liberally dosed with Sazón Completa, and chuck it into a big-ass pan of boiling oil. Drink half a beer and flip it over. Drink the other half of the beer, put the fish on a platter, squeeze lemon everywhere).
Carlos is our go-to guy for organic fruit and veg. I ordered some beets from him, thinking of a nice beet salad. Each beet was the size of a baby's head. A big head baby. I had enough beets to feed twenty people, not two.
"Carlos, what the hell am I supposed to do with these beets?"
"Eat them! Like this!" And then Carlos goes all Schrute, chomping a beet as if were an over-sized Macintosh. Big raw food guy. But the beets were excellent, and three weeks later they'd finally been consumed -- after being boiled, grilled over charcoal, and in the end, pickled with garlic and hot peppers.
Basically, I'm learning to cook all over again.
So when Christmas rolls around, there will be no turkey, ham or roast beef; no green bean casserole; no figgy pudding. I'm thinking we'll start with guacamole and fried plantains, a kale salad, the pargo frito entiro, creamed spinach with coconut milk, fresh rolls from the bakery down the road and then finish with a no-bake lime cheesecake. And maybe I'll sneak in a big-head beet somewhere.
Unless Anyone Would Care To Share...
Consider this a Call For Entries: We've got a 2-burner stovetop and a microwave. Lots of fresh fish and veg. Weird meat. The ackee, oyster mushrooms, chayote... and some other stuff (if you've been around these parts, you'll know).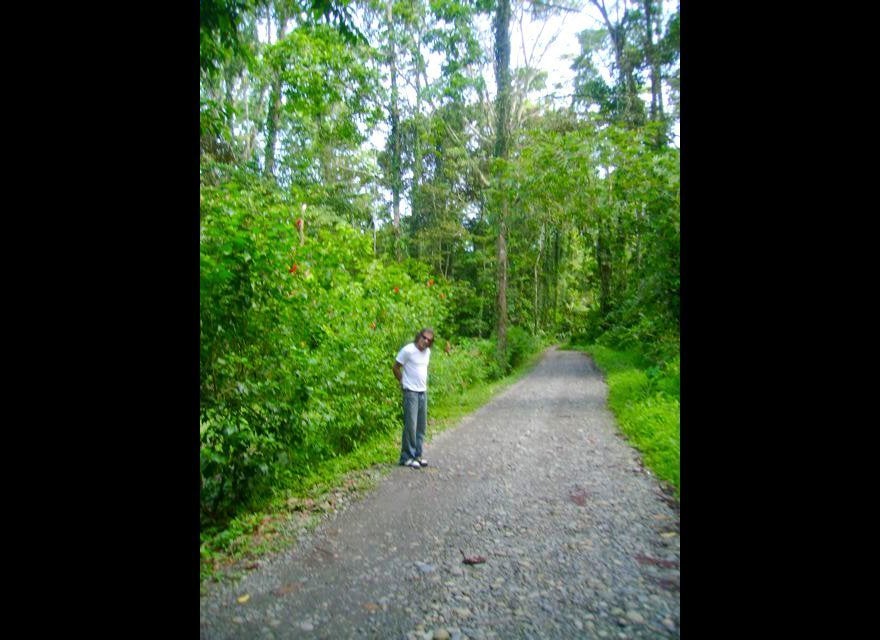 Costa Rican Retirement
Popular in the Community