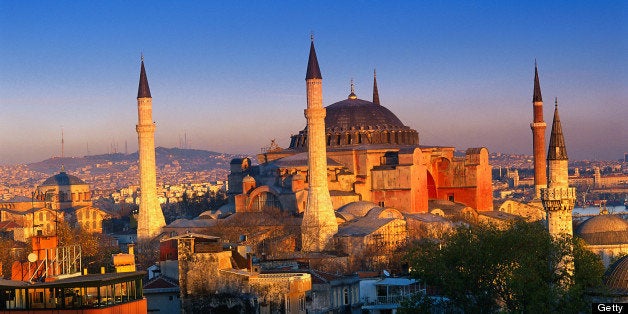 Lief and I are right back where we started... in Istanbul.
My husband Lief and I met about 16 years ago. We were married four months later. Between the wedding and our planned joint-relocation from the United States to Waterford, Ireland, we squeezed in a "honeymoon."
I quantify that description of the trip we took because it wasn't a typical honeymoon. With us came my daughter, who I didn't want to leave home alone at this critical time of our lives, and Lief's long-divorced parents as well -- both of them. The explanation for their participation in this expedition is difficult to remember today. It seemed to make sense at the time.
Our honeymoon destination was Turkey. I remember few details from the 10 days we spent in Istanbul and along this country's coast. My memories are not so much of events or places as they are of sensations. I remember my daughter being timid and shy, uncomfortable with the attention her blond hair and blue eyes attracted among Turkish men. I remember Lief's parents bickering as two once-married but long-divorced people might be expected to do finding themselves together in confined spaces for extended periods.
And I remember Istanbul as grey. The mosques, the cafes, the bazaars... In my memory, they are all grey and uninviting. This is one of the most important cities in the world. Could it really be as unappealing as my memory suggests? It seemed worth another look to find out, so here we are again, 16 years later (this time alone).
We landed in Istanbul to find clear blue skies and a bright sun. Ten minutes into our first morning out, I turned to Lief and smiled. "This is nothing like I remember," I said.
Istanbul could be the Paris of the East. Like Paris, the heart of this city has been developed over centuries and is best explored on foot. Everywhere you wander, in every direction you turn, there is something interesting to see, something beckoning you to continue a little farther, something else to discover. As in Paris, great wealth has been consolidated here through the ages and invested in making the place architecturally impressive. For this and many other reasons, this is one of the world's great, classic, brand cities.
Istanbul is also like New York -- young, eclectic, pulsing with energy, fully alive and a melting pot. The streets are crowded with people from all cultures, moving around with a purpose. Some sport trendy or chic Western attire, others conservative Muslim dress.
And Istanbul is like Panama, one of the world's great crossroads. Out in the Sea of Marmara, ships from around the world line up to await their turns for passage through the Bosphorus. Because it is too narrow at some points for two ships to pass each other, traffic through the Bosphorus is one way. Thus the queue of freighters in the Marmara that reminded us of the view out our windows back in Panama City.
Istanbul's original shoreline has been expanded using reclaimed land to create a parkland along the waterfront... also like in Panama City. This green space is crisscrossed by walking paths and decorated with flowers beds of red and yellow.
The old city was surrounded by three sets of stone walls. Where these remain standing, the areas in between the walls is given over to vegetable gardens. The city granted use of the land to citizens with no income who would cultivate it to grow food. The corn, tomatoes, lettuce and other vegetables produced by these communal gardens are offered for sale at weekly farmer's markets.
"We need more time here," Lief remarked at the end of our first day out. "We should plan a return trip, with the kids. This is a place we should get to know better."
From that thought, another follows: What would it cost to invest in a small apartment so you could settle in here longer term?
The section of the city overlooking the Bosphorus is the high-rent district. Houses and apartments here can change hands for tens of millions of lire (at the current exchange rate, 1 lire is worth about $1.90). However, there is a section, on a hillside, overlooking this waterway, that is undergoing a renaissance. The houses here are small and in need of renovation, but you could buy one for less than 200,000 lire.
We don't have time to investigate further this trip, but we'll be back as soon as we can.
PHOTO GALLERY
6 Most Popular Vacation Spots With Baby Boomers
Calling all HuffPost superfans!
Sign up for membership to become a founding member and help shape HuffPost's next chapter