We gather at sunset every evening. Because we're near the equator, it's always between 5:15 and 6:15 p.m. Groups of friends chat and watch their kids play. Dog walkers nod as they walk past. Surfers pop into the water for one last wave. Bottles are raised as the sun disappears over the horizon.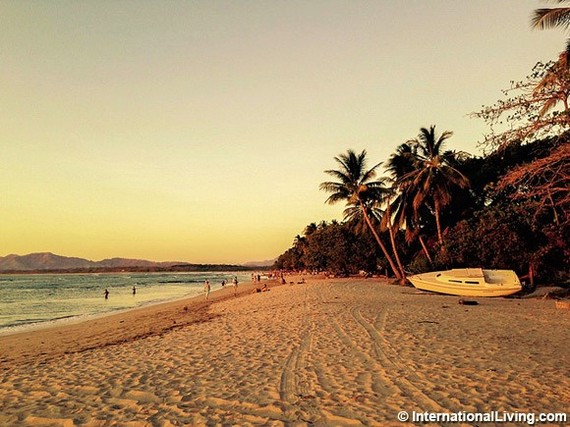 Tamarindo Sunset, North Pacific Coast, Costa Rica
Staff at the beach bars light the tiki torches, music begins to play, and hosts beckon you to try their restaurant. At Nogui's, one of the longest-running beach bars in town, a bass-heavy beat signals the start of a fire-dancing show. Clad in black, a man with a long stick lit at both ends is twirling it above his head, faster and faster, the flames leaving graceful, arcing trails through the night sky.
It's just a regular Tuesday in Tamarindo, a town of around 6,000 people on Costa Rica's northern Pacific coast.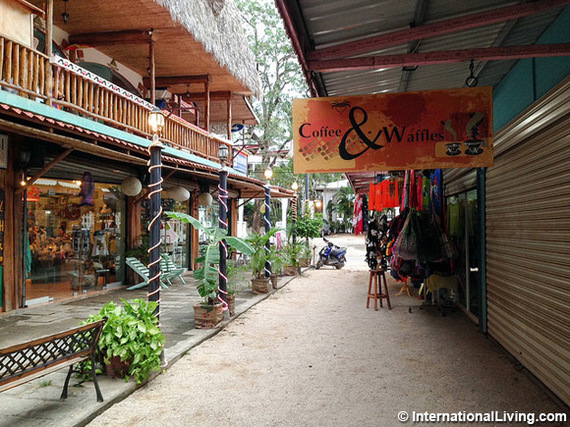 Tamarindo Shops, North Pacific Coast, Costa Rica
This part of Costa Rica is referred to as "the Gold Coast." The region is very popular with retirees and other expats, with several towns like Tamarindo that have become havens for foreign residents.
A big advantage to this is the services that came with the expats. The Daniel Oduber International Airport, the second in the country, is about an hour from Tamarindo, making getting to and from North America very easy; there are daily flights on JetBlue, American Airlines, Delta, and United. And there is also a small private hospital, including a 24-hour emergency room, near the airport. It's run by CIMA, which operates one of the top hospitals in San José.
But back in the late 1980s, when surfers first discovered Tamarindo's consistently good waves and sport fishermen found the abundant tuna, snapper, and billfish offshore, Tamarindo was small time. A couple of hotels, a bar/restaurant or two. Electricity was spotty, the roads horrible. There was one telephone in town.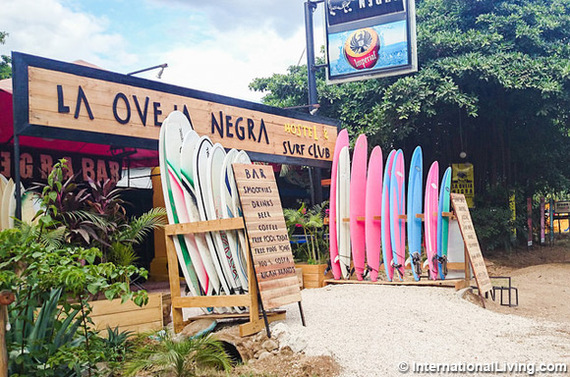 Tamarindo Surfshop, North Pacific Coast, Costa Rica
But Tamarindo grew. The road out of town and the main drag along the beach were paved, with shops, hotels, restaurants, and more going up on either side. Then came reliable electricity, high-speed internet, gourmet grocery stores, dentists, spas, doctors' offices ... the works. You can retire very comfortably here now.
I've lived in Tamarindo twice during my time in Costa Rica. After spending a few years in the Central Valley, my wife, children, and I started to miss the beach. It may be a tourist town, but there are a lot of advantages that come with that: the energy of the travelers who constantly come through town; the entertainment and dining options; the water sports; the leisurely walks down the long, slowly curving beach, which ends at the river mouth to the north and a rocky point to the south.
It's funny how even in a busy beach-resort town like this, I also get to enjoy the rhythms of slow-paced village life. I can't walk around town or go to the bank without seeing a friend. There are always a few minutes of conversation and catching up ... and plans to meet later in the week. There are usually cook-outs, dinners, and parties on the weekends.
The highlights of my week are shopping trips to a pair of ferias (weekly, open-air farmers' markets). The first is set up by the roadside about five minutes' drive inland. Fresh fruits and veggies, honey, eggs ... it's all-natural produce, and I spend about $30 a week for my family of four. The second is a more expat-focused market just off the beach in Tamarindo on Saturday mornings. Arts and crafts, artisanal nut butters, vegan cheese ... many specialty gourmet items are on offer.
On Tuesdays and Fridays I keep an eye out for the "fish truck." It makes deliveries to local restaurants. But you can buy right out of the cooler, too: $5 for a pound of sushi-grade tuna, the same for red snapper. It's caught right offshore by local fishermen, never frozen.
We eat out plenty, too; it's hard not to with all the great restaurants. My favorite place to dine is the "food court," an open-air collection of food stands with a collection of tables and chairs in the center. You have pizza, sushi, seafood, tacos ... and the price is perfect ... $5.50 for premium sushi rolls. Two bucks for a taco. And the Wild Panda bar on the corner always has a drink special. My favorite is fresh pineapple (they use fresh fruit in all their cocktails) with aged Nicaraguan rum: $3 for a tumbler.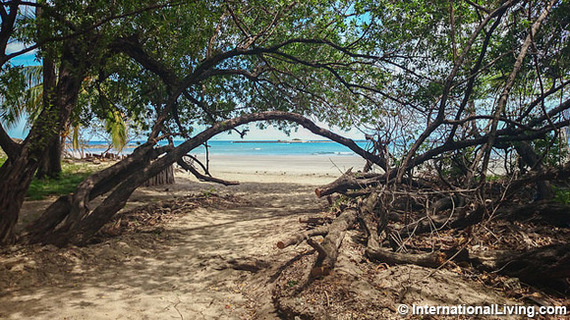 Tamarindo Beach, North Pacific Coast, Costa Rica
I watch U.S. college football -- or European league futbol -- at a sports bar in the center of town, Sharky's, which is a favorite with Ticos and gringos. There are high-end restaurants, too, with U.S.-level prices. But you learn quickly that there are small Costa Rican restaurants around town, called sodas, which have the exact same dishes for half the price. One of my favorites is a heaping plate of seasoned rice with a mix of calamari, shrimp, and fish for about $6. It's enough for two.
There is always live music somewhere. Talented expats show off their skills during open mics. One night I was surprised to see one of my neighbors and the guy at the surf shop near my house tearing it up in a lively reggae band at a beach bar.
There's always something going on in Tamarindo ... during the day the focus is on the ocean. Thanks to year-round highs in the mid-80s F to low 90s F, you can always be surfing, sailing, fishing, kayaking, stand-up paddle boarding, beach combing ... or just relaxing on the sand. Even on days where I struggle in the waves, I always say it's good to be on the water. For sore muscles the next day, I often head to one of the masseuses set up on the beach ($40 for an hour).
It's a very multicultural scene in Tamarindo in general, with people from all over the world either living here or visiting: tanned surfers from California, snowbirds from Canada escaping a brutal winter. Fresh-faced college students from Europe pack the Spanish schools in the summer months.
Walking around on any given day, you hear half a dozen languages spoken on Tamarindo's streets. My neighbors are surfers from Argentina; they own a surfboard repair operation and beach-wear shop. There is a large population of Italians, as well.
It's not as affordable to live at the beach as in other areas of Costa Rica, such as the Central Valley or Lake Arenal -- especially when you first arrive and don't know where to find the deals. You run your air conditioning, which for a typical two-bedroom home or condo could reach $200 a month. And rents can be higher, as landlords can make a bundle with vacation rentals, so the availability of long-term leases is limited (if you plan to come down, reserve a rental well in advance). But you can still find nice properties -- fully furnished down to the bed linens and cutlery -- for very reasonable prices compared to similar U.S. beach destinations. Count on paying at least $1,200 for a three-bedroom home within walking distance of the beach, and $700 for a two-bedroom condo.
If you're looking to buy, prices here are reasonable. A one-bedroom condo in the center of town, close to the beach and with a community pool, is available for $75,000. A two-bedroom in the same neighborhood is listed at $110,000. Something ocean-view will run you $220,000 and up. And for a two- or three-bedroom home anywhere in town you can expect to pay the same.
Head inland a mile or two, and you can find some real bargains, like a three-bedroom home in the town of Villarreal, which is just a five-minute drive from the water, for $90,000.
With prices like these, your ideal retirement on Costa Rica's vibrant Gold Coast could be closer than you think.
PHOTO GALLERY
7 Factors To Consider: Moving Overseas
PHOTO GALLERY
Top 8 Destinations For Multigenerational Travel
Calling all HuffPost superfans!
Sign up for membership to become a founding member and help shape HuffPost's next chapter