One of the most accommodating and charming places we've lived in our years abroad is on the north shore of Lake Chapala. In Mexico's central highlands, this area is the most popular overseas retirement destination for U.S. and Canadian expats, and it's been so for nearly 100 years.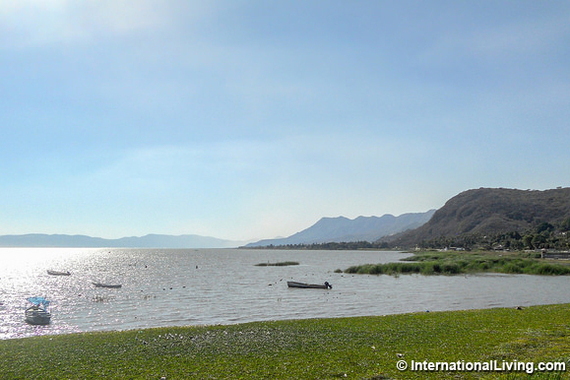 Lake Chapala, Mexico
About an hour south of Guadalajara (Mexico's second-largest city and just about in the middle of the country) Lake Chapala is Mexico's largest freshwater lake. The international airport at Guadalajara, halfway between the city and the lake, is less than a 30-minute drive away, and offers direct flights to at least 14 cities in the States, 21 cities in Mexico, as well as to Panama City, Panama.
This is a huge plus for us and for anyone who plans any significant travel to and from the Chapala area. (This past January on a month-long return visit, we flew to Guadalajara from Phoenix after a family visit in less than two hours. Both American Airlines and Mexico's budget Volaris Airlines offer direct, low-cost roundtrip fares to/from Phoenix and more. During our month-long stay, we found lakeside, as it's commonly referred to, to be as charming and as convenient as ever.)
Besides being close to the States (you can drive to the border at Nuevo Leon or Laredo in about 11 hours), another huge plus is the climate. At about the same latitude as Hawaii, but the same elevation as Denver, you'll be hard-pressed to find better weather anywhere in the world. This, and the convenience of getting to and from the communities that border the lake, are two primary reasons this area is so popular with U.S. and Canadian expats.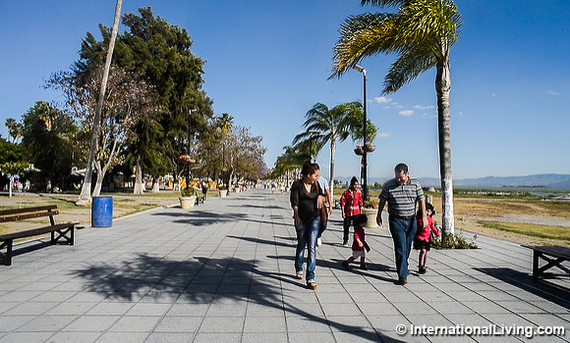 Lake Chapala, Mexico
About that climate: January is the coolest month at lakeside, with temperatures reaching about 70 F or more in the daytime and cooling off to about 50 F to 55 F at night. May is the warmest month, with highs typically in the mid-80s and lows of about 60 F. February is usually the driest month, with an average of only a 10th of an inch of rain, while July is the wettest month, with nine inches. Overall, the humidity is low.
Along with the elevation and latitude, the perfect weather is thanks largely to the cooling breezes that drift across the lake itself. About 50 miles long from east to west but not much more than 12 miles wide at its broadest point, Lake Chapala is relatively shallow, averaging only about 10 to 13 feet in depth.
The condition of the lake is always of concern to people who live in the area. Years of mismanagement helped drive the lake almost to the edge of extinction at one point several years ago.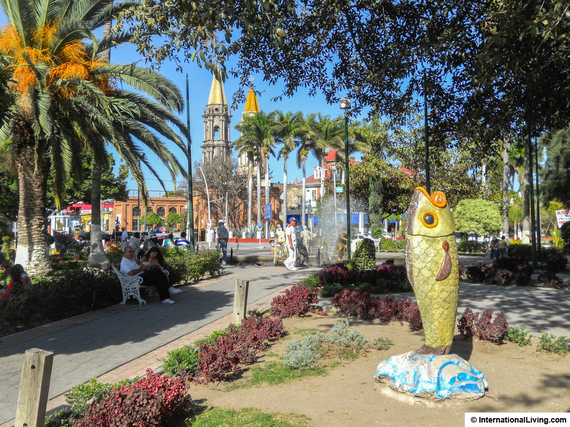 Chapala, Mexico
More recently, however, significant attention has been paid to the lake's health, and it's been given full member status in the Global Nature Fund's Living Lakes Network, an international organization helping to save the most important World Heritage lakes.
As we mentioned, this part of Mexico has been an expat haven for generations. It's estimated that 30,000 foreigners live in the small towns and villages that dot the north side of the lake -- the closest proximity to the big-city services of Guadalajara. Because of this large expat population, you'll find many of the locals here speak English, too.
It doesn't hurt of course, that this is a visually stunning place. The north shore of the lake is lined by hills that provide spectacular views, and many of the communities around the lake have built picturesque shoreline walks and parks. Homes tend to feature gentle arches, hand-painted tiles, and gardens that bloom all year round.
Ajijic, Chapala, Jocotepec, San Antonio, and San Juan Cosala are some of the most popular communities along the north shoreline. The town of Chapala itself is the largest community, and you'll find all sorts of shops, cafés, and restaurants here. Chapala is also home to what is said to be the largest American Legion post outside of the U.S. To the east is the community of Vista del Lago, with its popular country club and golf course.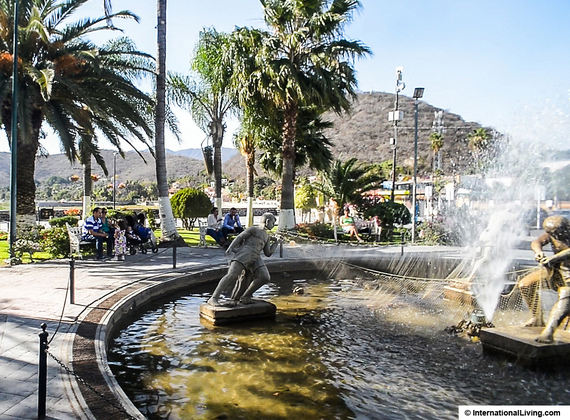 Ajijic, Mexico
Long a lure for artists, writers, musicians, and other creative sorts, you'll find live music events, art shows, writers clubs, and all sorts of community events in every community along the lake. In the village of Ajijic (where we once lived), you'll also find the Lake Chapala Society, a non-profit organization with the mission to help lakeside residents -- both foreign and Mexican -- enjoy a healthier, more engaged life. There's a library and a wealth of services, classes, lectures, performances, and more.
A huge plus for foodies like us is that over the years Ajijic and the other lakeside communities have developed an eclectic selection of very good restaurants. Last January during our visit the exchange rate hovered around 18 pesos to $1, which meant that we couldn't really cook at home for ourselves any less expensively than we could go out to lunch and dinner. And so we did ... every meal. At our favorite restaurant near the house we rented, we could get two entrees and a bottle of wine for less than $25.
For those of you with U.S. dollars to spend, the exchange rate is still low today, as we write this in May of 2016. Remaining at more than 18 pesos to the dollar, this makes Lake Chapala ... and Mexico in general ... very good value.
What about safety and security here? The expats and locals we've talked with say they feel very safe -- safer, in fact, than they did back in Los Angeles, Chicago, and other metropolitan areas. But no one suggests that you leave your house unlocked when you go out or forgo the common sense precautions you'd practice anywhere in the world. That said, there's a widespread sense of community here ... neighbors get to know each other and watch out for one another.
For sure, there are some potential drawbacks to the Lake Chapala area, depending on personal preferences. The large number of English-speaking expats can be a downside for some...but on the flip side, it's easy to settle into daily life and quickly acquire a set of like-minded friends.
Another possible drawback is one that we personally find a big plus ... familiar amenities and cultural events. The north shore of the lake offers supermarkets filled with many international brands. There's even, for good or bad, a Walmart. And in nearby Guadalajara you'll find Sam's Club and Costco, too, along with several giant shopping malls with brand-name stores from around the world. There is a community theater (in English), and many businesses that cater to foreigners. If you need to get your car worked on, your computer fixed, or your satellite TV hooked up, it's easily done.
Some long-time expats in the area feel all this detracts from the local culture and color, and for sure, the lakeside area has changed quite a bit over the years thanks to the number of expats living there. But still, this part of Mexico remains deeply rooted in local traditions and culture, and no amount of modern conveniences and improved services can affect that. You needn't have the slightest worry about forgetting that you're in the central highlands of Mexico.
And as you might imagine in a mature expat destination such as this, the quality of medical care here is top-notch. Medical care is about one-fourth of general costs in the U.S., and there are at least five 24-hour clinics and a Red Cross clinic, all of which are prepared to handle nearly any type of medical emergency.
Naturopathic, chiropractic, and homeopathic doctors, acupuncturists, practitioners of alternative medicine ... that's all here, too.
And don't worry if you don't speak Spanish. Many healthcare professionals speak English, and many drive to the lakeside regularly from nearby Guadalajara, well-known internationally for its excellent medical community.
As for cost of living, it's much the same as elsewhere in Mexico ... much depends on your lifestyle. What will be true across the board, though is that utility costs here will be lower thanks to the mild climate. By living like a local, food costs can be low as well. Even the restaurants that cater to gringos are reasonable.
Long-term home and apartment rentals are available from about $350 to $2,000 a month. This depends on location, size, and amenities, of course. A very comfortable two-bedroom/ two-bath furnished home rents long-term from about $800 to $1,000 per month.
Keep in mind, though, that a good number of expat snowbirds visit this area during winter months, and choice rental properties can be hard to find then. Rentals can also be spoken for from June through September, when residents of the southern U.S. flock to the lake to escape the heat back home.
If you're looking to buy, you'll find something in just about every price range. The average price for homes sold in recent years is around $180,000. Anything under $200,000, we're told, tends to sell quickly, especially now that -- just as it has in the States -- the local real estate market has rebounded.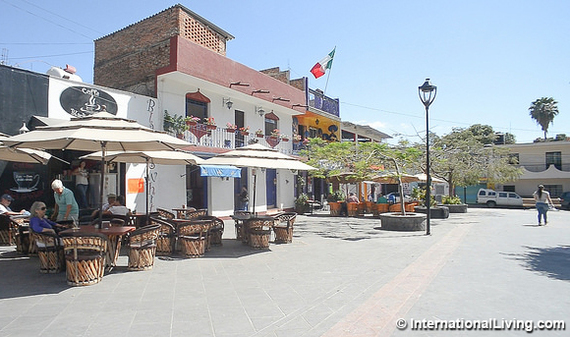 Lake Chapala, Mexico
By the way, in this area of Mexico, because you're not near the coast or border, you won't buy through a fideicomiso bank trust. Instead, you'll hold title via direct deed, just as you do in the U.S. and Canada.
Why won't you find as many expats on the south side of Lake Chapala? Well, you will find a few ... but the south side of the lake is much farther from amenities like shopping, restaurants, medical care, expat meeting places, and Guadalajara's international airport. The south side tends to attract expats who prefer to be very much on their own ... and perhaps to take advantage of the south side's real estate prices, which are substantially lower than the north side's already-affordable rates.
If you're looking for an easy transition to expat life, Lake Chapala is the place for you. You can step right into expat life here with hardly any bumps along the way. You'll find all the services you could want or need. The perfect weather and convenient location doesn't hurt either. If you're looking for a low-cost but top-quality destination, it doesn't get much better than this.
This article comes to us courtesy of InternationalLiving.com, the world's leading authority on how to live, work, invest, travel, and retire better overseas.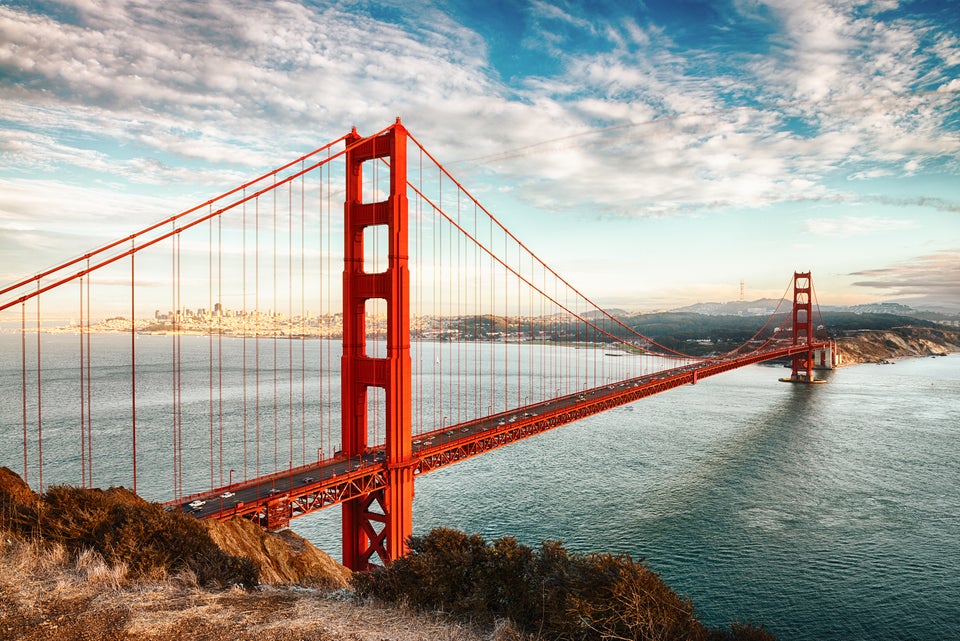 10 Trips You NEED To Take In Your 50s
Related
Popular in the Community