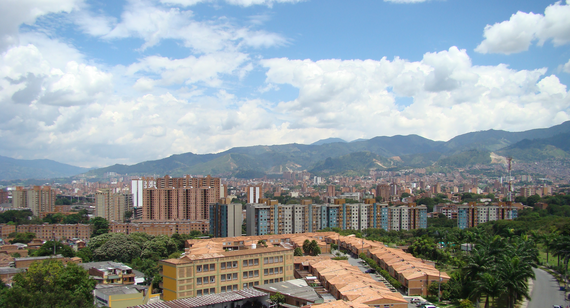 "This is your first trip to Colombia, and you've chosen to focus on Medellín? That'll save you a lot of time. This is the place to be in this country right now..."
That's how one of the real estate agents my husband and I met on our first visit to Medellín eight years ago put it.
Lief and I were still getting our bearings then, feeling our way around, but, from the first time this beautiful city came into view, we recognized that we'd found something special.
The Euro-undertones are strong in Medellín, from the way the women dress to the way people greet you in passing on the street. Wandering around Medellín is more reminiscent of walking around Paris than almost any other city in the Americas.
If you were to compare Medellín with another city in Latin America, it'd be Buenos Aires, Argentina. Medellín, population about 3 million, is like a miniature version of Buenos Aires, from its annual International Tango Festival to its Botero Museum. However, Medellín is more manageable than Buenos Aires (which is home to about 15 million people), easier to navigate, and cleaner. Otherwise, the neighborhoods, parks, downtown shopping areas, antique shops, and the arts and literary history in Medellín all remind you of that very European city way down at the bottom of this continent.
Medellín makes a good impression immediately and on many levels.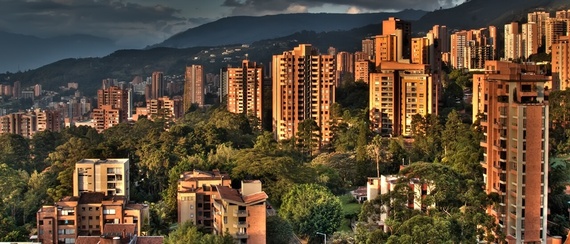 Architecturally, this city is lovely. Built almost entirely of red brick, with almost every structure topped by a red clay tile roof, the place is pleasing in its consistency, especially when viewed from some height. From the windows of one of the city's penthouse apartments, for example, Medellín appears a sea of red clay tiles and red brick buildings interspersed regularly by swatches of foliage and flowers. The effect is calming and peaceful.
Another thing you'll notice immediately upon arrival in Medellín is that this city is nowhere near as scary as you might have expected. As every local resident you speak with will assure you with pride and relief, the drug wars are history, not a current reality.
Far from intimidating, the people of Medellín are friendly, helpful, and hospitable.
Traveling across the city on its metro one afternoon during one of our early visits to this city, Lief and I stepped out from our train and on to the station platform uncertainly, looking left, then right, then down at our small pocket map. We weren't sure which way to go next and were moving slowly as we tried to get our bearings.
An older gentleman who had been on the train with us, a native of the city, began to walk out of the station but then turned around and came back toward us. Addressing my husband politely, formally, he asked, in Spanish, if we needed help. Lief explained our ultimate destination, and the man walked us over to the big map on the wall to point out the quickest route then personally escorted us out to the street.
Medellín is a pretty, leafy, and clean city that is safe, peaceful, and welcoming. That's a good starting point. But would this city with such a troubled past actually be an appealing place to plan to spend time in your retirement? I was won over by both the face and the spirit of Medellín within 48 hours of arriving for the first time. Today, eight years later, having enjoyed dozens of return visits since, I'd say that, yes, no question, this would be a very nice place to retire.
I'd say that Medellín is a nice place to be at any age and under any circumstances.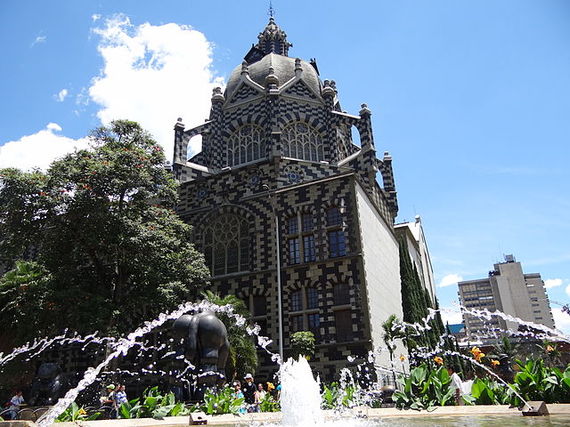 Medellín is culturally and recreationally rich and diverse. Living here as a retiree, you'd never want for something fun and interesting to do. On any given day, you could go hiking or bike riding. You could visit a museum or one of the many shopping malls. You could see a tango show or an opera (in season). Come evening, you could dance the night away (tango is a national pastime) and sample the local rum in one of the bawdy nightclubs or enjoy a fine meal and white-glove service at one of the many international-standard restaurants.
It's not only restaurants in Medellín that can be of international standard. El Tesoro, for example, is as impressive a shopping mall as you'll find anywhere in the world. It's a five-minute cab ride up the hill from Parque Lleras, the heart of downtown Medellín and the best address in the city.
Medellín is the second-largest city in Colombia and is known as a major industrial center for the country (main products are textiles, coffee, and flowers). It is also, though, a city of parks and flowers, with interactive outdoor museum-parks, where children can build and experiment, run and play. There's an aquarium, an amusement park, delightful botanical gardens, a planetarium, a "barefoot park" with a Zen garden, and dozens of small parks and treed plazas, all well-tended and even manicured.
At every turn, this city begs you to come outside and enjoy what it has to offer.
Medellín is both an industrial, economic, and financial center for this country and also a literary and an artistic one. It's the base for newspapers, radio networks, publishing houses, an annual poetry festival, an international jazz festival, an international tango festival, and an annual book fair. Back in 1971, Medellín was even the venue for Colombia's answer to Woodstock, the Festival de Ancón.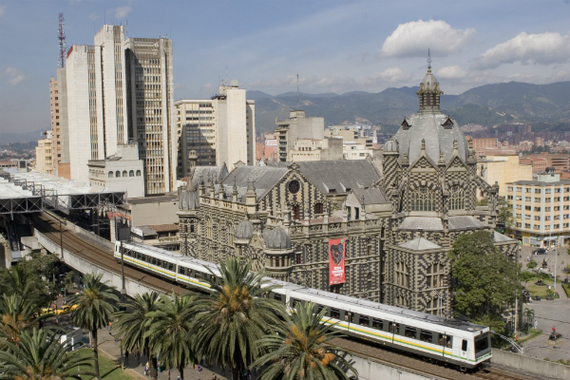 Among the many things I wasn't prepared for arriving the first time in Medellín was the developed level of its infrastructure. This is a place where things work. Here in the city of flowers, the roadways are wide and well-paved, and wireless Internet is ever-present and free in many places, including at Juan Valdez Cafés, the Colombian answer to Starbucks, with branches all over the city and the region.
Medellín was built in a deep valley surrounded by tall, pine-covered mountains. The domestic airport sits almost downtown, making travel to other cities and regions in Colombia easy. The larger international airport is on higher ground but only about an hour's drive from the city.
There's no bad season for travel to Medellín, but some times of the year are more interesting than others, and we're approaching perhaps the best season to plan a visit.
Late June is the International Tango Festival, when the people of Medellín celebrate their love affair with this sultry dance. July is the International Poetry Festival (in Spanish), the biggest celebration of its kind in the world, attracting more than 100 poets each year. And early August is the Festival of the Flowers, the most important event in the Antioquia Province where Medellín is located, when the region remembers one of its most important industries -- the cut-flower business. Dating to 1957, this extravaganza features parades of antique cars, flower carriers, and horses.
From our first visit, Lief and I knew this was a place we wanted to return to as often as possible. Life in Medellín can be about as good as life gets.
PHOTO GALLERY
6 Most Popular Vacation Spots With Baby Boomers
Calling all HuffPost superfans!
Sign up for membership to become a founding member and help shape HuffPost's next chapter