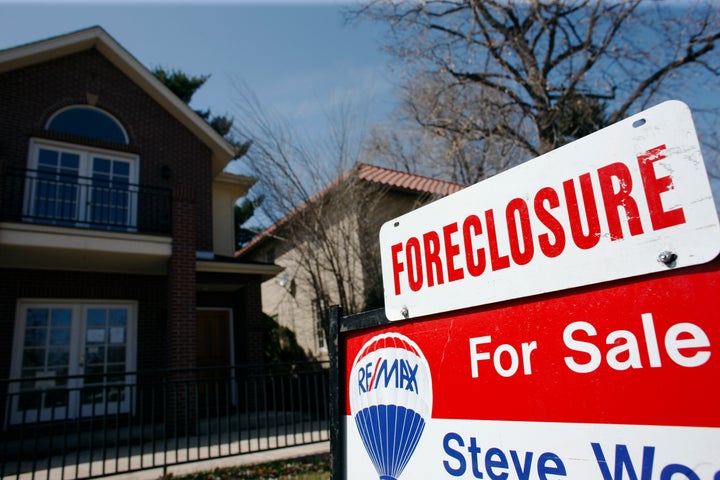 Here's a friendly reminder to everyone who has summer vacation plans: Before your departure date, it's a good idea to solicit the help of a trusted friend or neighbor to look after your domicile while you are away on holiday. It's a good way to ensure that pets get fed, plants get watered and mail doesn't pile up outside your house. Oh, and because it's 2011, it could also keep your home from being wrongly seized in a foreclosure and all of your worldly possessions from being taken away! Here's Eric P. Newcomer of the St. Petersburg Times:
After going out of town, an 82-year-old man returned home to find his house emptied out. Even the trash was gone.

He found a padlocked door and a sign for a company that cleans out properties in foreclosure.

But Benito Santiago Sr.'s home wasn't in foreclosure, public records show.
It seems that Bank Of America, an institution known for the mass-manufacture of foreclosure errors that also occasionally dabbles in a little personal banking, sent a foreclosure "clean-out crew" out to a condominium at 4255 W. Humphrey St. in Hillsborough County, Florida. They ended up cleaning out Santiago's home by mistake. Apparently, something about Santiago's mailbox royally confused them:
On one side, it displayed the number "4205." But on the other side, the "0" was missing.

The land formerly known as "4255 W Humphrey St." does not exist in Hillsborough County Property Appraiser records. Santiago's property is surrounded on three sides by Grand Reserve, a condominium complex that once used that address. Others have arrived in error to 4205.
You can see why an experienced clean-out crew would be flummoxed by this two-sided mailbox, right? (Actually, you can't, because remember, they were sent to a condominium.) Yes, "others have arrived in error to 4205," but you'd imagine that foreclosure proceedings would be carried out with a high-degree of professionalism. You'd be wrong, of course!
Charlie and Maria Cardoso are among the millions of Americans who have experienced the misery and embarrassment that come with home foreclosure.

Just one problem: The Massachusetts couple paid for their future retirement home in Spring Hill with cash in 2005, five years before agents for Bank of America seized the house, removed belongings and changed the locks on the doors, according to a lawsuit the couple have filed in federal court.

Early last month, Charlie Cardoso had to drive to Florida to get his home back, the complaint filed in Massachusetts on Jan. 20 states.

The bank had an incorrect address on foreclosure documents -- the house it meant to seize is across the street and about 10 doors down -- but the Cardosos and a realtor employed by Bank of America were unable to convince the company that it had the wrong house, the suit states.
That's from a February 12, 2010 piece, also in the St. Petersburg Times. Bank Of America was actually tipped off to their mistake before the property was seized, but the eviction proceeded anyway.
As with this most recent story, the Cardoso's possessions were removed. So, you might be wondering: what's the outlook on whether Santiago will get his wrongly seized possessions returned to him? A foreclosure lawyer gives the Times the bottom line: "We have never gotten one piece of property back." (Santiago's possessions are, after all, probably worth much more than many of the toxic assets the Bank is currently holding on its balance sheet, after all. The "antique wagon wheel" he once owned is probably triple-A rated and underpinning a credit derivative even as we speak.)
At any rate, it's wonderful to hear about the great care that major banks are taking with the lives of the people who saved them from extinction, with their bailout money.