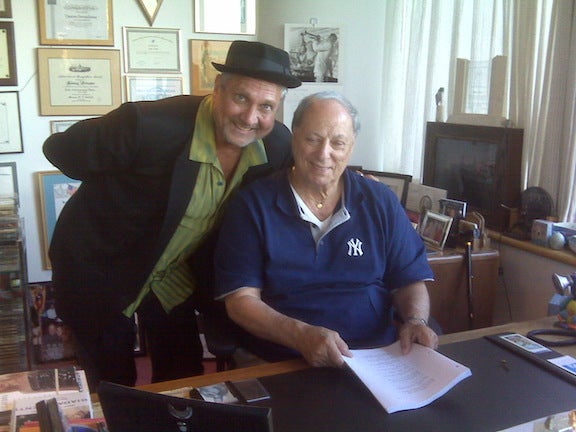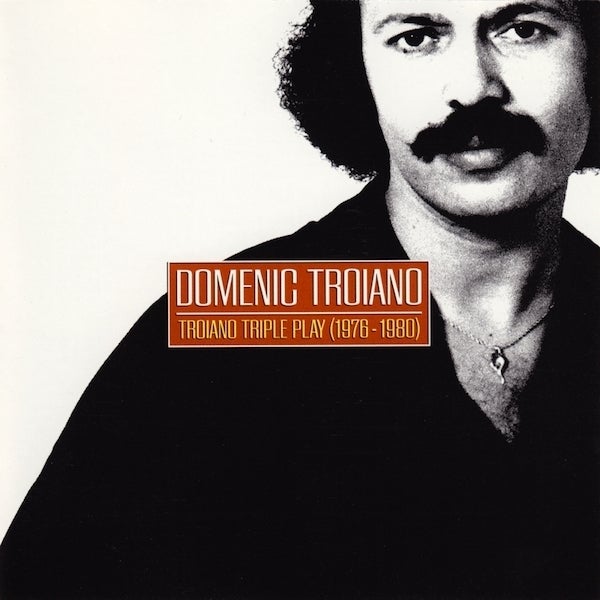 On his summer boathouse upstate, Sonny Grosso can often be heard happily singing out loud one of his favorite tunes from the soundtrack of his life. Songs that he and his "Sons of Rest" band of brothers sang like "Mala Femmena," to tunes that his parents loved, to music he chose to score the dozens of TV shows/movies he produced.
In yet another eye-opening excerpt from retired NYPD Detective Sonny Grosso's upcoming memoir, Harlem to Hollywood: My Real to Reel Life, he recalls:
Music has always been important to me. Songs have been signposts during my police and TV/movie career. You hum a song and it takes you back to a special event or time in your life. I hear a piece of opera and it takes me back to my grandfather's home, keeping dead quiet, while he listened enthralled by the opera on the radio, eating his big dish of macaroni and drinking his wine with the bottle draped over his shoulder. Then there was 'Amapola' (my little poppy) which was our father Benny's favorite song. He was always the romantic. He met and proposed to our mother Lillian under the boardwalk in New Jersey. When I'm feeling sentimental and thinking of him. I'll phone my sisters and put the 'Amapola' version sung by Andrea Bocelli and we'll all get teary eyed. It's a beautiful song, about a girl this guy cares about. Even after our dad's untimely passing, our beloved mother never looked at another guy and would always put us first. She would act as if it was always 'Blue Skies' and 'My Blue Heaven,' as her favorite performer Bing Crosby used to sing. Growing up in Italian Harlem, there was Jimmy Roselli singing Mala Femmena — every Italian guy's anthem back then and a song they used on The Sopranos.
After he graduated from the Police Academy his favorite song was "As Time Goes By" from Casablanca, one of his all-time fave pictures. Then he loved "Volare" sung by Domenico Modugno — because it made you want to sing and fly. And then when Grosso became one of the youngest first grade NYPD detectives, he got involved in some of the biggest police cases — from The French Connection to The Seven-Ups, to the Murder at the Harlem Mosque incident — and, music continued to play a major part in his life:
When I hear Sinatra's 'My Way,' which came out in 1969, it reminds me of working on The French Connection book that same year with author Robin Moore. Sinatra was all about doing it his own way. And to be honest, my French Connection police partner Det. Eddie Egan was living that song, too, and dragging me along with him. Then there are great performances I've seen over the years — from Marilyn singing to JFK on his birthday when I was her detective escort into Madison Square Garden, to Rod Stewart singing up a storm in Toronto and Madonna doing her thing, also at the Garden.
When Grosso went up to Canada in the mid-80s, backed by his partners at CBS and then later USA, he began creating dramatic law enforcement series for late night television. His first big series was Night Heat and when he was auditioning people to be part of his Toronto crew, Sonny wanted someone who could relate to his own unique musical voice — and his brand of hard-boiled police drama. He met Canadian music legend, Domenic Troiano, who had played with some of the biggest R&B and rock bands in North America, but who had little experience in the world of scoring music for television or movies.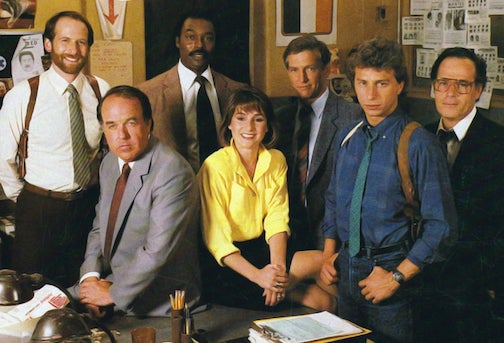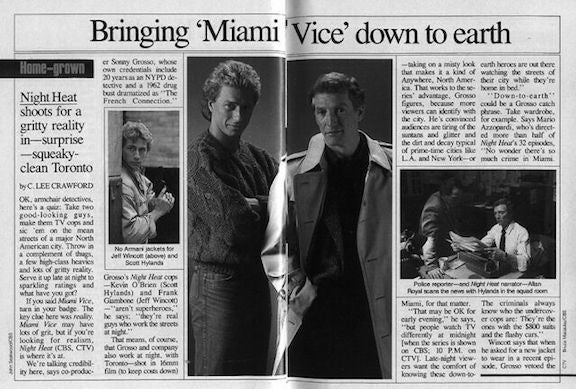 Domenic and I immediately hit it off, coming from Italian backgrounds with a love of family and music that had heart. But he admitted he didn't have any experience in scoring for TV or movies. There was an awkward silence, then I said, 'If you've never done any of this stuff than why are we meeting?' He replied, 'Because I'm a damn good musician. Tell me what you want and I'll give it you.' I stared at him, reached over for the rough cut I had of Night Heat, adding, 'Take a peek at this and let me know what you think.' He took it, smiled, shook my hand and left. I thought, 'Well, I'll never see this guy again.' The next morning, a tired Domenic came to my hotel, with a cassette that he and singer Roy Kenner had worked on all night. And it ended up being the terrific theme for Night Heat. It was the beginning of a beautiful friendship. I was so impressed that I fought to have Domenic do the music for all my shows, like I fought to have film editors (David B. Thompson and Dean Balser) and other crew who I enjoyed working with. As for Domenic, god rest his soul, the guy was brilliant — the nicest guy, I don't think I heard him curse. He was my type of people. And I'm proud I got to induct my friend into the Canadian Music Hall of Fame.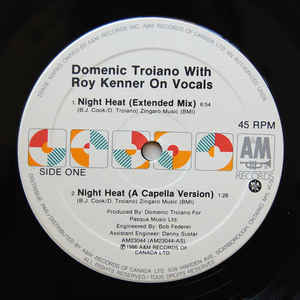 Night Heat's theme song was written by Domenic Troiano and BJ Cook, with lead vocals by Roy Kenner, and, it became the first Canadian-produced drama series to air on an American network. CBS aired the series as part of CBS Late Night, a late night block of drama programming. Despite its late hour, Night Heat received solid ratings for CBS, sometimes even topping NBC's Johnny Carson Show.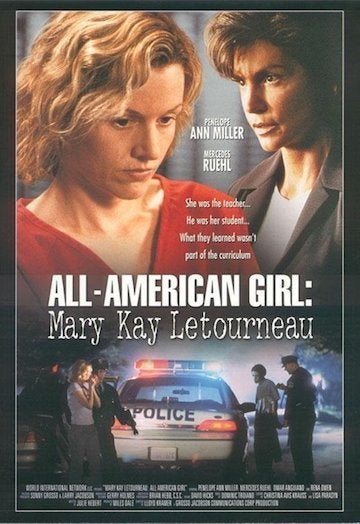 Later on in 2000, Grosso executive produced the made-for-TV movie, All-American Girl: Mary Kay Letourneau, which got record ratings at the time for a USA movie. Additionally, Grosso got his man — Troiano partnered with Howard Ayee — to compose the music for the movie, and TV Guide enthusiastically praised the music. For Grosso, the soundtrack of his life continues to play on.
Music is in the air with the holiday season merrily on us, and as Sonny's mother Lillian's favorite vocalist, Bing Crosby, sang: "I'll be home for Christmas/If only in my dreams/I'll be home for Christmas/You can plan on me/Please have snow and mistletoe/And presents on the tree..."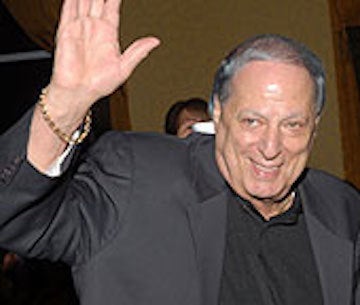 Related
Popular in the Community