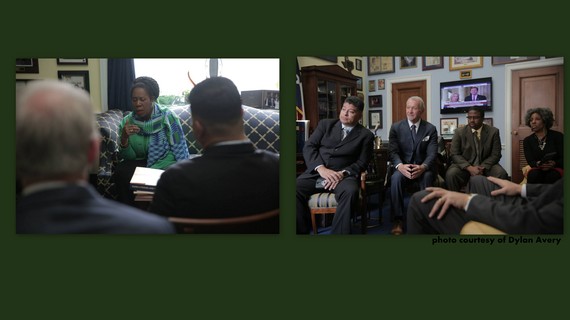 During a recent trip to Capitol Hill, members of the National Coalition of Law Enforcement Officers for Justice, Reform and Accountability (NCLEOJ) met with Rep Sheila Jackson Lewis, co-sponsor of the "Building Bridges and Transforming Resentment and Unfairness to Support and Trust for Municipal Law Enforcement" or "Build Trust Act". This multi-cultural group of retired and former police officers met with Rep. Jackson Lee of Texas to share and discuss their varied personal experiences with regard to institutionalized racism and the unnecessary state-sponsored murders of all Americans; placing particular emphasis on the black and brown communities.
There were shared stories and opinions offered by the NCLEOJ as it relates to ways in which police departments can begin to rebuild trust within the community. These officers brought forth personal professional experiences from major metropolitan police departments across the nation such as Los Angeles, St. Louis, New York, Philadelphia, East Orange, New Jersey and the U.S. Marshal Service.
As co-sponsor of H.R. 59 "Build Trust Act", Rep. Jackson Lee provided the NCLEOJ with documentation which stated in part: "The growing trend of local units of government using traffic fines and traffic court fees and costs as revenue generators... the lack of public confidence in the system, particularly by residents of minority communities..." The "Build Trust Act "addresses this problem by providing for a 75 percent reduction in the amount of DOJ grant funding that may be awarded to a unit of local government that funds an amount that is greater than 18 percent of its operating budget using revenue generated from collecting fines and other fees related to violation of traffic laws...
The legislation authorizes the Attorney General to grant requests for waivers to individual units of local government upon a showing of good cause. In determining whether to grant a requested waiver, the Attorney General is to consider several factors including:
Whether the unit of local government is subject to a consent decree...
Whether the unit of local government has taken affirmative action to ensure that adequate practices and procedures are in place to increase public trust and confidence in the impartial and equitable administration of justice...
Whether the minority community is equitably represented in the municipality's legislative body and executive departments...
To this extent the NCLEOJ intends to collaborate with Rep Jackson Lee and has been offered an opportunity to speak to these issues before legislators next month. The NCLEOJ has also partnered with the victim family of Oscar Grant, who was killed by a BART officer in Oakland, California and was the subject of the movie Fruitvale.
In addition to the senseless death of Oscar Grant, NCLEOJ is committed to demanding justice for all victims and their families adversely effected by the actions of overzealous police officers across the nation which have resulted in either death, serious bodily injury, or unjustified incarceration -- as in the cases of Mike Brown - Ferguson, Missouri; John Crawford III - Beavercreek, Ohio; Tamir Rice - Cleveland, Ohio; Eric Garner - Staten Island, New York; Ezell Ford - Los Angeles, California; Darrien Hunt - Saratoga Springs, Utah; Sureshbhai Patel - Madison, Alabama and William Wingate - Seattle, Washington.
Our collective voices are now magnified and unified as we demand an end to the pandemic of deadly force being perpetrated by some in the law enforcement community and a level of accountability, by those who commit these atrocities, commensurate with the offense.
REAL LIFE. REAL NEWS. REAL VOICES.
Help us tell more of the stories that matter from voices that too often remain unheard.