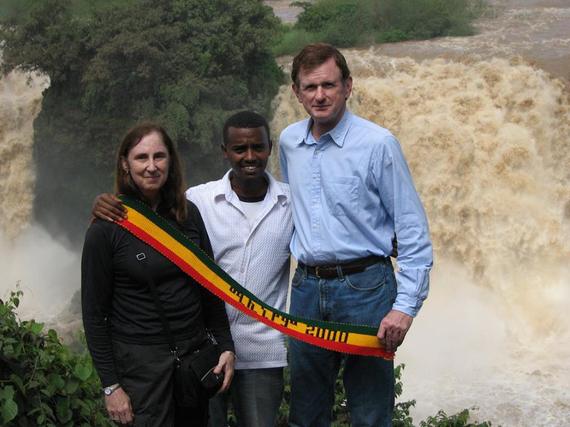 I'd like to invite you to do a thought experiment. Imagine what it would feel like to have spent most of your life working in corporate America. You come to the ripe "old" age of 60 or even 65 and suddenly you see this "Finish" banner flailing suspended from above indicating you are at the end of the race.
As a growing number of baby boomers approach "retirement" age, they are faced with the daunting notion looming over their head; "What would I do for an encore career? What would I do that has meaning? I'm not ready for a rocking chair!" one might say.
Such was the case for Rick and Wendy Walleigh. In 2006 after a long and successful career in the high-technology industry in Silicon Valley, they found themselves wanting to embark on a life altering adventure that would serve double duty. Who said retirement had to be boring?
Rick had read A Year in Provence and Under the Tuscan Sun about people going to Europe, eating great food and fixing up old houses. Though he enjoyed both books, the lifestyle seemed a little bit indulgent, and he wanted to write a different story about what you can do in your later career or early retirement.
While considering the options, Rick and Wendy each took a slightly different journey to discover their paths to encore careers.
Rick read many books and networked with people across the U.S. about international economic development. Wendy worked with a local career coach to determine her passions. She recognized having strong inclinations education, entrepreneurship, youth and women's issues. She set out to find the right organizations to align with her strengths.
Armed with loads of courage and a big heart, they turned to the help of TechnoServe whose mission is " To work with enterprising people in the developing world to build competitive farms, businesses and industries".
TechnoServe put in all of the Walleigh's qualifications into the hat and "bingo", turns out Swaziland was the perfect match. Swaziland a sovereign state in southern Africa, neighbored by Mozambique to the northeast and South Africa to the west and south was to be the Walleigh's new home for six months. The matching process was precipitated by Mrs. Walleigh's prior work with Junior Achievement. This type of support and knowledge was just what Leslie Johnston the country director for Swaziland had been looking for as part of their initiative.
After a 36 hour flight with two overnight legs and add a 9hr time difference, the Walleighs arrived setting foot on African soil.
I asked the Walleigh's what did they want to accomplish by volunteering.
Mr. Walleigh said:
I wanted to help poor people get out of poverty. Ultimately I think that would lead to world peace. It's a long path but I think that violence and lack of economic opportunities lead to violence and wars.
Volunteering to work with in developing countries will likely mean you will work in agriculture in one aspect or another. I asked Mr Walleigh what did he think of the contrast between working in an office environment and working in an agricultural setting. He responded:
It was fascinating! With electrical engineering background now I know about pigs. And I learned about coffee, and I learned about bananas and stuff I would never imagine I would know.
The Walleigh's intersected with many people making a difference in each others lives. These success stories, the new enterprises they help establish and more are covered in their book From Silicon Valley to Swaziland where they narrate the daily experiences of living away from home and the treasures of life as they came to see them.
Moving to Africa was life transforming in many different ways, it made us realize how important family and friends are to us because we are 10,000 miles away. The other is how important it is to connect with people wherever you are. That people are warm and wonderful and accepting, Wendy said.
From Silicon Valley to Swaziland has been written with the intent of raising funds and donating the proceeds back to TechnoServe for further advancement of new programs in developing countries. This noble cause is commendable and truly inspiring.
It was clear that the Walleighs embraced their journey and were enriched by it.
We probably got as much as we gave. It was life transforming to see that you can have real impact. The ability to take an idea from cradle to actual implementation was satisfying, Wendy said with a sincere smile.
At the completion of their six month term in Swaziland, the Walleigh's decided they wanted more. They wanted to go on another term in their aiding assignment. They headed up to Kenya and lived in Nairobi for a year. In our interview Rick describes the stark contrast between the two African cities.
As we concluded the interview Rick brought to light what I felt was the most valuable piece.
There is a lot more that is important in the world than the latest high tech device that has just come out. Whether it is the newest app on IPhone, or the newest game, or what have you. There are other things you can focus on. Living in Africa gave us that bigger picture to contemplate.
I'd like to leave you with this thought...
We each come to this beautiful blue shinny marble suspended in midair with a purpose. When, where and how will you put your time and talent to use for the greater good? Look around. Let your passion lead the way and have a blast doing whatever it is you choose to do.
Related
Popular in the Community