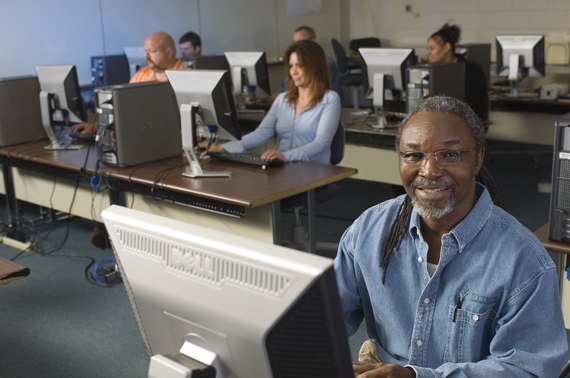 In addition to seeking a warmer climate, lower taxes and housing costs, many retirees are relocating to college towns that provide intellectual simulation for their golden years.
Many community colleges court these senior with free or low-cost tuition. According to the American Association of Community Colleges, about 84 percent of its members offer courses specifically for students 50 and older. The cost of tuition is very affordable, averaging less than $2,500 a year for a full-time community college student. Community colleges also promote online courses for seniors who are not able to travel to a campus or want to save money on gas and parking fees.
Often, community colleges also provide non-degree programs in arts such as ceramics, jewelry, drawing, painting, etc., while some offer cooking courses, piano lessons, computer and yoga classes and water aerobics.

Terra State Community College in Fremont, Ohio, offers those 60 and over the opportunity to enroll tuition-free in any course. A senior can take anything from a "History of Rock and Roll" course to creative writing. In addition, the school has a Life Scholars program for those over the age of 50, which offers travel opportunities and special seminars.
Paradise Valley Community College in Phoenix, Arizona, offers a range of fitness programs designed for senior students. Its SilverSneakers Fitness Program is covered by many health plans such as AARP Medicare Supplement Insurance. There are classes in Zumba Gold and Tai Chi for seniors, as well as senior-themed parties offered in its spacious fitness center.
Eastern Iowa Community College in Davenport recognizes that many seniors want to become more technically savvy to connect with grandchildren through email, Facebook and Skype, as well as to take advantage of online shopping and researching locales for future trips. Its low-cost computer courses range from an overview of Microsoft Office for $34 to learning how to navigate the Internet for $29. The school also offers yoga classes and a comprehensive exercise course combining stretching, weight training and low-impact cardio workout.
Ivy Tech in Indiana also offers seniors the opportunity to attend classes free of charge. As with other community colleges, there is a small fee for signing up and students are responsible for purchasing books. Computer, cooking and allied health courses are the most popular among seniors.
Perhaps the best argument to be made for attending a community college as a retiree is that these institutions are accustomed to working with older students, and a 60 plus student will feel right at home in a setting where many of their classmates are over 50.
Ongoing educational opportunities and service to the local community are what set community colleges apart from other institutions of higher learning. For retirees, community colleges offer an opportunity to stay mentally and physically active, and at a price that's hard to pass up.
Calling all HuffPost superfans!
Sign up for membership to become a founding member and help shape HuffPost's next chapter