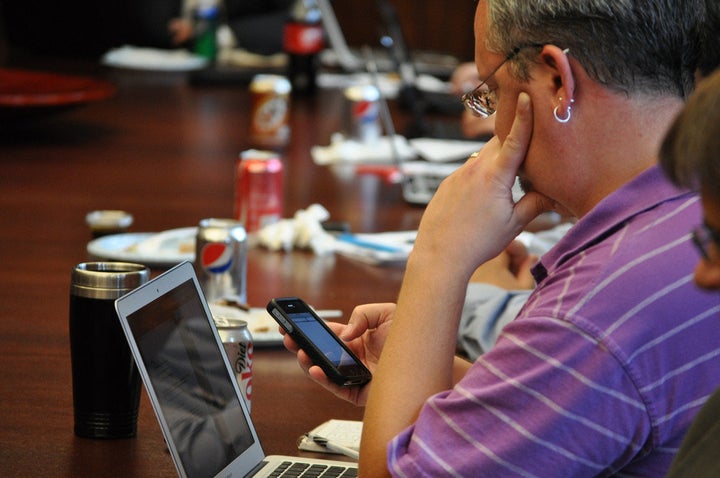 Many Americans would like to be able to answer the questions "What will retirement mean for me? What could it mean?" It's a challenge made all the more complicated by the personal economic chaos inflicted by the Great Recession and now, in an election year, a political debate that often seems more about who can inflict the least pain, rather than who has the best ideas for nurturing a caring society.
There are no easy solutions.
Lynch, who teaches at the Olin College of Engineering, spent five years exploring every corner of Vita Needle, a small private manufacturing company in suburban Boston, which makes precision steel needles used in everything from brain surgery to hi-tech robotics. During one of those summers, she worked on the production lines.
Founded in 1932, and still a family-run business, Vita began to concentrate 20 years ago on hiring workers nearing -- and even past -- the traditional retirement age of 65. The average age of the 49 current employees is 73 -- a few are over 90.
The firm offers neither medical or retirement insurance benefits -- because almost everyone is already on Social Security and Medicare. Most workers are part-time, paid slightly over minimum wage. There is also a no-layoff policy, a real rarity these days.
The Vita Needle story is not new. In recent years, everyone from CBS's 60 Minutes to the New York Times to many newspapers and TV stations from around the world, has descended on the factory, to interview the aging and (self-admittedly) creaking workforce, as well as its CEO.
Lynch's book, however, asks tough questions about the ethics of Vita's reliance on "eldersourcing" and its relevance to the broader economic challenges facing the nation. Since Vita is a profitable company, is it systematically exploiting its non-unionized older employees? Does paying seniors little more than minimum wage (many at Vida say all they want is to top up their primary social security or private pension incomes) put downward pressure on the wages of younger workers with growing families? And are any other American companies remotely interested in doing what Vita does.
First, Vita's long-term financial success (which the firm argues is directly supported by its hiring of older employees) "suggests that a practice that can be good for business can also be good for workers." It's certainly not about "being nice" to old people.
Second, does any thinking person believe that conventional management systems -- the ones which so quickly shed so many millions of workers in recent years -- are currently working well for the country as a whole?
What makes Lynch's book so interesting is its depth -- her training as an anthropologist means readers get to know a truly intriguing group of older Americans who are still actively engaged in productive paid work.
What makes the book so important is its nuanced exploration of how much work means to all of us, regardless of age, and its warning of the economic folly of an inexorably-aging society which routinely ignores that conclusion.
Support HuffPost
The Stakes Have Never Been Higher
Related
Popular in the Community