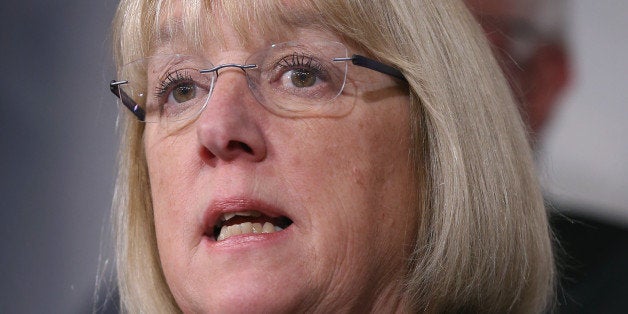 Democrats in Congress often lament the fact that full-time working women in the United States earn 78 cents for every dollar men earn, but less attention is paid to the much wider and harder-hitting income gap for women in retirement.
According to a report Sen. Patty Murray (D-Wash.) released Thursday, the average total income of women over age 65 is just 55 percent of older men's income, and those women are nearly twice as likely as men to live in poverty. Women's median retirement income is about $16,000 a year, while men's is nearly $30,000. And while more women depend on Social Security benefits than men, men 65 and older receive an average of $18,000 a year in benefits, compared to only $14,000 for women.
There are many different factors that contribute to the disparity. Women earn much less than men during their lifetimes because they are more likely to work in low-paying jobs and to take time off for caregiving responsibilities, like raising a child or caring for a sick family member. Women make up two-thirds of minimum wage workers and suffer wage discrimination from the moment they graduate college all the way through their careers. These factors are exacerbated by the fact that women tend to live longer than men -- which means they often have to stretch their retirement savings further than men do.
Murray highlighted the retirement gap in a letter to colleagues on Thursday in hopes of rallying her caucus around policy solutions for older women on the brink of poverty. "For starters, we need to address the persistent inequalities in women face during their working years, most especially the pay gap," Murray wrote. "We should raise the minimum wage, which would give nearly one out of three working women a raise they both deserve and need, and we should enact a host of pro-family policies that would reward, not punish, family members for taking care of their loved ones."
Murray, the ranking member on the Senate Committee on Health, Education, Labor and Pensions, also advocates for expanding and strengthening Social Security and improving access to retirement savings plans for part-time workers.
President Barack Obama, Democrats in Congress and Democratic presidential candidate Hillary Clinton have been beating the drum loudly on women's economic issues ahead of the 2016 elections. Democrats have introduced equal pay legislation for the past three years to make it easier for women to bring lawsuits against employers who paid them less than men for the same work, but Republicans have blocked it each time because they say it's a handout to trial lawyers. Democrats have also introduced legislation to raise the minimum wage and guarantee paid family and medical leave for American workers, but those bills have gone nowhere in the Republican-controlled Congress.
Republicans in Congress generally oppose mandates on businesses. Senate Majority Leader Mitch McConnell (R-Ky.) said last year that the minimum wage is a job killer, and that "we ought to be doing things that create more jobs" instead of requiring employers to pay workers more.
Murray, who said she will keep fighting for the Democrats' populist proposals, plans to introduce more legislation in the coming months to address the retirement gap.
"After a lifetime of hard work, all seniors deserve the opportunity to live healthy, full, and financially secure lives," she wrote. "Ensuring women are able to access a secure retirement is part of my ongoing work to help the economy grow from the middle out, not the top down, and ensuring our government works for everyone, not just the wealthiest few."
Popular in the Community