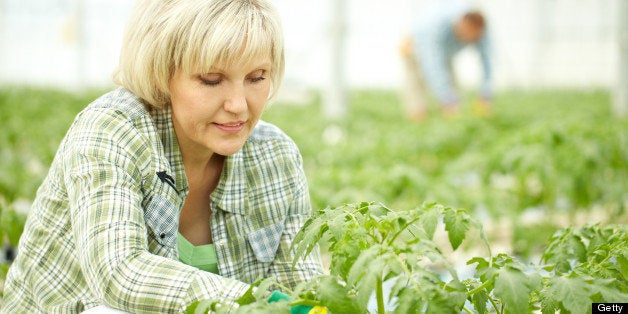 If you're like many retirees, you could use a little extra money to get by, beyond your retirement savings and Social Security. Or maybe you're just looking for ways to stay busy and to make a bit of extra cash in the process. Either way, these 14 options are a great way to earn some money while doing something you enjoy:
1. Dog walking. Walking dogs is a great way to stay fit, and many working individuals and families simply don't have time to give their pets the exercise they need. Dog walkers can charge $15 to $25 an hour, per dog.
2. Selling crafts. Websites like Etsy.com have exploded the market for handmade goods of all sorts in the past few years. While it takes a lot of work to make a full-time living selling crafts, many retirees, stay-at-home moms and 9-to-5 workers turn their hobby into part-time income by selling crafts online. Whether you love to knit scarves, hand-quilt throws or throw pottery, there's an online market for your craft.
3. Tutoring. Retired teachers aren't the only ones with potential tutoring skills. If you're good in math, reading or other basic skills, tutoring could be a lucrative option. Advertise your independent tutoring services through word-of-mouth or Craigslist, or join an online tutor-finding service like Wyzant. Another option is to sign up with a local non-profit that pays tutors for their services.
4. Antique selling. If you love shopping for antiques, collectibles or other unique finds, consider shopping for them and then reselling them. Cruise estate and garage sales to find great deals, which you can turn around and sell on eBay or Craigslist at a profit.
5. Handyman services. If you're good with a wrench and know your way around crown molding, consider advertising your handyman services. Your state may require that you become licensed, especially for certain types of work, so check with your state's contractor licensing board to get started.
6. Consulting. Engineers, scientists, management experts and others can all form careers as consultants. According to the Bureau of Labor Statistics, consultants in management make a median annual wage of $75,250, but you can also consult part-time for a high hourly fee. Turning your one-time profession into consulting jobs may be easier and more lucrative than you'd think.
7. Elder Care. If you're still healthy and mobile yourself, consider spending time with older folks who need help with everyday activities. Elder care can involve basics like running errands or giving a shut-in some regular company, or more involved activities like basic hygiene and nursing. Either way, this can be a fulfilling option.
8. Babysitting. On the other end of the spectrum, you could spend time caring for kids. As long as you've got the energy to keep up with little ones, you could offer all day or after school care for local children or even your own grandchildren. Just be sure to get and stay up to date on the latest nutrition and safety recommendations.
9. Renting extra space. Maybe you don't really want to have a job, but have extra space in your home that you don't need. Consider taking on a renter in your spare room or basement. If you're traveling a lot during retirement, you could also rent your whole home out for short-term vacations.
10. Blogging. Starting a blog is a great way to share your passion with the world, while making some extra money. There are plenty of online resources to teach you how to start, run and monetize a blog on just about any topic that interests you.
11. Temp work. If you'd like to work sometimes and not others, consider signing up for temporary work. As employers seek to cut costs, many are hiring temporary workers to fill a myriad of roles. Temp jobs can let you experience lots of different types of work during retirement.
12. Gardening. If you love growing fruit and vegetables, consider selling your extra produce at farmer's markets. Heirloom produce is in high demand right now. Another option is to grow perennials that need to be split each year. Each time you split your plants, you can sell the extras to aspiring gardeners.
13. Tour or museum guide. If you're a local history buff or love the arts, consider finding opportunities to be a local tour guide or museum guide. You could even start your own local tour business, if your area is frequented by travelers.
14. Furniture updating. Upcycled furniture is all the rage today, but some people simply don't have the time to spray paint and decoupage old pieces to give them new life. Retirees could upgrade old pieces of furniture and sell them online or locally, or offer their services for custom furniture upgrades.