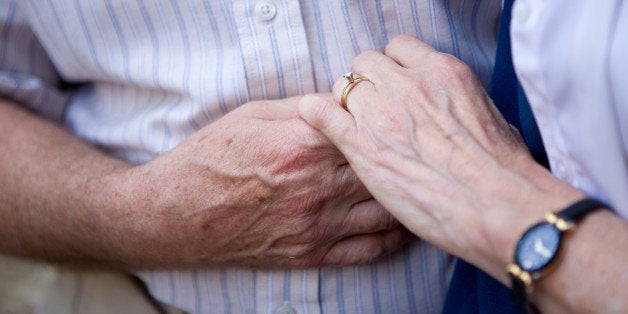 The calendar tells me the one year anniversary of our retirement (and BIG retirement move) is fast approaching. Although I stepped out of my job as a nonprofit Executive Director in summer, 2013, my husband formally retired from civil service law enforcement on March 31, 2014. On that same date, we moved out of our home and our community to return to the more affordable city we left eighteen years before.
As I reflect back on the year, the philosophy I took at the time of transition -- life is what you make it -- has proven to be true. Importantly, we have learned together and grown as a couple. I believe the lessons are worth sharing.

Our strength as a couple has grown. Yes, we are spending more time together. And predictably, we have had to learn how to navigate that increase in time. Fortunately we have a home where there is room to find personal space when we need it. I'm a doer -- I need to be out in the community, volunteering and participating in my areas of interest. My husband is more solitary. He reads; he takes our trusty black lab, Molly, for extended walks offering exercise opportunities for them both. Importantly, I recognize the qualities I found appealing in my husband when we first met, are strengthened at this stage of life.
Taking care of one's health early in retirement is critical. This includes becoming completely familiar with the healthcare system providing for your well-being. Because we moved, we had to change healthcare systems. I eased pretty seamlessly into the network of providers which are offered in our community and State. My husband's transition has been trickier. Fortunately, his health insurance is a retirement benefit offered by his former employer. Moving from a single payer system (Kaiser) to one where doctor's groups can change their contractual arrangements with his insurance provider has caused some frustrations. We are young enough to adjust, make phone calls, ask questions and advocate for ourselves when needed. We are sympathetic to those very senior citizens we counter in doctor waiting rooms in a state of confusion over changing healthcare contracts.
I have been very lucky that my health is good and I have no limits (other than day-to-day choices) on how to spend my time. My husband, on the other hand, is having ongoing difficulty with his left knee and will likely face knee replacement this year. For someone in daily pain, he has dealt with the difficulty heroically. If the surgery will bring him relief, we embrace the post-op inconveniences in order to improve his mobility,
A J.O.B. As a former nonprofit administrator, I found I was missing the stimulation of applying my skills in a charitable setting. The question I had to answer was this: How do I navigate between what I am qualified to do and what I am willing to do? I knew I absolutely had no interest in running an agency again or being responsible for organizational operations. I also knew, I wanted to be out around people -- and not just Boomers.

On February 2, I started a 15 hour/week job as the Office Manager in the local chapter of a volunteer run nonprofit whose mission is to empower girls and women. In this position I am able to apply my business management skills to help maintain and build the organizational capacity of this group. Importantly, when I walk out the door, work stays at the office. No more sleepless nights or incessant checking of work emails. I am also becoming acquainted with a quality group of women of all ages who are active in this community. It's a good fit and the resulting income will contribute to our travel fund.
Time spent at the J.O.B., plus my volunteer activities, has stimulated my husband to become the house-husband. He loves to cook as I am enjoying it less. This has been an unexpected shift in our household responsibilities and the timing couldn't be better.
The decision we made to move was not taken lightly. We left one of the most vibrant (and EXPENSIVE!) communities in the United States when we relocated last year. Our former community was becoming less affordable by the day, and the economic relief we have felt is liberating. We had a great eighteen years in a City many people dream about and long to visit. We lived the dream together.
I'm sure we have additional retirement lessons in our future. It's to be expected because we're Boomers. There is no roadmap for us. Our retirement is not that of our parents. We are blazing new trails as role models for our children and grandchildren. It's an exhilarating, challenging and fulfilling, all at the same time.
Calling all HuffPost superfans!
Sign up for membership to become a founding member and help shape HuffPost's next chapter