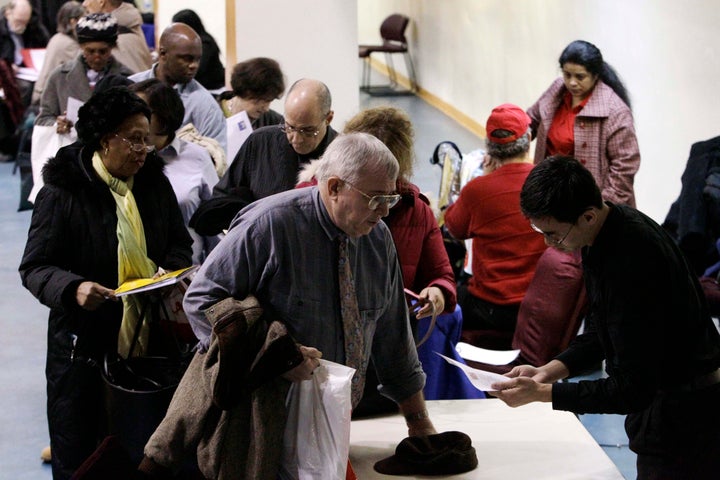 WASHINGTON -- Workers older than 50 are gloomy about retirement after getting beat up by the Great Recession, according to a survey released Tuesday by AARP's Public Policy Institute.
During the course of the economic downturn that started in December 2007 and technically ended in June 2009, one in four older workers burned through all of his or her retirement savings, the survey found.
More than half of older workers weren't confident they'd have enough money to live comfortably in retirement, and nearly half said they expected a "less economically secure" retirement than their parents had.
"Many older Americans have been buffeted by skyrocketing health care costs, dwindling home values, shrinking pension and investment portfolios, and employment struggles," AARP executive John Rother said in a statement. "Even if you have a job, this survey demonstrates that you are not immune to the negative effects of the recession."
Even though the unemployment rate for older workers is much lower than for their younger counterparts, 12.4 percent of the 50-plus cohort told AARP they lost their health insurance, 49.5 percent said they delayed medical or dental care because of financial troubles and 13.5 percent said they started to collect Social Security retirement benefits earlier than they'd previously planned.
Take, for example, the case of a 63-year-old tutor, who said she'd been laid off in June 2010 by a private teaching company. The woman, who lives in southern California, asked for anonymity because she feared revealing her name would be "deadly, deadly" for her job search.
The former tutor told HuffPost she opted for early Social Security retirement benefits in January after a fruitless six-month job hunt. Since she opted for benefits before her full retirement age -- which would have been at 66 years old -- she received only 80 percent of her full benefit, which she said amounts to $857 a month. It covers rent, she said, but doesn't leave much for food.
"I eat a lot of apples, bananas, rice, and pasta," the woman said, adding that she tends a garden with tomatoes, cucumbers and cantaloupes.
Laid off older workers have a tougher time than most age groups finding new work. The average jobless spell for workers 55 and up lasts longer than a year, and older workers who lose long-held jobs are much less likely to find new work than younger workers.
Click HERE to download a PDF copy of AARP's survey.
Related
Popular in the Community