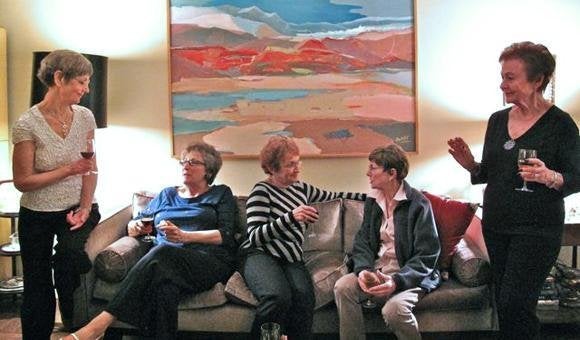 Every day, 10,000 more Americans turn 65. The baby boomers are behind an unprecedented agequake that will shake up not only this country, but the rest of the developed world. How will this vast new market impact the economic and social landscape? What are the opportunities for business to interface and innovate with these new, mature, sophisticated audiences? "Infinia on Aging" will explore how the experience of aging is being reshaped -- and how it is reshaping consumer demand and behavior domestically and globally.
In this fourth installment in the series, we examine how a generation's attraction to fads and cultural identity spurs a market for specialized retirement housing.
Retirees are going back to college. Not to pursue a degree, but to a campus life that reflects their diverse interests, where they can join up with other RV owners who share their lifestyle, heritage or views.
Sharing the golden years with like-minded residents in niche or affinity retirement communities is increasingly popular among today's retirees. "These 'affinity communities' are one of the biggest trends in retirement living," one expert told SmartMoney Magazine last year.
It isn't a new idea. Many retirement communities have long been affiliated with churches, bringing together Catholics, Lutherans or Jews to grow old with their ilk. The communities were a natural extension of the assistance that churches often provide to their elderly members, much as churches founded many of the nation's hospitals.
Now, the surge of baby boomers joining the ranks of the elderly is fast pushing the concept to culture or lifestyle. "When you've got that many people, there are bound to be a lot of niches that arise," a researcher told SmartMoney. Boomers also define themselves more by interests and pursuits than did earlier generations. "We set the record for embracing fad products, and that'll likely translate over into the niche retirement community as well," he said.
Boomers didn't originate the idea of cultural communities. The concept of gay-friendly senior housing, for one, goes back more than 50 years, the San Francisco Chronicle wrote last year. Observers can find references as far back as 1956 to efforts that combined a gay church with plans to start a senior housing complex for its members.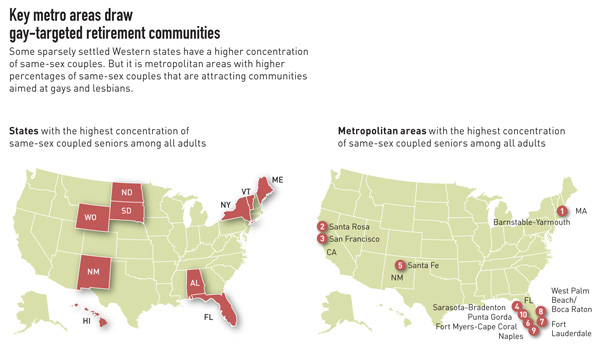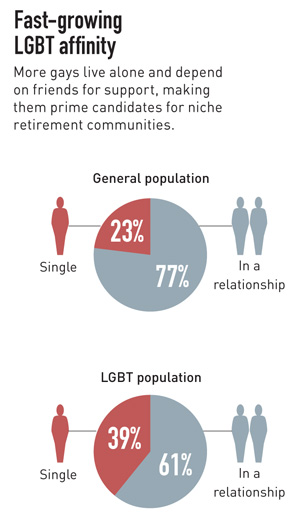 That effort didn't pan out, the Chronicle reports. But retirement communities for gays and lesbians took off in the past 10 years, and perhaps a dozen are operating now. Most are nonprofits, but a few developers also see profit potential. RainbowVision opened in 2006 in Santa Fe, NM, as the first for-profit elder community aimed at gays and lesbians. Its expansion plans, though, have stalled with the recession that descended in 2008.
The idea of affinity retirement remains particularly urgent for gays and lesbians, the New York Times reported last year. Many in the gay community lack the support of children or other family as they grow old. Living alone is more common for gay and lesbian seniors, according a 2010 report by the MetLife Mature Market Institute, "Still Out, Still Aging."
The push continues, with the opening last year of the Fountaingrove Lodge in Santa Rosa, CA, which offers the full spectrum of independent living to nursing care for gay and lesbian seniors. Others have opened in the Boston area, in several Florida cities, and other metro areas with concentrations of gay and lesbian residents.
Meanwhile, two new centers are in the works for Asian Americans in the San Francisco area, joining a few that already operate, including Aegis Gardens in Fremont, CA, which opened in 2001 as the first for-profit community aimed at Chinese Americans.
Fans of the arts have several complexes that focus on their interests. The NoHo Senior Artists Colony is scheduled to open this year in North Hollywood, CA, offering more than a hundred units for renters 62 and older. At the Burbank Senior Artists Colony, "residents might be involved in an intergenerational writing workshop, a watercolor class, a sculpture seminar or a tai chi class. Or, they might be making a movie," the Los Angeles Times reported.
In Nashville, country music stars banded together in 2008 to announce they would build a retirement community aimed at performers and fans. The Crescendo would be built at nearby Westhaven, a planned community southwest of Nashville, and would offer independent and assisted living and skilled nursing care to country music veterans.
But those plans stalled with the recession that began that year, as did aspirations for many retirement communities. Plans fizzled for communities aimed at gays in Boston, MA, Phoenix, AZ and Austin, TX, and established communities found themselves struggling to remain viable.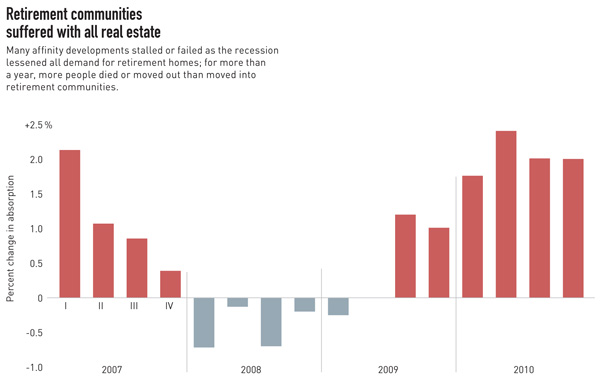 But the economy is recovering, as is demand for homes in retirement settings. One niche concept to survive the recession is co-housing, in which seniors build and run homes on land shared with their neighbors. Starting with Glacier Circle in Davis, CA, three more have opened and eight are under construction. The appeal? "These things are kind of like communes," an expert told SmartMoney Magazine only the housing is better than it was in the cooperatives of the 1960s.
Another successful niche approach has focused on nearby university campuses, which often make the lists of best retirement places. Several dozen colleges have capitalized on the trend. The Village at Penn State opened in 2004 and besides continuing care, residents get some privileges on campus, the New York Times reported. "They can take one class a semester on campus, get access to football and basketball tickets and to the university golf course."
Others are narrow niches, such as the mail carriers welcomed to Nalcrest, near Tampa, FL. While postal workers can retire there, no pets are allowed -- especially dogs. And air that is unusually clear for the East Coast draws astronomy buffs to their own retirement community near Chiefland, FL.
Finally, there is the unique Escapees Care center in East Texas, where folks who want to stay in their mobile homes can park their RV next to wheelchair ramps, get three meals a day and adult day care, SmartMoney reports. "It is, in many respects, the end of the road," wrote News21, a program for journalism students at Arizona State University.
With the ranks of the retired quickly growing, many more seniors will be looking for their choice in final homes. And this generation of retirees will only accelerate the trend toward specialized communities, one professor told the New York Times. "When the baby boomers were growing up, there were three flavors of ice cream; now there are 1,000," he said. "Similarly, there are going to be 1,000 different flavors of retirement."
Next in "Infinia on Aging": Latinos live longer despite lower incomes and more health problems, adding color and complexity to the surging ranks of the nation's elderly.
Calling all HuffPost superfans!
Sign up for membership to become a founding member and help shape HuffPost's next chapter