By Don Murray, InternationalLiving.com

If you've watched in disbelief as the American Dream you grew up believing in has seemingly evaporated into thin air, do not despair. Your dream of a comfortable, prosperous retirement is alive and well. It may just be waiting somewhere you never thought to look.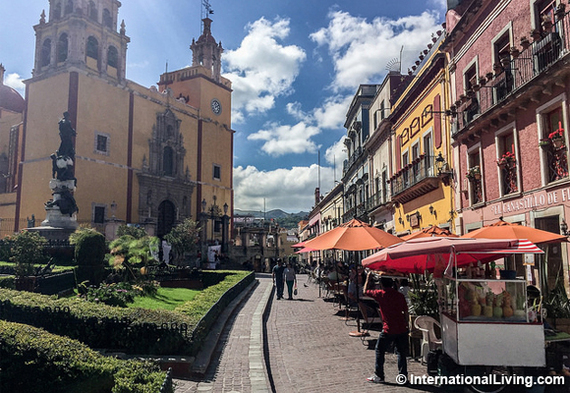 Plaza de la Paz in Guanajuato, Mexico
That was the case for my wife Diane and me. And it turned out better than we ever could have hoped. We're just two of the millions of North American retirees who have made their dreams of a comfortable, active, and engaging retirement come true, in one of the many locations around the globe that offer a better lifestyle at a much lower cost of living. And there's no reason why you can't do it, too.
The term American Dream was first coined in 1931 by Pulitzer Prize-winning author James Truslow Adams. It has come to mean a lifetime of hard work, honesty, and following the rules that is rewarded with some degree of material comfort ... and the opportunity to retire while you can still enjoy the fruits of your labor. After decades spent working and raising a family, you could look forward to time spent with the people you love, doing the things you love to do.
Despite decades of hard work and dedication, the American Dream never became a reality for Diane and me. Back in 2009, our future looked very bleak. Having once felt secure, we watched helplessly as the Great Recession destroyed our hard-earned dreams. After I lost my job, our retirement savings were wiped out ... and all the while, the cost of living continued to climb. For us, the prospect of being able to retire altogether from the workforce was pushed further and further back.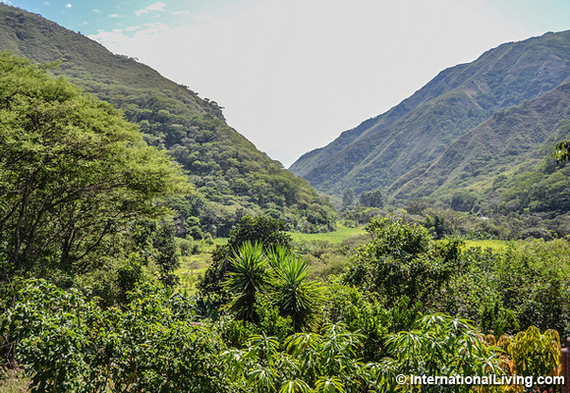 Hilly Landscape of Vilcabamba, Ecuador
But for us -- as for so many other expats -- there was a brilliant light at the end of the tunnel. A light that more and more North Americans are starting to see.
These folks are now recognizing the opportunities afforded by a life abroad.
If you're still in your working years, entrepreneurial prospects abound in many parts of the world. With bargain-priced costs of living, lower labor costs, and a willing and ample workforce, a huge number of overseas destinations are yours to choose from as places to relaunch a career or start a business. I know many expats who earn their living across the globe as writers, editors, restaurant and bar owners, innkeepers, charter-boat operators, teachers, yoga instructors, digital entrepreneurs, and store owners. And they're doing it in wonderful, exotic locations where the cost of living is far less than in the U.S., and where their quality of life is greatly improved.
Sadly, under present circumstances, large numbers of U.S. citizens have been forced to delay their retirement. They have had to accept that they must continue working in some form well into their golden years. Like us, many lost their nest eggs during the recession, while others continue to rely on employer-based health coverage. This isn't the retirement for which they had saved, hoped, and dreamed. According to a poll released in 2013 by the Associated Press-NORC Center for Public Affairs Research, older Americans are not only delaying their retirement plans these days, they're also acknowledging that retirement won't necessarily mark a complete exit from the workforce.
But even if you're facing retirement with minimal fixed income, you can effectively double (sometimes even triple) your monthly purchasing power by moving to a country with much lower living expenses. In such a place, the early retirement you aspire to may very well be possible, after all!

Imagine paying rent of only $200 to $300 a month, and a weekly grocery bill of $30 to $50, including sweet, juicy fruits, garden-fresh vegetables, and seafood right off the boat. In many wonderful and exciting places on the planet, these numbers are a reality ... places with affordable healthcare and stunning beaches, majestic mountains and valleys, welcoming people, and complete freedom from financial worries and stress. As someone who has personally experienced this transformation, I can attest that freedom from worry and stress is the most valuable benefit of making the move.
Believe me; I know that moving to another country is a big deal. Diane and I have done it twice. But we've adopted a mantra in our family -- one that has served us well over the years -- and I'm happy to share it with you: Don't let fear be the thief that steals the life you could have!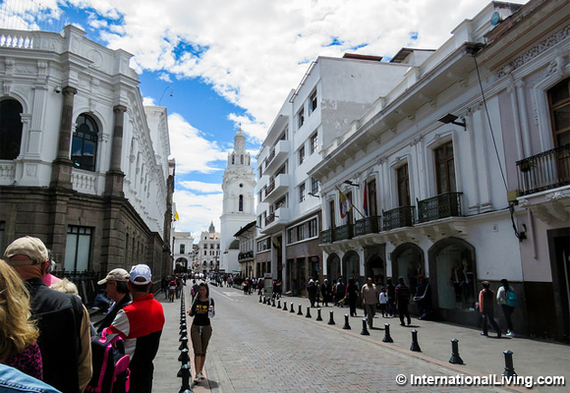 Paved Street in Old Town Quito, Ecuador
We moved to Ecuador's northern coast about four years ago. We first rediscovered our American Dream there, in a small Ecuadorian fishing village. It was definitely a bold move, but one that completely and positively changed the course of our lives. Stress-free San Vicente, on Ecuador's northern Pacific coast, provided a wonderful introduction to expat life.
After two amazing and life-expanding years in Ecuador, we relocated to Mexico's Caribbean coast. As I am a heart patient, Diane and I agreed that I needed to be closer to my VA medical care in the States; our present home in Cancún is just over an hour from Florida.
So as you ponder your choices, consider this. If your American Dream seems out of reach, a move overseas may be the answer for the next phase of your career or for your dream retirement. The expat lifestyle is not for everyone. But if you have a sense of adventure and are open to experiencing a new culture, there is a big, beautiful world of opportunity out there to explore. Perhaps your American Dream is waiting somewhere you never thought to look.
This article comes to us courtesy of InternationalLiving.com, the world's leading authority on how to live, work, invest, travel, and retire better overseas.