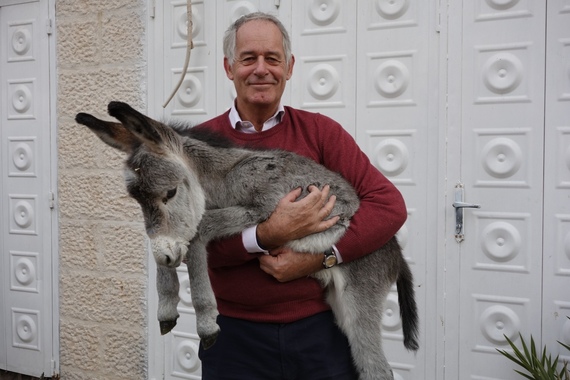 Jeremy Hulme, Retiring CEO of SPANA

In poor regions of the world people rely on working animals to provide income for their families. These hardworking horses, donkeys, mules, camels, oxen and even elephants haul carts, carry provisions and plow fields. But when it comes to monetary support for these animals, they are at the bottom of the heap and their plight is often overlooked by the developed world.
When these animals become ill, their owners - who live in remote parts of the globe - have nowhere to turn for veterinary treatment. A sick animal has a ripple effect. Without their working animal, many families fall deeper into poverty and their children can go hungry.

But there is hope. A wonderful organization called SPANA has provided veterinary care to working animals since 1923, when a British woman and her daughter visited North Africa and saw these animals struggling to survive mistreatment and neglect and decided to dedicate their lives to helping them.
Today, free veterinary treatment is provided to more than 238,000 working animals in 19 countries every year. Through its network of veterinary centers and mobile clinics, SPANA teams prevent and treat wounds, lameness and potentially deadly diseases, such as tetanus. They provide essential dentistry, trim hooves and, when necessary, undertake vital operations. This veterinary care ensures that many animals don't have to endure constant pain, and can be the difference between life and death.
So much of this extraordinary work has happened because of the dedication of one man - Jeremy Hulme, SPANA's chief executive for the past 28 years.
Jeremy is retiring at the end of this year. He leaves behind an organization that provides free care to working animals in Botswana, Ethiopia, Jordan, Mali, Mauritania, Morocco, Myanmar, Tunisia and Zimbabwe. SPANA also provides small grants to animal welfare organizations around the world, as well as setting up emergency operations that enables it to respond quickly to help suffering animals in disaster areas and during conflicts. SPANA's teams have helped animals during crisis periods in Kosovo, Iraq, Afghanistan, Darfur and Ethiopia.
But I believe that Jeremy's real legacy is his passion for humane education. He knew that free veterinary care alone wouldn't be enough; attitudes had to change as well. Jeremy has remained committed to ensuring that schoolchildren learn about animal welfare and the importance of animals from an early age, helping them to develop positive feelings and compassionate behavior towards them. By teaching children - the animal owners of the future - the lives of working animals can be transformed for generations to come. And the results are clear to see.
Today SPANA has 16 education centers across six countries. Mobile units reach more remote communities. Over 50,000 children participated in SPANA's program last year and many more have been reached through special outreach projects. The program trains teachers and provides pens, pencils and activity books for animal clubs in schools that have no resources. The charity produces work books, story books, lesson plans and films - all in local languages.
SPANA's own research shows that children who participate in its education programs develop empathy and compassion for animals, particularly for the working animals they see in their communities and perhaps even as part of their family.
Jeremy joins other great animal welfare champions such as primatologist Jane Goodall and Wayne Pacelle of the Humane Society of the United States, who have committed their lives to helping animals.
I believe that anyone who loves animals should donate a small gift to SPANA as a way to say thank you to Jeremy for his work. All donations make an enormous difference to working animals in developing countries, helping SPANA to improve their welfare through veterinary treatment, education and training for animal owners. By visiting www.spana.org/jeremy you can also give your backing to the special appeal that is supporting and expanding their education program. A gift of $25 purchases classroom resources like pens, pencils, activity books and a teacher's manual. Teacher training can be made available for $75, and $185 goes to the cost of a mobile exhibition unit to reach children in remote areas.
I have been a longtime supporter of SPANA and will be sorry to see Jeremy retire. His determination and dedication has built an organization that is unparalleled. It is up to all of us to support SPANA going forward so that the working animals of the world can be treated with the kindness they deserve and live a life free from suffering.
Calling all HuffPost superfans!
Sign up for membership to become a founding member and help shape HuffPost's next chapter